Romanian youths savor Chinese culture at Chinese embassy
Xinhua | Updated: 2019-11-08 14:21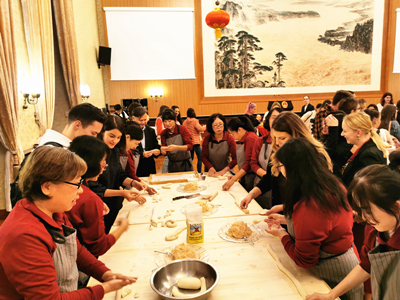 BUCHAREST - Romanian youths experienced the Chinese culture at a public activity hosted here by the Chinese Embassy in Romania on Thursday evening.
At the activity themed "Experience the Chinese Culture in the Chinese Embassy," Chinese Ambassador to Romania Jiang Yu in her speech quoted an old Chinese saying: "True friendship exists only when there is an abiding commitment to pursue common goals."
Noting the friendship between the Chinese and Romanian people has lasted for 70 years, she said both countries have a long history, with their own characteristics forming in their respective developments.
"China's 5,000-year civilization has formed its own unique culture in terms of ritual, music, literature, clothing and food," she added.
Romanian co-director of the Confucius Institute at the University of Bucharest Luminita Balan recalled a series of exchanges organized among young students from China and Romania this year, and said that the activities held by the Chinese embassy are the most anticipated by Romanian students who are studying Chinese.
The sinologist who has just won the Chinese Government Friendship Award expected Romanian students to deepen their knowledge of both China's history and its development.
"Young students from both countries should exchange and learn from each other, strengthen cooperation in various fields and work together to write a new chapter in the friendship between the two countries," she said.
Chinese and Romanian students gave performances, including singing, dancing traditional Chinese dances, calligraphy and tea art, and a visiting Chinese martial arts troupe performed Kung Fu at the event.
Teachers and students attending the event agreed that the excellent cultures of the two countries are a bond for the friendship between the two peoples, and it is an unforgettable experience to enter the Chinese embassy and learn more about the Chinese culture.