Artists create natural space for T-Rex to live
By Zhang Lei | China Daily | Updated: 2019-11-09 10:37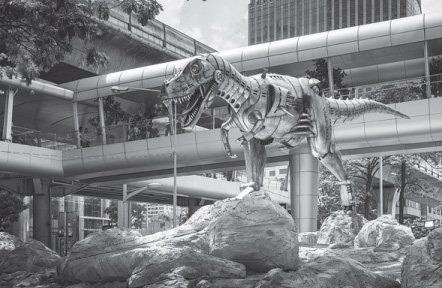 A giant, life-size Tyrannosaurus Rex (T-Rex) sculpture, formed from aluminum and set amid a spectacular lunar landscape, is among the first set of collaborative art pieces by Hajime Sorayama and Azuma Makoto from AMKK, and was unveiled last month at Bangkok's Central Embassy.
The Japanese pair invite viewers to travel beyond the universe with this unique installation concept that combines the vast reaches of outer space with the nature of Terra Firma. The 11-meter long and 3.74-meter tall aluminum T-Rex - the largest scale installation produced by Sorayama - is a part of an exhibition titled Sorayama Space Park.
It draws on Sorayama's renowned sense of realistic expressive techniques and builds on his series of paintings of dinosaurs which he has produced since the 1980s. "I am excited about the global debut of this work at Central Embassy before it tours to many cities around the world," says Sorayama. "I have always liked dinosaurs and painted many over the years. Showcased here is a T-Rex that was specifically painted for this project and was made into a giant life-size sculpture."
The installation comes paired with a detailed lunar surface created by experimental floral and botanical creator, AMKK, to create the otherworldly merging of Earth and outer space in one dimension. In parallel, the indoor atrium of Central Embassy's Level G welcomes five smaller T-Rex sculptures also set amid five stunning landscapes created by AMKK: jungle, desert, glacier, moss and lake.
"The name 'Space Park' captures the uniqueness of this concept. There are no trees, dinosaurs or lakes in outer space - therefore, we are creating new landscapes here that combine flora, fauna and cosmos in the same expanse," says Makoto.
Sorayama is the godfather of realistic expression through his use of airbrush techniques. His signature body of work, the organic-robotic series "Sexy Robot" was part of his collaboration with Dior Men for its 2019 pre-fall collection in Tokyo and gained him worldwide recognition.
He has showcased his work through exhibitions including Unorthodox (New York, 2015), Desire (Miami, 2016), The Universe and Art (Tokyo, 2016/Singapore, 2017), and the large-scale group show Cool Japan that ran through Sept 1 in Amsterdam.
AMKK, directed by Makoto, creates hyper-realistic flora. He finds intangible and exhaustive elements, namely, sensuous and instantaneous factors, such as music, in flowers and plants and expresses them in his work to strip them of their stereotyped image, presenting to the world in a totally new light. He has created works for big brands around the world, including Jardin de Temps for Maison Hermes (Ginza, 2013).
The exhibition runs through Nov 17.
zhanglei@chinadaily.com.cn