Chemical giant plans to further domestic stretch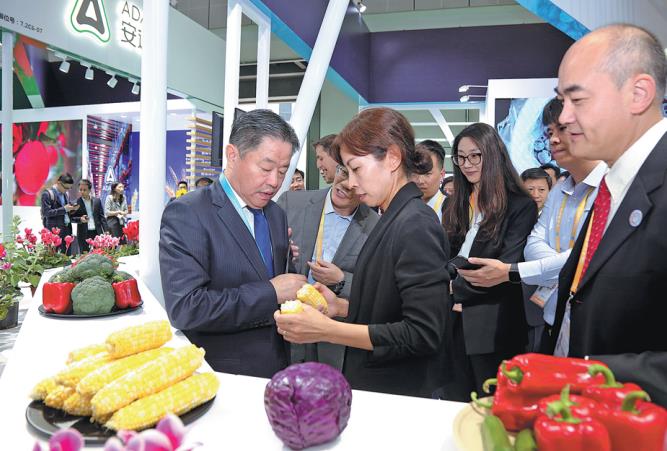 China National Chemical Corp, or ChemChina, the country's biggest chemical producer by market share, will continue to help its overseas companies deliver products and services to expand their presence in China via platforms such as the China International Import Expo, said its top executive.
ChemChina encouraged its overseas companies to participate in the second CIIE in Shanghai, and five of them including Syngenta AG, the Swiss agrochemical and seed producer, Elkem, the Norwegian material manufacturer, and Adama, an Israeli crop protection company, took part and signed agreements with various domestic partners.
Ning Gaoning, ChemChina's chairman, said the CIIE is an important platform for China to safeguard the multilateral trade system and support economic globalization. The centrally administrated State-owned enterprise signed a number of cooperation agreements with its partners for advancing industrial upgrading and high-quality growth by importing advanced products.
Apart from these five firms, ChemChina's Italian subsidiary Pirelli, the Milan-based tire maker, also sealed deals on future original equipment cooperation with Beijing Electric Vehicle Co and Dongfeng Passenger Vehicle Co.
Their agreements cover projects in the fields of seeds, crop protection products, methionine products, polyethylene terephthalate, or PET foam production line and technical cooperation with partners such as Wuhan University of Science and Technology, Yangling Agricultural Demonstration Zone of Shaanxi province and China Mengniu Dairy Co.
Ning said ChemChina's overseas companies have focused more on the development of the Chinese market and have added investments across the country since joining the group.
To help them have a better understanding of the home market, ChemChina will help them diversify their market channels and conduct localization activities throughout China.
"Overseas companies are also encouraged to bring in both new and mature products and technologies into the country as the government has deployed more resources to further protect intellectual property rights of foreign companies," he added.
According to the company, three of its domestically listed overseas subsidiaries - Adama, KraussMaffei Group, the German plastic equipment manufacturer, and French health product provider Adisseo - attended the CIIE together for the first time.
"They attach great strategic importance to the Chinese market and prefer growing hand in hand with Chinese customers and market and sharing the profits with the vast number of investors in China," Ning added.
Supported by 160,000 employees, with 86,000 of them working abroad, ChemChina runs six business sectors, including new chemical materials and special chemicals, petroleum processing, agrochemicals, tire rubber and chemical equipment. The Beijing-headquartered company to date operates research facilities, production and research bases in 150 countries and regions.
Persistently pursuing an internationalization strategy, ChemChina has been expanding its overseas business and investment areas, and working on new forms of global partners.
"As a corporation engaged in the real economy, we buy what we need and sell what others want," said Ning, pointing out that this is the epitome of economic globalization and trade liberalization.
"The wider and deeper collaborations between Chinese companies and businesses around the world further testify to the country's commitment to opening up," said Jean-Marc Dublanc, CEO of Adisseo.
As an overseas subsidiary of ChemChina, Adisseo operates a number of research and technology centers as well as factories in France, Spain and China.
He said the CIIE provides a channel for overseas companies to better understand China's market demands and development trends, generating more opportunities to win potential customers.