HK rioters redefine 'democracy' to suit themselves
By Zhang Zhouxiang and Zhang Ruoqiong | chinadaily.com.cn | Updated: 2019-11-12 15:32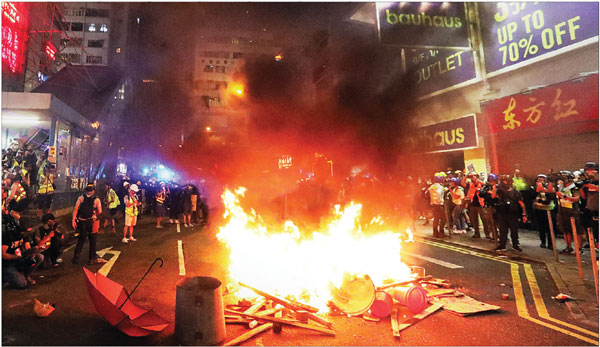 In their stories and features on the rioting in Hong Kong, the Western media like to describe the rioters as young people fighting for democracy and seeking to spread democratic values among the people. The rioters themselves often hype up their claims to be "pro-democracy" advocates to court foreign political support.
Yet the Hong Kong rioters seem to have a unique definition of the word. One incident after another shows that when they are confronted with any opinions different from theirs, they resort to violence to silence any opposing views. It seems that in their "democratic" minds, it is perfectly reasonable for them to viciously attack anyone who disagrees with them.
On Monday, Leung Chi-cheung, a 57-year-old father of two daughters, was set on fire, when one of the rioters in a group he was admonishing for vandalizing a subway station poured flammable fluid over him and set him alight. Leung is now fighting for his life in hospital with severe burns to nearly 30 percent of his body.
On the same day, they chased and assaulted a woman who reportedly disagreed with them. The rioters used sticks to beat her and kicked her in an attack that left her severely hurt.
On Nov 6, a man stabbed Ho Kwan Yiu, District Council candidate, in the chest when he was campaigning for an upcoming election in Tuen Mun.
Yet the rioters that try to portray themselves as defenders of democracy, are anything but that. By openly breaking the law and preventing other people from speaking out, they are denying the democratic values they claim they are protecting.
What the rioters in Hong Kong are upholding is not democracy, but a thugocracy. Their mob justice has brought fear to the streets of Hong Kong.
There are only a dozen days left before the election for local legislation in Hong Kong, and the rioters' intention is obvious: They want to scare those holding different views from voting against them.
Their efforts will definitely be in vain. On Monday, after a policeman shot a rioter that tried to rob his gun, there were residents on site who applauded the policeman. Showing that the rioters do not have the support of ordinary residents, as the Western media like to claim.
Truth and justice will prevail in the end.