Democrats, Republicans to vie for impeachment narrative on TV
China Daily | Updated: 2019-11-13 10:24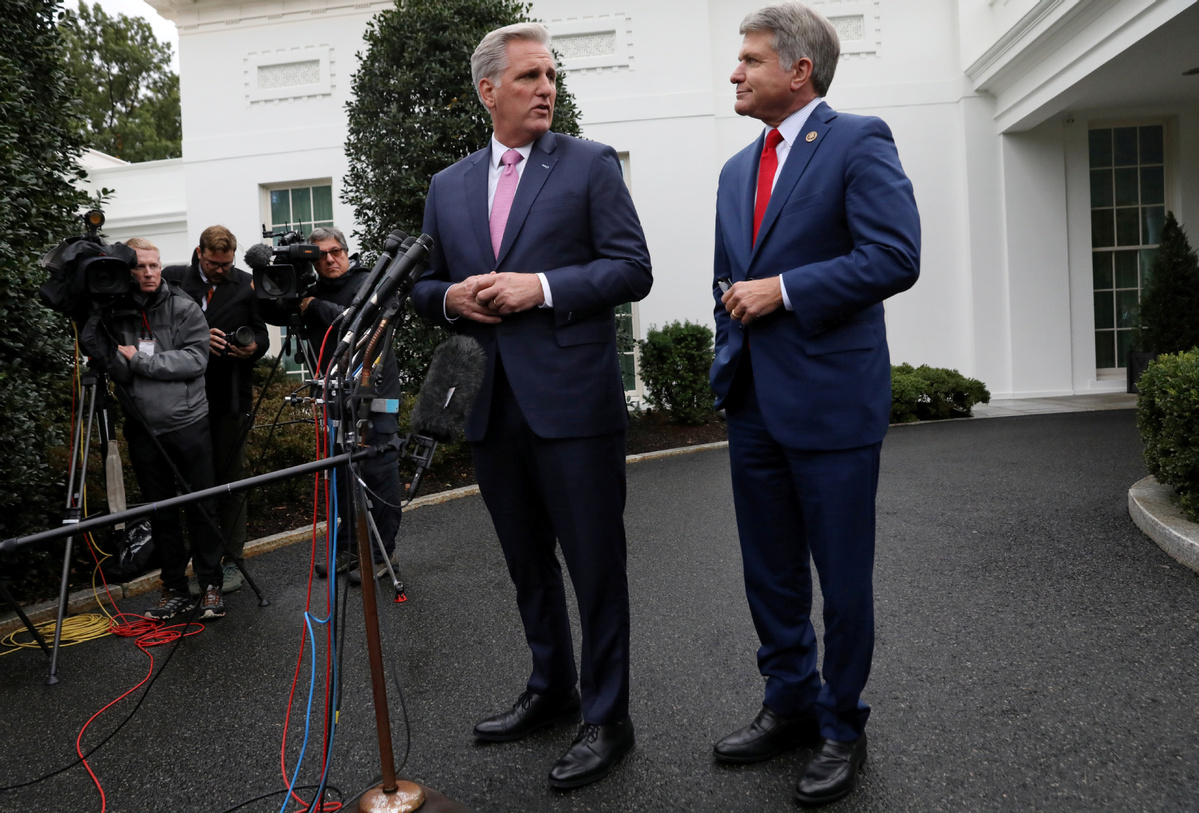 WASHINGTON - Impeachable or not?
Both Democrats and Republicans see the televised impeachment hearings starting this week as their best opportunity to shape public opinion about US President Donald Trump's dealings with Ukraine.
Democrats believe the testimony will paint a vivid picture of presidential misconduct. Republicans say it will demonstrate that the evidence is insufficient for impeachment.
The stakes are high and historic. Trump faces the prospect of being just the third US president impeached by the House of Representatives, a dubious distinction for a commander in chief facing reelection. Yet Democrats are privately uncertain about how the public will view the proceedings, particularly if Trump is impeached along party lines.
In the hearings beginning on Wednesday, Democrats plan a narrow focus and a narrative retelling of Trump's pressure on Ukraine to investigate a Democratic rival while his administration withheld essential military aid to an Eastern European ally on Russia's border.
All three witnesses this week - top Ukraine diplomat William Taylor, Deputy Assistant Secretary of State George Kent and former US ambassador to Ukraine Marie Yovanovitch - have already expressed concerns about Trump's efforts in closed-door depositions last month.
This time they'll be on live TV and newscasts for days afterward for all Americans to see and hear.
The Democrats see all three witnesses as highly credible, detail oriented and well positioned to tell that story to the US public.
"This is a very simple, straightforward act," said California Representative Jackie Speier, a member of the House intelligence committee that is conducting the hearings. "The president broke the law. He went on a telephone call with the president of Ukraine and said I have a favor, though, and then proceeded to ask for an investigation of his rival," she said.
Democrats say their best evidence isn't even from the witnesses themselves, but from the rough transcript of that July call between Trump himself and Ukraine President Volodymyr Zelensky.
Trump asked for the "favor" of the investigation of Joe Biden and his son when Zelensky mentioned the military aid.
The witnesses have added detail on the circumstances of the call and have told investigators of concerns swirling in different corners of the administration as Trump and his personal lawyer, Rudy Giuliani, pushed for the probes into the Bidens and into a possible Ukraine role in the 2016 US presidential election.
Taylor and Kent will testify on Wednesday, Yovanovitch on Friday. Yovanovitch plays a central role in the inquiry, as her ouster at Trump and Giuliani's direction in May raised questions throughout the US diplomatic community. Taylor, a former ambassador to Ukraine, was brought in to replace her and navigated Trump's demands throughout the summer as the president brought his requests directly to Zelensky.
Kent is a senior State Department official overseeing Ukraine. He told House investigators in a closed-door hearing that he understood, as other witnesses did, the military aid to be in exchange for the investigations - the quid pro quo that is at the heart of the Democratic probe.
Trump, who will surely be watching at the White House, has strongly denied any quid pro quo, and has bashed the diplomats by saying that none of them had firsthand knowledge of his thinking.
"It seems that nobody has any firsthand knowledge," the president said last week.
Republicans' questions to the witnesses at the public hearings is expected to turn on that point.
None of the witnesses so far has testified to relevant conversations that they had with Trump himself, and several of the accounts involve conversations witnesses heard about from other people.
Agencies