Li longs to be a regular in red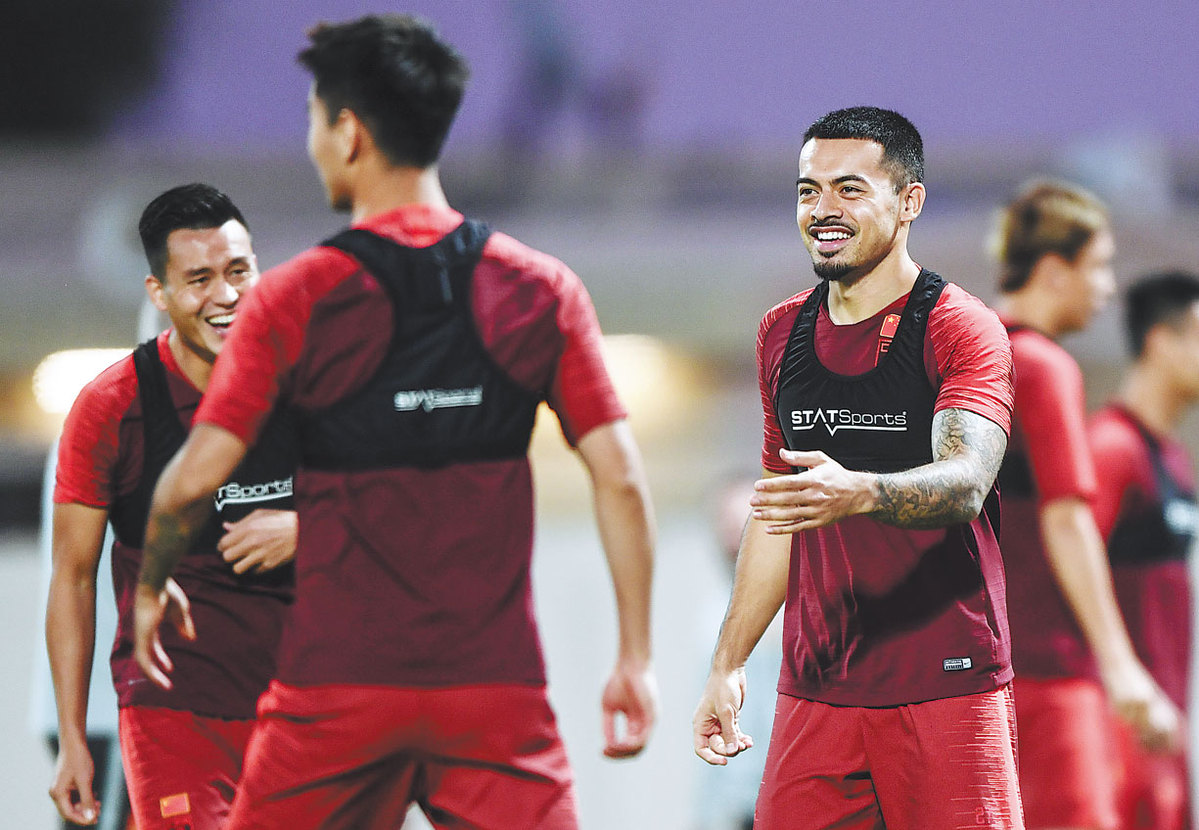 London-born midfielder determined to play his way into Lippi's starting XI
Li Ke has been playing his way into Chinese fans' affections since becoming the national team's first ever naturalized star, but admits he still has some work to do to gain head coach Marcello Lippi's total trust.
The London-born Beijing Guo'an midfielder is hoping to make his fifth appearance in the red jersey when China takes on Syria in a crucial 2022 World Cup qualifier in Dubai on Thursday.
Having made his debut by starting in a 2-0 friendly win over the Philippines in June, Li, aka Nico Yennaris, has made two appearances off the bench in China's three qualifiers so far and failed to see any game time in the last outing-the 0-0 stalemate in the Philippines that leaves Lippi's second-place side trailing leader Syria by two points in Group A.
Now, the former Arsenal and Brentford player is hoping some good old-fashioned hard graft can help him nail down a regular starting berth.
"For me, I go to the national team and I try to just train hard hope the coach to select me. Because it has been a group that's been together for a long time. A lot of these players went to the Asian Cup with the coach, so he knows the players very well, but he doesn't know me so well," Li told People's Daily before the squad set off for Dubai last Wednesday.
"So I'm just going in there, work hard, do what I can to get into the starting lineup. If he selects me, I just want to do my best and have a good performance."
China's other naturalized star, Guangzhou Evergrande's Brazil-born striker Ai Kesen, aka Elkeson, has bagged three goals in the qualifiers to date.
Li insists it's not been a case of comparing notes with Ai Kesen on their change of citizenship, but instead he's simply focused on bonding with the squad as a whole.
"Me and Elkeson spoke, but we didn't speak about the naturalization, because we just get on with our job and focus on the game and what we have to do," Li said.
"There are more players in the national team. You know, I'm starting to build better relationships with the players there every time."
Having opened its Group A campaign with 5-0 and 7-0 routs of the Maldives and Guam respectively, a 0-0 draw against the Philippines put a slight dampener on the renewed optimism in the camp.
Therefore, victory or even a draw against a so-far perfect Syria squad would be a big boost to China's chances of securing a spot in the 12-team second round of Asian zone qualifying-comprised of the eight group winners and the four best second-place finishers.
"We cannot add more pressure to the game, because it's Syria and we just have to do want we do best," added Li.
"As long as we perform and we give our all, the result will take care of itself. The preparation is the same as any other game. We go the training camp and we work hard. We train well for ten days or however long together."
It's been a busy year for Li, who arrived at Guo'an in January and has since enjoyed an encouraging season with the capital club, which is still in the hunt for the Chinese Super League title along with leader Evergrande and defending champion Shanghai SIPG.
As well as adapting to a new league and a new culture, the 26-year-old admits that adding international soccer to his schedule has posed extra challenges.
"International football is different from club football," said Li. "The system that we play is different. For me, I just see it as another game, but we play against the best players in that country.
"You have to be ready to fight from the beginning. It's difficult to play against the best players of each country who are of good standard.
"I'm not saying that club football is not good... it's always gonna be a different challenge.
"For me, honestly, to be involved in a World Cup qualifier is a great achievement. My goal is to help the team the best I can to qualify. That's the goal for everybody. If we can do this, it will be amazing."