S. Africa pledges to create more jobs
By Ndumiso Mlilo in Johannesburg, South Africa | China Daily | Updated: 2019-11-14 09:56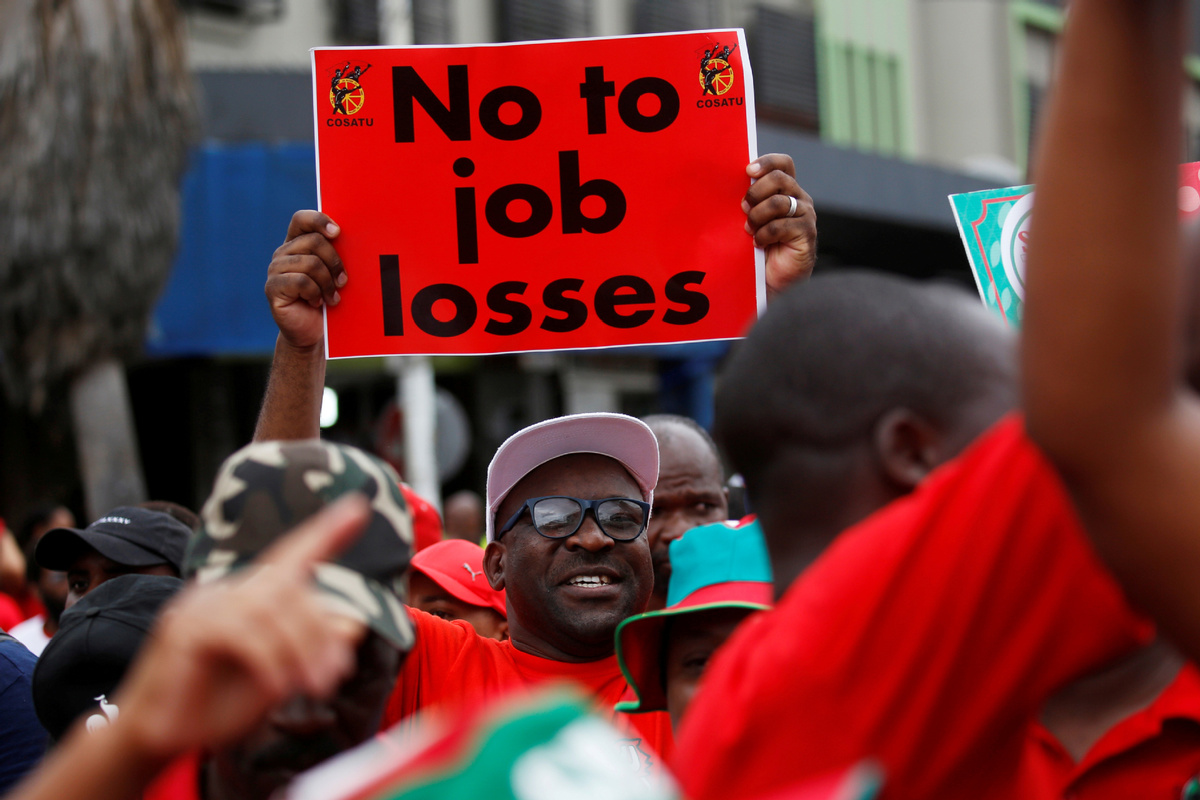 A total of $24.2 billion in investments pledged at a Johannesburg conference last week is expected to create 412,000 jobs in South Africa, according to President Cyril Ramaphosa.
The investments will support 31 projects, announced in 2018, in the auto, mining, energy and agro-processing industries. Seventeen projects are already under construction or at an implementation stage, involving $15.9 billion of investment.
Ramaphosa said this year's investments exceeded the amount pledged at last year's South Africa Investment Conference, where $20 billion was pledged.
South African companies accounted for $17.6 billion of the total pledges at this year's conference, compared to only $10.6 billion last year.
Ramaphosa hailed the increase in investment as a vote of confidence in the country's economy.
"It's a real achievement to realize this success at a time when our economy is struggling. After a prolonged period of stagnation, uncertainty and upheaval, we are firmly on the road to recovery," Ramaphosa said.
The president said that over $5.3 billion in investment pledges not disclosed at the conference are awaiting regulatory and board approvals.
Last year, Ramaphosa launched an ambitious plan to raise $100 billion in new investment over five years, aimed at boosting the rate of investment in the economy, which has been declining.
The South African economy is expected to grow by 0.5 percent this year, Ramaphosa said.
"Not surprisingly, there was a fair amount of skepticism about our ability to succeed in raising this amount of investment. Now, with the success of the second South Africa Investment Conference ... those doubts are giving way to a sense of realism and optimism," he said.
Ramaphosa said in his weekly TV address last week that the total value of investment commitments made this year vastly exceeded expectations.
"The benefit of increased investment extends far beyond raising capital to fund key projects. It is about the creation of a good and decent job for every South African, enabling them to feed their families, to own or build a home, and to save for their children's education and for retirement," he said.
The president called on domestic businesses to continue reinvesting in the economy. "By far, the most exciting development at the investment conference was the increase in the commitments from South African businesses," he said.
Hamilton Ratshefola, general manager of IBM Southern Africa, said the government should upgrade the infrastructure as well as improve water and the electricity supply to attract more investments.
"There have to be quicker licensing, permits and visa approvals for workers," Ratshefola said.
He said the country has the advantage of "endless natural resources" and a huge young population that can be equipped with the right skills for development of the country.
Tshifhiwa Tshivenga, CEO of the Tourism Business Council of South Africa, expressed gratitude that tourism is part of the government's priorities in the next five years.
He called on the government to speed up the "world class e-visa" program and remove hurdles which frustrate potential tourists, such as the need for unabridged birth certificates for minors.
The writer is a freelance journalist for China Daily.
Edith Mutethya in Nairobi, Kenya, contributed to the story.