Unrest in Hong Kong takes heavy toll on work
Share - WeChat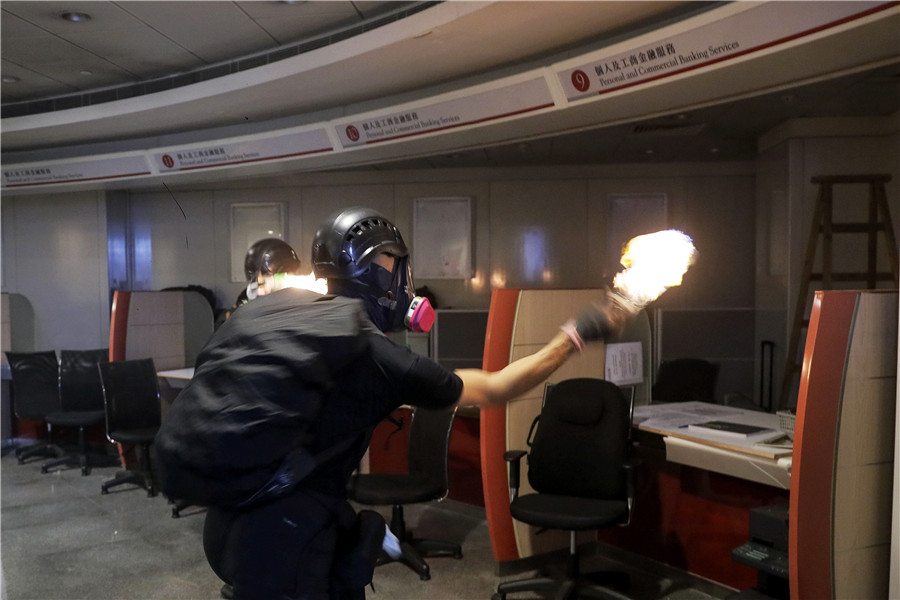 Commercial activities are increasingly feeling the impact of continued protests in Hong Kong, with escalating violence severely disrupting businesses and work.
A major annual gathering of Asian airline executives planned for Hong Kong next week has been canceled amid the chaos, according to organizers. The Association of Asia Pacific Airlines industry group and Cathay Pacific Airways, the host airline for this year's event, decided to cancel the 63rd Assembly of Presidents meeting after careful deliberation, according to a statement on Wednesday. The meeting of the presidents of airlines in the region was scheduled for Nov 21 and 22.
"This was a very difficult decision, given our commitment to organize this important industry event, but reflects the unpredictability of the situation in Hong Kong," AAPA said in the statement. "AAPA deeply regrets the inconvenience and disappointment caused by this change of plans."
The AAPA gathering is held every year, with its 15-member airlines taking turns as hosts. Last year, the meeting to discuss industry issues was held in South Korea and hosted by Korean Air Lines Co.
While previous protests due to the "Extradition Bill Incident" have mostly been limited to weekends, the last three days have been marked by widespread transportation shutdowns during morning rush hours, tear gas used outside major office buildings and growing concerns within multinational banks and companies about worker safety.
Kimmy, who has a back-office job at a listed company in central Hong Kong, worked four hours on Monday after disruptions to public transportation turned her 40-minute commute into a three-hour trip. Half of her colleagues in the company's trading department did not go to the office.
Hao Hong, head of research at Bocom International, a securities and asset management company, said he canceled meetings and struggled to get some work done as the protests left members of his team stuck in traffic or unable to get to the office.
"For us to perform effectively, we have to be together, Hong said, "But of course, safety first."
That sentiment was echoed by BNP Paribas SA in a memo to employees on Wednesday: where meetings are already planned, managers should not hesitate to cancel and reschedule depending on the evolution of the situation.
At JPMorgan Chase & Co's main Hong Kong offices, employees were reminded to make arrangements in circumstances that require flexibility such as family needs, school closures and transportation issues.
Bloomberg contributed to this story.