New courses catering to hot demand for winter workers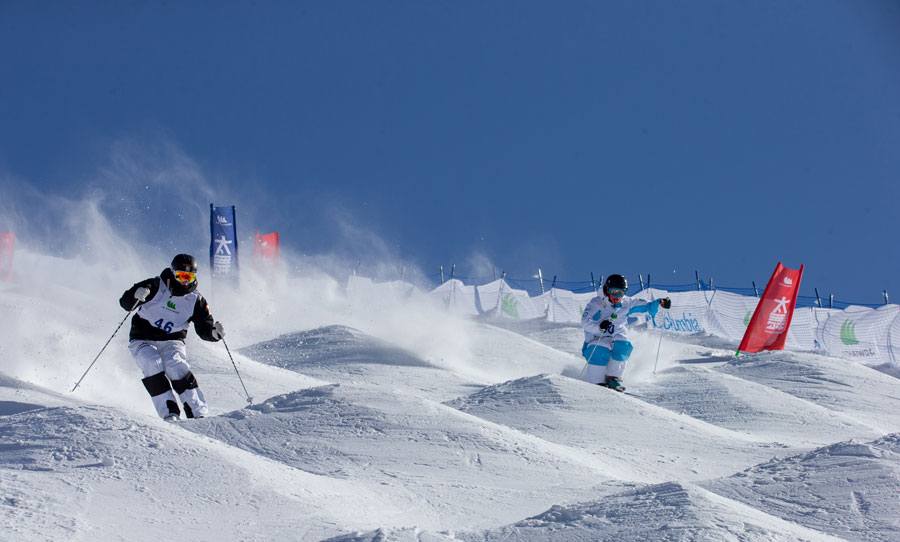 With people's enthusiasm for ice and snow sports continuing to grow as the 2022 Beijing Winter Olympics approach, China is endeavoring to meet the increasing demand for professional workers in the industry.
As part of these efforts, an increasing number of education institutions are offering training in ice and snow sports facility maintenance and management, according to new information endorsed by the Ministry of Education.
One of those is the Institute of Ice and Snow at Zhangjiakou University, located some 200 kilometers northwest of Beijing, which has developed a series of courses that cover a diverse range of topics such as sports knowledge, multi-cultural communication and first aid.
Dong Jianming, dean of the institute, said the school aims to cater to the ever-increasing need for professional staff to work at the 2022 Games and beyond.
"The upcoming Winter Olympic Games in Beijing have presented us with an unprecedented opportunity to foster more talent in China's growing ice and snow industry," he said.
Zhangjiakou, in Hebei province, will co-host the 2022 Games and stage the likes of snowboarding, freestyle skiing, cross-country skiing and ski jumping.
Ski resorts and ice rinks are suddenly in vogue in China, with more and more young people trying their hand at winter sports.
"What appeals to me most about skiing is the speed, freedom and sense of accomplishment that comes from conquering difficult slopes," said Beijinger Cao Yu, an internet worker who has skied on several resorts near the capital, including Chongli's Genting Secret Garden and Nanshan.
Compared to his experiences in the United States, Cao reckons that China "might still lag behind in terms of facilities like snow quality, the length of slopes and the size of the resorts, but it is improving every year".
In Beijing, many parents regularly drive for hours to take their kids to resorts in remote suburbs or neighboring Hebei province.
Figures from market researcher International Data Group show the number of Chinese skiers reached 23.45 million in 2019, an annual increase of 21.5 percent.
China is aiming to involve more than 300 million people in winter sports by 2022 as part of an ambitious government-backed plan.
According to Dong, the large-scale cultivation of talent for the winter sports industry is a complex, long-term process that organizations like his own institute cannot undertake on their own.
That is why Zhangjiakou University is planning to cooperate with other entities to provide a wider variety of educational platforms, he added.
Xinhua