PLA on HK streets, but not as Western media expected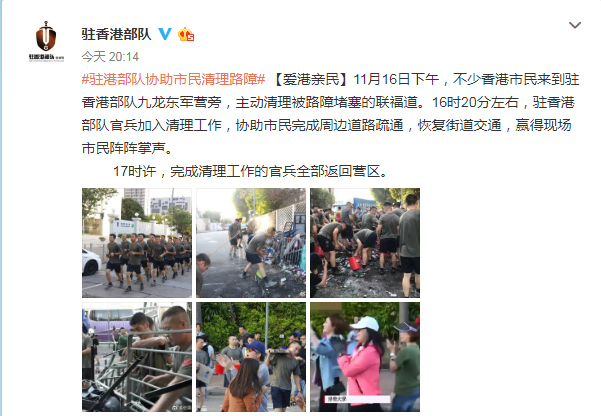 At about 16: 20 on Saturday, dozens of officers and men from the People's Liberation Army (PLA) Hong Kong Garrison reportedly appeared on Kowloon streets to help the residents clear the streets of the barricades and debris left by rioters.
As a widespread video clip show, one middle-aged man, apparently the commander of the group, was surrounded by certain local media outlets when he organized the cleaning jobs.
One of the questions, obviously misleading, goes like this: "Do you worry that by suddenly appearing on the streets you might leave a not-so-good impression to Hong Kong residents?"
The commander answered with confidence: "The applause from the Hong Kong residents best shows our impression!"
Yet the move, which serves public interest in Hong Kong, has met challenges and doubts from certain Western media outlets. Some even unanimously quoted a few local legislators in saying they were "upset".
The same media will never tell its readers how the local residents showed their welcome to the PLA men with warm applause.
And they should also carefully watch the video clip again before simply putting it on their websites. In the video, the military men were seen wearing T-shirts, not uniforms, while the commander clearly said that they came out "voluntarily".
Just as Ms Athena Kung CY, senior counsel registered at the Hong Kong Bar Association, said in an interview with Orange News, the PLA men were not wearing uniforms and they were rendering voluntary services, which is not against the Basic Law of Hong Kong SAR.
Kung also said that it is in accordance with HK's general interests if the members of the PLA garrison that are not on duty to voluntarily clean the debris in the streets.
In October 2018, when Typhoon Mangkhut caused heavy losses to Hong Kong, PLA soldiers were seen clearing the trees that were uprooted in a park. Some local legislators then raised doubts, which were clearly answered by John Lee Ka-chiu, HKSAR Secretary for Security, saying that it was a voluntary public-interest deed, not disaster relief; Therefore they did not need an invitation from the HKSAR government.
In a word, anybody with a clear mind knows the deeds of the PLA personnel serve the public and should be welcomed.
When some local "journalists" attempted to surround the commander again, the commander said "Please do not disturb — Let's work together on the cleaning job."
Let's hope more Hong Kong "journalists" will heed his reply. Compared with trying to get misquotes via misleading questions, there are many more meaningful things they can do for Hong Kong.
Please start with clearing the debris and letting more people participate in this good activity.