Vigilance and vegetables boost border lifestyle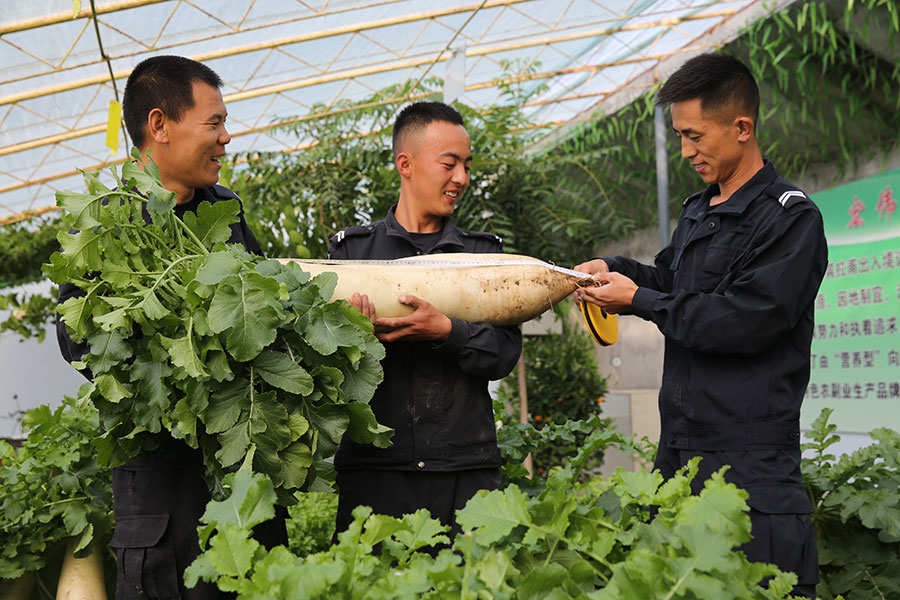 A guard at a checkpoint in the far west has improved people's diets and health by introducing new foodstuffs. Aybek Askhar reports from Tashikurgan Tajik autonomous county, Xinjiang Uygur autonomous region.
Editor's note: This is the second in a series of stories about China's border patrol guards, focusing on the challenges they face and their work to keep the country safe, prevent trafficking of drugs and people, and maintain friendly relations with their counterparts in neighboring countries.
Imagine that you live in a place where the average elevation is more than 4,570 meters above sea level and the oxygen content in the air is just half that in most cities in the world. Moreover, you have been living there and doing the same thing almost every day for more than 20 years.
Now, you have a chance to leave with nearly 3 million yuan ($428,000) and reunite with your family for good. What would you do? For most people, it would not be a hard choice, and it would appear strange if you chose to stay.
Last year, Sun Chao, an immigration officer from the northern province of Hebei, made probably the hardest decision of his life.
"I have spoken with my family many times about my decision to stay at my post, and like everyone else, they were pretty confused initially. On the day I left my home, my wife reminded me that we only meet twice a year at most. I was holding my 7-year-old son tight in my arms when she said that - I had never cried before that moment," the 40-year-old said.
The place that has enchanted Sun is the Khunjerab Pass, China's highest border checkpoint, located in Tashikurgan Tajik autonomous county in the south of the Xinjiang Uygur autonomous region.
The county - about 4,000 kilometers from Gaobeidian, Sun's Hebei hometown - shares a 126-km border with three countries: Tajikistan; Afghanistan; and Pakistan.