China's sound economic data buoys market confidence
By Huang Yongfu | CGTN | Updated: 2019-11-18 09:28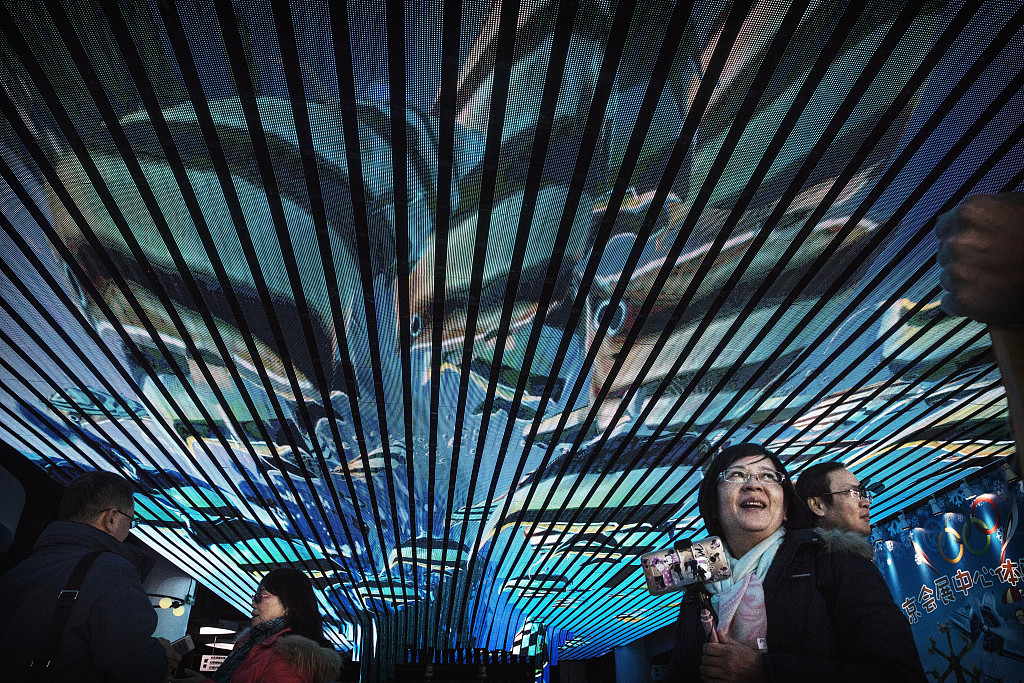 On Thursday, the latest data on China's economic performance in October 2019 was released at a press conference held by the Information Office of the State Council of China.
Despite slight pullback in growth, sound economic data released by the National Bureau of Statistics suggests that China's economy remains on solid footing with better quality and efficiency and more broad-based progress being made. It is reassuring that industrial upgrade is underway, with positive changes in structure and sources of growth.
High-tech manufacturing ramps up amid steady industrial expansion
China's value-added industrial output, an important economic indicator, expanded 5.6 percent year-on-year in the first 10 months and remains the same as in the first 9 months. This is largely driven by the Belt and Road Initiative and surging domestic demand. Industrial output is used to measure the activities of certain large enterprises with annual revenue of at least 20 million yuan (3.03 million U.S dollars).
Ownership analysis shows that industrial output of state-holding enterprises, share-holding enterprises as well as enterprises funded by investors from overseas, or investors from Hong Kong, Macao and Taiwan increased 4.8 percent, 5.4 percent and 2.1 percent respectively.
A further breakdown of the data into sectors shows the output of mining, manufacturing, new energy industries and high-tech manufacturing all posted strong growth, where mining, manufacturing and new energy industries increased 3.9 percent, 4.6 percent and 6.6 percent respectively, while high-tech manufacturing witnessed higher output growth of 8.6 percent.
China's purchasing managers' index (PMI) for manufacturing sector edged up to 50.8 for this period, above the boom-bust line of 50. The PMI is a main gauge of manufacturing activity where a reading above 50 indicates economic activity expansion from contraction.
When looking deep into the investment growth during the first 10 months, one can see that China's fixed-asset investment grew 5.2 percent year-on-year, 0.2 percent lower to that of the first 9 months of this year, partly due to authorities stepping up efforts to tighten control on local government debt and financial leverage whereas the investment in high-tech industries and social development rose substantially by 14.2 percent and 12.9 percent respectively.
Market sales, especially online shopping, grow rapidly
By October, the total retail sales of consumer goods hit 33,477.8 billion yuan, up 8.1 percent year-on-year, 0.1 percent lower than that in the first 9 months. China's online retail sales reached 8,230.7 billion yuan, up 16.4 percent year-on-year, 0.4 percent lower than that in the first 9 months. Upbeat figures on consumption point to stronger domestic demand, and the considerable role of consumption in terms of contribution of about 60 percent to economic expansion over the years.
As an increasingly important way of retail sales, the online shopping is booming recent years. Several days ago, Alibaba's TMall reported 268.4 billion yuan (about 38.3 billion U.S. dollars) in sales during the 2019 Singles' Day shopping festival, setting a new record with a 26 percent increase to the previous year.
China's consumer prices increased 2.6 percent year-on-year in the first 10 months. The hike in consumer prices was mainly driven by soaring pork prices, which was affected by African swine fever and cyclical factors. Now, the country has rolled out multiple measures to stabilize hog production and pork supply.
Trade openness gears up
China's foreign trade maintained its growth momentum, and is expected to continue growing further. In the first 10 months, China's total foreign trade volume hit 25.63 trillion yuan, expanding 2.4 percent year-on-year. During this period, exports rose 4.9 percent year-on-year, while imports declined 0.4 percent. The trade surplus stood at 301.3 billion yuan in October, flat with that of the previous period. Trade surplus totally driven by market forces is not China's goal, and will vary with market changes.
Chinese government is determined to strive for an increasingly open economy and robust domestic growth to benefit global business. The China International Import Expo (CIIE) is part of its great effort committed to being a source of global demand, based on China's middle-income group of some 400 million people.
The first CIIE produced over 57 billion U.S. dollars in deals, about half of which came to fruition, according to the European Union Chamber of Commerce in China. The second CIIE reached over 71.13 billion U.S. dollars of the intended deals.
Looking ahead, China's ongoing trade tensions with the United States might weigh on exports, hobble employment in certain industries, put higher pressure on financial sectors, and add growing challenges and headwinds to its national economy.
To increase economic resilience and meet its full-year growth target, the government would therefore take more preemptive measures in relation to financial risk management and prevention for both domestic and overseas Chinese firms and institutions, given more openness in policies for trade and financial sectors have been adopted. The government would also enhance implementation of policies to keep foreign trade, employment, and expectations stable.