Endangered deer captured by camera in NE China
Xinhua | Updated: 2019-11-18 16:48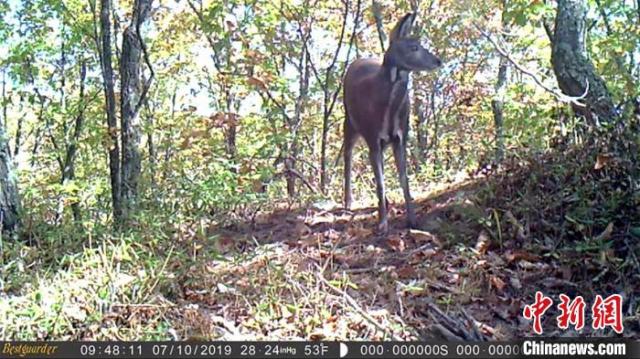 CHANGCHUN -- A Siberian musk deer was captured by an infrared camera at a tree farm in Northeast China's Jilin province, the local forestry bureau said Monday.
Siberian musk deer, under first-class state protection, have an acute sense of sight and smell. Rare in numbers, the vigilant animal is rarely spotted in the wild.
The deer in the video was identified to be an adult male deer. It is the first time that the rare deer was spotted at the Xinhua Tree Farm administrated by Tianqiaoling Forestry Bureau.
The adult Siberian musk deer usually measures about 85 cm long with a weight of 8 to 12 kg, said Tang Naiyun, deputy director of the tree farm.
Musk deer are known for their musk, a kind of aromatic substance commonly used in perfumes across the world and widely used in traditional herbal medicine in China. "It is very rare to see wild Siberian musk deer nowadays," said Tang.
Tianqiaoling Forestry Bureau is located on a branch of the Changbai Mountains which boasts rich biodiversity and is home to endangered wildlife species, including Siberian tigers, boars and black bears.
Since 2015, the forestry bureau has monitored frequent activities of Siberian tigers and Amur leopards in its tree farms, which suggests the improvement of the environment and restoration of the local forestry resources.
Tang said they have stepped up patrols, providing a good living environment for wild animals.