Upstarts Zhao, Qian gatecrash season finale
China enjoyed a fruitful weekend at the ITTF Austrian Open as unexpected deep runs for qualifiers Zhao Zihao and Qian Tianyi secured the pair places at next month's ITTF World Tour Grand Finals in Zhengzhou, Henan province.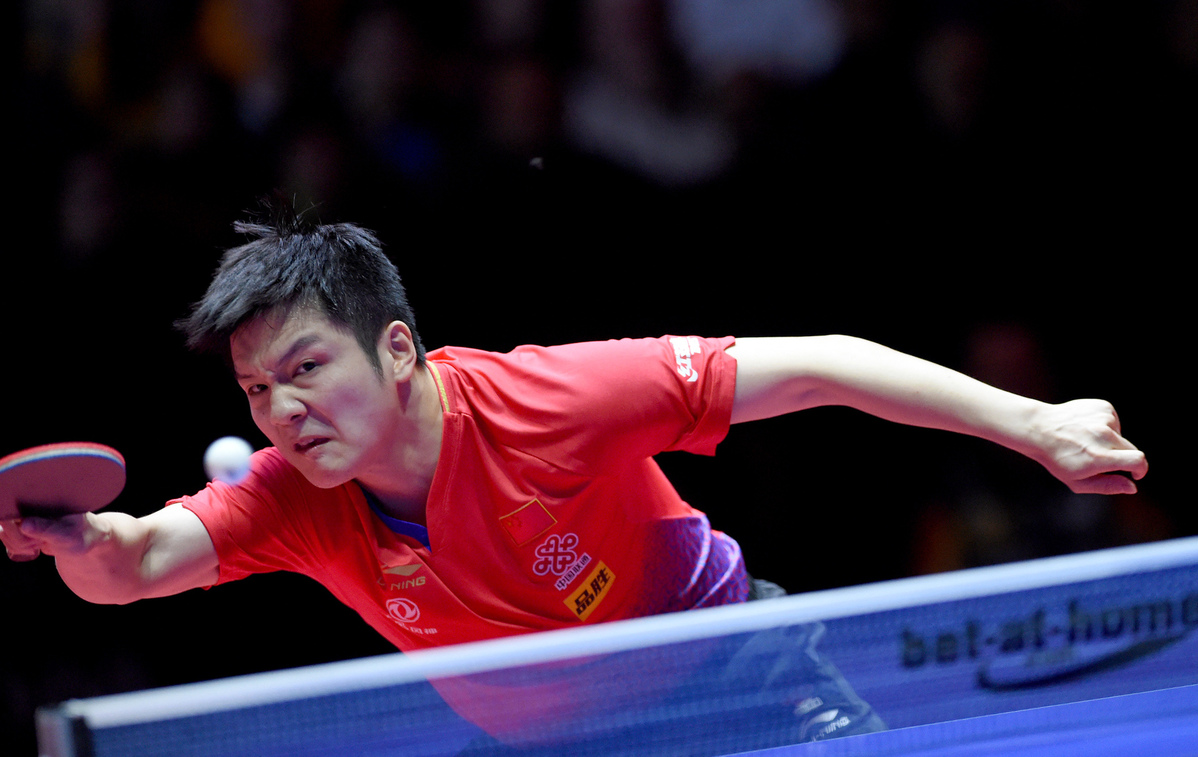 Zhao has made rapid progress this year and enjoyed another superb week on the tour by reaching the men's singles final in Linz, where he lost 4-0 (12-10, 11-6, 11-6, 11-5) to superstar compatriot Fan Zhendong.
The second-place finish for Zhao, who wiped the floor with Brazil's Hugo Calderano in their semifinal (12-10, 11-6, 11-6, 11-5), saw the 22-year-old jump from 21st to 13th in the world rankings to book his spot among the 16 elite paddlers at the Finals (Dec 12-15).
Exactly a year ago, Zhao had kicked off his surge up the order of merit with victory at the Belarus Open.
Likewise, 19-year-old Qian advanced from 24th in the women's rankings to grab the 16th and last berth for Zhengzhou by reaching the semifinals, where she was beaten 4-0(11-6, 11-9, 11-9, 11-6) by eventual champion Mima Ito of Japan.
Third seed Ito overcame China's Zhu Yuling 4-1(11-5, 16-18, 11-7, 13-11, 12-10) in Sunday's final as the Japanese claimed her first title of the year, interrupting China's sweep of the women's singles tournaments this season.
In fact, the 19-year-old's triumph was the first tournament not won by a Chinese player since November 2018, when Ito beat Zhu in the final in Sweden.
Zhu will head to Zhengzhou as the 10th seed with China's Sun Yingsha ranked first. They will be joined by eight compatriots: Chen Meng (No 3), Wang Manyu (No 4), Chen Xingtong (No 6), Liu Shiwen (No 7), Ding Ning (No 8), Linz semifinalist Wang Yidi (No 9), He Zhuojia (No 14) and Qian.
The men's singles lineup for the Finals is also dominated by Chinese players, featuring seven in total, with Xu Xin in top spot. He will be joined by teammates Fan (No 2), Lin Gaoyuan (No 3), Ma Long (No 4), Wang Chuqin (No 7), Liang Jingkun (No 8) and Zhao (No 13).
Wang Chuqin's place, however, is in doubt after he was suspended for three months by the Chinese Table Tennis Association due to an incident which occurred during the second qualification day in Linz.
Fan will head to the Zhengzhou tournament in fine form, with victory in Linz his second consecutive title following a triumph in Germany that ended a barren spell for the 22-year-old.
Fan might have cruised in the final in Linz, but he had to draw on all his resources to fend off Germany's Timo Boll in an epic last-four clash. Fan saved three match points in the nail-biting decider to prevail 4-3 (11-2, 4-11, 11-13, 5-11, 11-3, 11-5, 14-12).
Fan has now amassed 13 ITTF World Tour singles crowns and is level on the all-time list with compatriot Wang Hao. However, Fan till has some distance to go to catch the great Ma Long (28), who heads the roll of honor ahead of Vladmir Samsonov of Belarus (27), China's Wang Liqin (21) and Ma Lin (20), Boll (19) and China's Xu Xin (17).
Xu and Fan are ranked second in the men's doubles for Zhengzhou behind Korean pair Jeoung Youngsik and Lee Sangsu, who lost Saturday's final in Linz to China's Liang Jingkun and Lin Gaoyuan.
Eighteen-year-old Lin Yun-ju of the Chinese Taipei team has qualified in both the men's (No 7, with Liao Cheng-ting) and mixed doubles (No 2, with Cheng I-ching).
Xu Xin, partnering compatriot Liu Shiwen appears at No 3 in the mixed doubles standings; Wong Chun-ting and Doo Hoi-kem of the Hong Kong team occupy top spot.