Mushrooms, a perfect match with white truffles
Éric Bouchenoire was the late chef-extraordinaire Joël Robuchon's closest collaborator for 33 years. Now supervising more than 20 multi-starred restaurants around the world, Bouchenoire shares the secrets of his scallop in ravioli dish, which is now on the autumn/winter menu of L'Atelier de Joël Robuchon in Hong Kong and Robuchon au Dôme in Macao.

What was your inspiration in creating this recipe?
I was looking for what could make a good marriage with white truffles. Achieving harmony with white truffle is very complicated; that's what I learned with Mr Robuchon. Only pasta, some seafood, eggs and mushrooms – especially button mushrooms – work. One day, while thinking about button mushrooms, I had a flash and remembered a recipe we had created with Mr Robuchon in 2016 for the European Football Championship in France: button mushroom ravioli with white truffles.
What's your personal touch for this new recipe?
I added scallops to mushroom duxelles. It provides an iodised touch that is in perfect harmony with the mushroom and the white truffle. The duxelles is made with the whitest part of the mushroom; the excess parts and the stems are sliced to make our sauce, so there's nothing that goes to waste. With these extra parts, we add a light aroma of mushrooms, to which we add a little cream to bring lightness to our dish. Finally, we add a few sea urchin tongues on top – it's a nice touch of iodised color and the sea urchin also blends very well with the white truffle.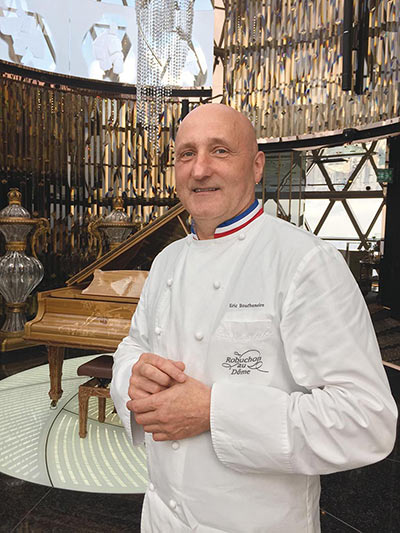 With all these ingredients, is it a rather expensive dish to make?
Well, if you remove the truffle and the sea urchin, you are also not obliged to use scallops, so you could make a button mushroom ravioli. It would be an absolutely sublime dish with very cheap, basic products and, in addition, a dish that would perfectly suit vegetarians.
Does this somehow relate to your definition of a great chef?
Yes, with simple cooking that's cheap and doable at home for everyone. It's the same for a sommelier – put them in front of a Château Pétrus and other great wines, and it's easy. But for me, a real sommelier is one who's able to find a basic wine that isn't expensive, but exceptional. It is based on this choice that we recognise a professional. In the kitchen, it's the same. One could put truffles everywhere – it's easy…
How long did it take you to develop this recipe?
Between Macao and Hong Kong, about eight working days. At the beginning, the recipe was very good, but we tried to improve it. There's always something missing, so at the end we added some little mushroom chips to bring a crunchy side to the dish. Honestly, if a recipe doesn't work and you don't feel it at first, you can stop! After that, it's just making small adjustments, like the racing car engines that mechanics used to adjust by ear a few decades ago.