Titanic the Musical sets sail into new season
By ZHANG KUN | China Daily | Updated: 2019-11-22 09:19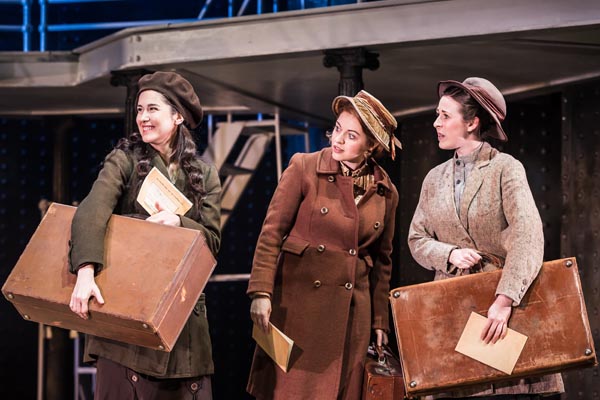 Titanic the Musical will be the first production to kick off the New Year season at the SAIC Shanghai Culture Square, with seven shows scheduled from Nov 27 to Dec 1.
Produced in 1997, with music and lyrics by Maury Yeston and script by Peter Stone, Titanic the Musical won five Tony Awards, including best musical and best score.
On Nov 5, the theater invited the cast and fans on a cruise along the Huangpu River in Shanghai, with more than 200 people dressed in vintage costumes attending the event. The cruise also featured artists performing a segment of the musical as well as a documentary and exhibition about the tragic event which took place in 1912.
"The cruise ship Happy Captain setting sail marked the start of our new year season," says Zhang Jie, general manager of the SAIC Shanghai Culture Square.
"In the past eight years, we have presented a series of heavyweight musical productions in different languages and diverse styles during the season, and successfully made it a widely anticipated festive feast for musical fans in Shanghai."
Following Shanghai, which is the second leg of its China tour, the production will be shown in Nanjing, Jiangsu province, from Dec 4 to 8 and Guangzhou, Guangdong province, from Dec 12 to 15.
Unlike the movie by James Cameron, which features a romance between the fictional characters Jack and Rose, the musical is based on real events that happened to real people, says director of the show, Thom Southerland. Audiences can expect to learn the stories of different individuals, including a stoker, a wireless telegrapher, the captain and various members of the crew.
"The show was created to pay tribute to the people," Southerland adds. "As a Broadway show, the musical does dramatize the events, but the details are historically accurate."
Despite winning five Tony Awards, the musical ended its Broadway run at a loss after 804 performances. It was later reproduced by multiple professional and amateur groups, and has now become recognized as a staple of musical theater worldwide.
According to producer Danielle Tarento, the production that is touring China was created in 2013 and performed first in London and Toronto. After China, it will head home to London before embarking on a tour of Britain and then Germany.
Tarento recalled witnessing emotional responses from the audience, a third of whom had lost a family member during the tragedy, when Titanic the Musical previously played in Southampton. The English city was where the ship set off on its maiden voyage, bound for New York in the United States.
"It is a stunning and stirring production focusing on the hopes, dreams and aspirations of the passengers," Tarento says.