Robotics firms wait for the next wave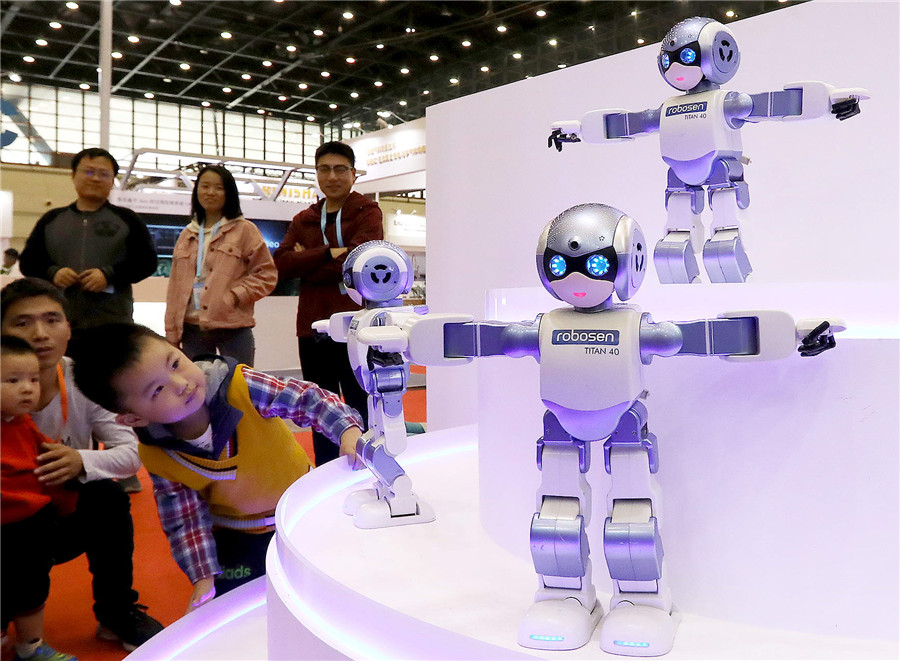 Companies bank on tech advantage, more R&D efforts to carve a niche in global arena
Though China's robotics market is experiencing short-term contraction, companies' consistent efforts to hone their technological prowess and beef up research and development on premium products will drive the industry into a new phase of high-quality growth, analysts said.
The comments came after the country's top industry regulator is reportedly working on a new 2035 development plan for the domestic robotics industry.
Song Xiaogang, executive vice-president of the China Robot Industry Alliance, said China's robotics market had grown at an average growth rate of 35 percent from 2010 to 2017, compared with the global average of above 15 percent.
But for the first time, last year, China recorded a 1.73 percent year-on-year decline in sales of industrial robots despite being the world's largest market for the same since 2013. The global robotics sector also saw its growth slow down to about 1 percent, according to data from the alliance.
Song said the Ministry of Industry and Information Technology is now working on a new 2035 development plan for the robotics industry and relevant officials have been conducting investigations into robotics companies and supply chains in four regions across the country for more than two months.
"Their mission is to find out the key bottlenecks and shortcomings of the robotics sector," Song said.
Ren Shunying, chief investment officer at Siasun Robot Investment Co Ltd, said the decline of China's industrial robots is partly the result of the shrinking automotive sector, which has been among the largest users of industrial robots in plants.
"But as robots become increasingly smart with the help of artificial intelligence, the market for service robots will grow exponentially. The demand for companion robots and healthcare robots will be huge in the future, given China's growing pool of senior citizens," Ren said. According to him, robots will also see wider application in sectors featuring nonstandard products.
The market size of China's robotics sector is expected to hit $8.68 billion this year, the Chinese Institute of Electronics forecast in a report.
Specifically, the market for industrial robots will be worth $5.73 billion this year, and the market for service robots will be worth $2.2 billion, the report said.
The China Robot Industry Alliance also forecast that China's market for industrial robots may see a year-on-year growth of 5 percent in sales this year, with domestic brands seeing about 15 percent growth.
Song from the alliance said there is no need to worry about the long-term contraction in the Chinese robotics market. The country's graying population, rising worker salaries and its sprawling manufacturing plants will all boost demand for robots.
Also, as domestic robot makers continue their R&D investment, they are moving up the value chain. Collaborative industrial robots, known as "cobots", for instance, are expected to become a growth engine for the industrial robots sector, and China will take center stage in the new trend, experts said.
Cobots are designed to physically interact with humans in a shared workspace, in contrast to most industrial robots used nowadays, which are often seen sitting behind safety barriers at factories. Cobots' ability to collaborate with humans is more suitable for meeting the needs of industries with more specific, flexible or personal requirements.
In 2016, Siasun, for instance, showcased China's first homegrown seven-axis collaborative robot, which performed tai chi with a human master. Last year, the company took a step further by displaying a hybrid cobot at the Hannover Industry Fair in Germany to demonstrate two-robot synchronous technology.
Susanne Bieller, secretary-general of the International Federation of Robotics, said in an earlier interview with China Daily that "Chinese suppliers are strong in exploring industry sectors beyond automotive and electronics, which opens up a potentially unlimited market, and makes the robotics industry less susceptible to any risks caused by weaker phases in single industries".
Miao Wei, minister of industry and information technology, also said earlier this year that the global robotics sector has seen slower growth this year due to the complex international environment.
"But as an important application of the new-round of technological revolution and its integration with manufacturing, robots remain the key driver of high-quality development. The sector will also achieve fast development in the future with expanding application scenarios and quick technological improvements," Miao said.
The official also highlighted that China will step up efforts to achieve breakthroughs in crucial robotics technologies and promote the use of industrial and service robots in industrial plants and daily lives.