China extends helping hand to propel Africa's development
By Yuan Wu | China Daily | Updated: 2019-11-23 09:51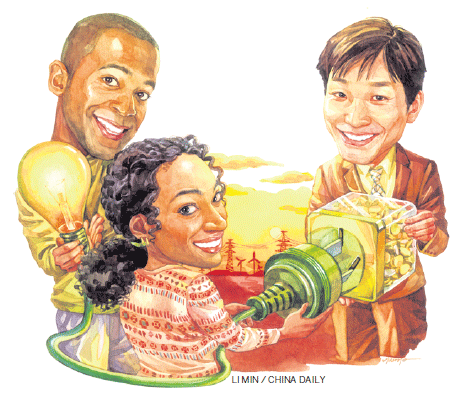 To mark the Africa Industrialization Day on Wednesday, the African Union, in collaboration with its partners, organized a series of activities themed African Industrialization Week from Nov 18 to 22, which brought together about 1,000 participants from the private and public sectors, civil society and development partners in such areas as science and technology, manufacturing, tourism, health insurance, automobiles, textiles, fertilizer and finance. The aim of the African Industrialization Week was to propel Africa's economic transformation in the medium and long term.
Africa boasts abundant natural resources, demographic advantages and huge development potential. Rich in natural resources, Africa is called the world's "storehouse of raw materials". Many African countries have depended on these resources to earn foreign exchanges. Africa also has a large workforce and its population is rapidly growing.
A report released by the French Institute for Demographic Studies in 2017 showed that Africa has the fastest population growth in the world, and its population is expected to double from 1.25 billion to 2.57 billion by 2050, accounting for a quarter of the world's total. And a United Nations report says young Africans will account for a quarter of the world's youth population by 2025.
Africa's opportunities come with challenges
Africa's fast population growth means a bigger workforce and consumer market in the future. But Africa faces many obstacles in realizing the demographic dividends. Without economic development, the rising population in Africa could lead to a food crisis, shortage of resources, poor education and healthcare, and social security problems. Therefore, African countries have decided to develop their manufacturing industries to achieve inclusive growth.
African countries, since gaining independence from European colonial powers, have been exploring ways to industrialize their economies, but the continent lags behind the rest of the world on development indicators. United Nations Industrial Development Organization data show that none of the 55 economies in Africa are industrialized, only three are "emerging industrial economies", 20"developing industrial economies" and 32"least-developed industrial countries".
Besides, Africa's industrial output is less than 3 percent of the world's total, and the continent's industries have low output, a low employment rate and export few medium-and high-tech manufactured goods.
Industrialization part of development goals
The international community, including China, has been trying to help African countries realize industrialization. According to the 2030 Sustainable Development Goals adopted by the UN, the promotion of sustainable industrialization is one of the global development priorities, particularly related to Africa's economic transformation plan in the next 50 years.
Agenda 2063, the African Union's blueprint and master plan to transform Africa into a global powerhouse in the future, is aimed at promoting the continent's industrialization, especially by developing manufacturing industries, enhancing the added value of African resources and increasing people's income.
At the Johannesburg summit of the Forum on China-Africa Cooperation in December 2015, China proposed 10 initiatives for Sino-African cooperation, including cooperation on industrialization and production capacity. At the G20 Summit in Hangzhou, Zhejiang province, in 2016, China pioneered a G20 initiative supporting the industrialization of African and other least-developed countries, which was the first initiative in the world to make Africa's industrialization a common issue of the international community.
Synergizing Agenda 2063 with Belt and Road Initiative
At the 2018 summit of the Forum on China-Africa Cooperation in Beijing, China proposed to synergize the Belt and Road Initiative with the African Union's Agenda 2063, the UN's 2030 Sustainable Development Goals and the development plans of African countries. This will bring unprecedented development opportunities to African countries, and boost their industrialization process.
As Africa's largest trading partner, China has created many opportunities for Africa's industrialization. China enjoys advantages in the fields of technology, equipment, talents and financing which Africa needs for its industrialization, while Africa has abundant natural resources and a large workforce, which are ideal for win-win Sino-African cooperation and common development. As the Belt and Road Initiative further unfolds in Africa, it will create more opportunities for African countries to realize common development.
According to statistics available up to August 2018, the completed or ongoing projects of Chinese companies in Africa will help increase highways by about 30,000 kilometers, port throughput by 85 million tons per year, clean water processing capacity by more than 9 million tons per day, power generation by nearly 20,000 megawatts, and jobs by about 900,000. A large number of railways, ports, industrial parks and other projects, which have been completed, have already accelerated Africa's industrialization.
Chinese enterprises have set up about 25 economic and trade cooperation zones in Africa, providing more platforms for increasing their investment in Africa. The more than 400 enterprises operating in the 25 zones have cumulatively invested more than $6 billion in sectors such as energy and mineral resources, light industry, building materials, textiles, and household appliances. With an output value of about $18.9 billion, these companies have paid the host countries about $900 million in taxes and hired 41,000 local employees.
Chinese funding helping alleviate poverty in Africa
As a McKinsey report says, funds from China have helped African countries alleviate poverty, improve people's livelihoods, accelerate industrialization and promote African integration while boosting Africa's sustainable development.
Also, the security situation in Africa has greatly improved, and African people have made achieving industrialization and economic integration their goal. China understands African people's pursuit of development and is trying to align the Chinese Dream of national rejuvenation with the "African dream" of peace and development.
Furthermore, Sino-African cooperation on the Belt and Road Initiative will provide more resources and means, a bigger market and more diversified development opportunities for African countries to expedite their industrialization process and realize modernization.
The author is an associate research fellow at the Institute of West Asia and African Studies, the Chinese Academy of Social Sciences. The views don't necessarily represent those of China Daily.