Carmakers put electric fleets on parade for current climate
By Li Fusheng | China Daily | Updated: 2019-11-25 10:27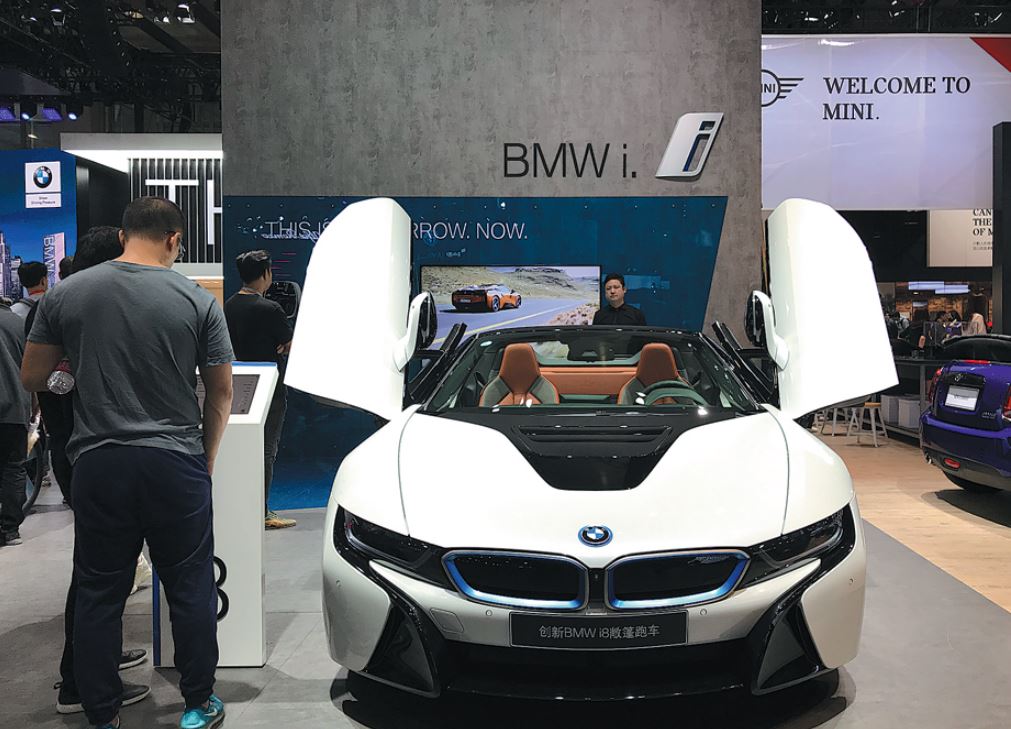 One in six models displayed at ongoing Guangzhou auto show non-conventionally fueled
Carmakers like to emphasize how different they are from one another, but if there is anything that brands have in common at the ongoing Guangzhou auto show, it is their chorus of accelerated transition to electrification, at least for the Chinese market.
Exhibitors from China and overseas are showcasing 182 electric cars and plug-in hybrids, accounting for 17.3 percent of the 1,050 vehicles at the annual car event that runs from Nov 22 to Dec 1. Last year, it was around 13 percent.
Japanese brands, with their dedication to hybrid technology, had shown less enthusiasm for pure electric cars until quite recently, but signs of change have appeared at the show.
Toyota's premium arm Lexus held the global premiere of its first ever electric model, the UX 300e SUV, at the show. It is the first model product under the Lexus Electrified strategy unveiled last month in Tokyo.
Lexus said the model, with a range of 400 kilometers, is specifically crafted to suit the needs of consumers in China and Europe, where it will be available in 2020, before it hits the Japanese market in 2021.
Yoshihiro Sawa, president of Lexus International, said the brand's dedicated platform for electric vehicles will be put in place in three to five years, and expects sales of electrified vehicles to surpass those of conventionally fueled ones.
Honda's Chinese joint venture GAC Honda presented its first electric model, the VE-1 SUV, featuring the brand's SPORT EV technology.
The joint venture said the electric SUV, that can run for 401 km on a single charge, marks the start of its electrification strategy.
Compared with Japanese brands, European brands have released more impressive strategies. In 2020 alone, Volkswagen AG and its Chinese partners will invest 1.6 billion euros ($1.76 billion) in e-mobility in China.
The German auto group said it will offer 14 new energy vehicles in China by the end of this year. Production of models on its electriconly MEB platform will start in 2020. Its subsidiaries Audi and Porsche have also launched electric vehicles in China.
The group will offer 30 locally produced new energy vehicles by 2025, with their combined annual sales expected to total 1.5 million vehicles.
"China is the e-mobility powerhouse of the world. And we strive to be at the forefront of shaping this movement," said Volkswagen Group China CEO Stephan Woellenstein.
Mercedes-Benz is showcasing a trio of electric vehicles: the EQC SUV, which is already locally produced in China, the Vision EQS concept car, and the Denza X, a model from its partnership with China's BYD.
The company said more electric vehicles of the EQ family will come in the next three years.
Hubertus Troska, a board member at Mercedes-Benz parent company Daimler, said the carmaker is confident in China's potential in the premium car segment, which has maintained a rising trajectory despite the slowdown in the overall car market.
"China is moving from the volume segment to the premium segment, and we are quite confident this will also happen in the NEV sector," Troska said.
He said Daimler has also partnered with China's Geely, its largest shareholder, to develop and produce electric models under its smart brand.
BMW has had a presence in the segment for quite a while. Last week, it said its accumulated sales of new energy vehicles in China totaled 50,000 vehicles.
The German premium carmaker offers four new energy vehicle models in the country, their sales surging more than 40 percent year-on-year from January to October.
It has chosen China as the sole production base for its electric iX3 SUV, which will start production in 2020.
Globally, BMW's accumulated new energy vehicle sales will reach 500,000 by the end of 2019, more than all other premium brands combined, said Liu Zhi, president of BMW China Automotive Trading.
Startups are on the rise up as well. Tesla is showcasing its China-made Model 3 sedan at the event together with its Model S and gull-wing Model X.