Finishing touches for foreign models in China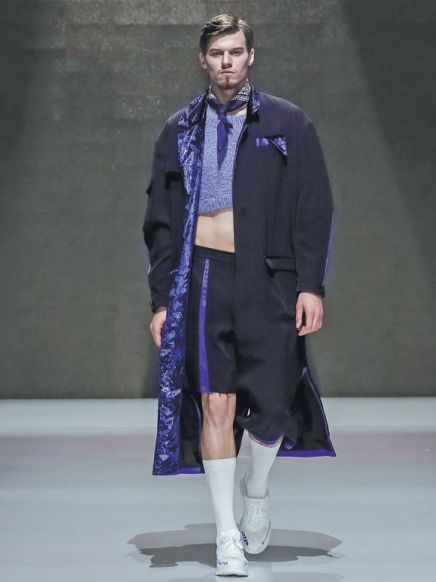 Foreign models feature frequently in advertisements in China, whether it's on billboards, television or online.
They are prominent at auto shows and professional meetings, representing a special brand culture. Businesses want to be international, exotic and popular.
To cater to the demand, the Beijing Institute of Fashion Technology-China's premier educational facility for the fashion industry-has opened the country's first "modeling class" for undergraduate international students. The classes are offered under a Bachelor of Arts major.
Xi Yumei, dean of the institute's School of International Education said, "We call it modeling class, but the major is actually performance, which means apart from modeling, students also learn acting, painting, fashion design, marketing, Chinese language and Chinese culture."
"We want our students to not only become models, but also professionals who are familiar with the fashion industry and capable of organizing and directing runway shows," she added.
The four-year program, taught in English, enrolled 14 students from five countries last year, and 12 students from four countries in September.
The demand for foreign models has increased in recent decades as the Chinese economy, especially e-commerce, flourishes. Locals have tended to favor foreign looks and concepts in advertisements, Xi said.
However, many foreign models in China are not properly qualified. By opening the classes, the institute wants to cultivate more professional models who understand Chinese culture and the modeling industry in China, she added.
Vlad Shmuryhin, 23, from Ukraine enrolled in the modeling class last year. He first visited Beijing in 2017 with a modeling agency. "As soon as I arrived in the country, I instantly fell in love with it. It has a nice atmosphere and everything is so nice."
The modeling industry in China is at a great level, he said, adding there are a lot of opportunities for good jobs and shows, and working with quality brands.
"I want to become a model in China or work in the modeling industry after graduating from the school," he said. "The university helps us to accumulate experience in modeling and understand how the system works."
Sheliekhov Artem, 25, worked for a year as a chemical engineer in Ukraine before coming to study at the institute.
"The reason for me coming to China is that I'm really interested in Chinese culture and I'm a big fan of Jackie Chan and his movies. It has been my dream to see him and work with him," he said, adding he worked with Chan on a movie last year.
But being a model is not an easy job, Artem said.
"When there is a shoot, models usually have to put on many different types of clothes and change very quickly. They also need to assume different body positions and facial expressions suitable for the shoot," he said.
"When I saw a camera for the first time, I was stuck and totally confused. However, practice makes perfect. Just practice being photographed everyday and your modeling will get better."
Hanna Belous, a third-year student at the institute studied modeling for two years, and then changed her focus to fashion directing.
"I like modeling, but I think I can do better things backstage," the Ukrainian said. "I worked in the modeling industry for a long time before I came to the institute, which offers great opportunities to get to know people in the fashion industry."
Most Popular