Xu and Sun scintillate to strike Singapore jackpots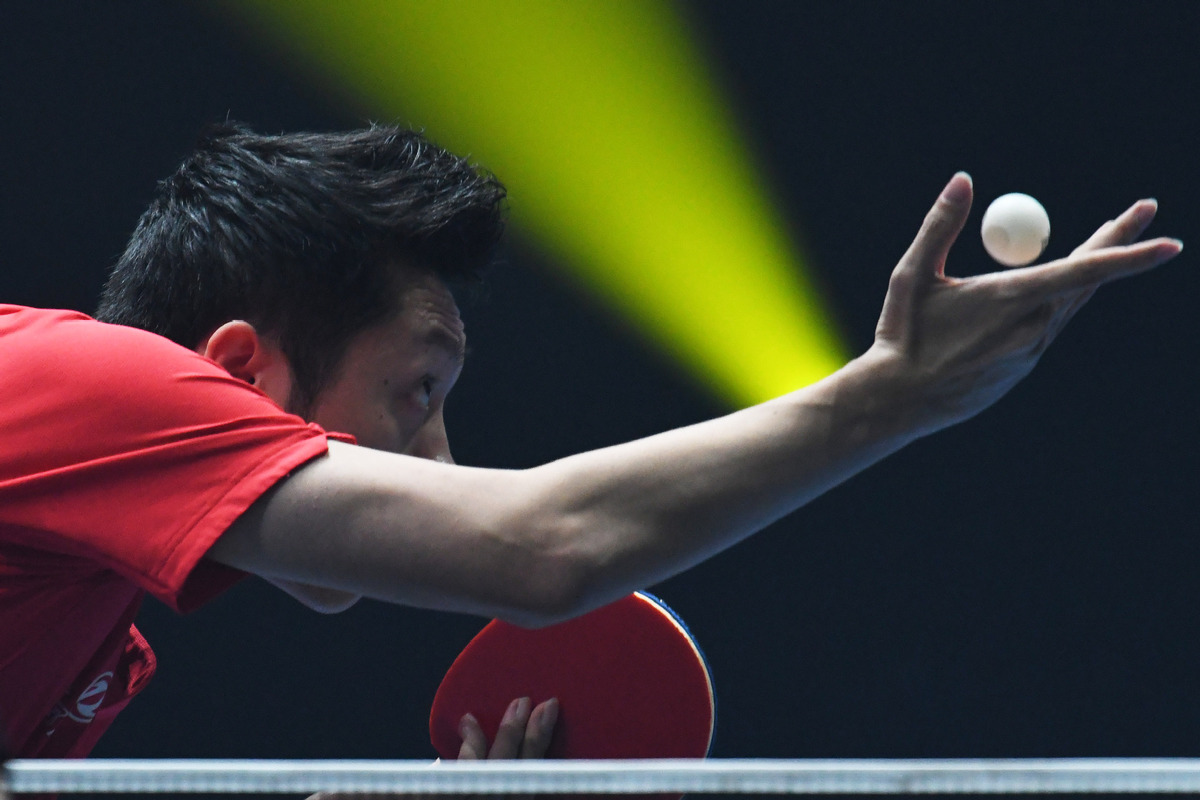 Chinese paddlers pocket $100K each after taking contrasting routes to glory
China swept the singles crowns at the T2 Diamond Singapore tournament on Sunday as Xu Xin and Sun Yingsha enjoyed bumper pay days of $100,000 apiece.
Xu proved too strong for Lin Yunju of Chinese Taipei to ease to victory 3-0 (11-9, 11-5, 11-8 and 11-6) in the men's final, but compatriot Sun Yingsha needed to dig much deeper to overcome Japan's Mima Ito, eventually prevailing 4-3 (11-7, 11-3, 6-11, 7-11, 5-3, 3-5, 5-4) in another engrossing battle that is now the norm in their burgeoning rivalry.
The prize money was a secondary concern for both China's champions, although afterward Xu admitted he was looking forward to treating his family by dipping into his winner's purse.
"Had I finished second, I was going to use the prize money to buy milk powder for my kids! But now that I've won, I should buy a couple of designer handbags for my wife too!" joked Xu.
Expectations were high that Lin Yun-ju would go the distance against Xu.
The 18-year-old has taken the table tennis world by storm this year, stunning Ma Long and Fan Zhendong on his way to the T2 Diamond Malaysia title four months ago.
It looked as if he might be on his way to a second T2 Diamond triumph on Sunday when he left another Chinese powerhouse, second seed Lin Gaoyuan, in a spin after a straight-games victory (11-6, 11-10, 11-8, 11-8) in their semifinal.
However, Xu proved an entirely different proposition. After a tightly contested first game (11-9), Lin couldn't live with Xu's relentless forehand pressure to easily succumb to a straight-games loss.
"Mentally I felt really good in this tournament and played with a happy heart. It feels like home ground playing in Singapore and I hope fans will continue to turn up and support their favorite players," said Xu, who added that he was inspired by teammates Ma's tough training schedule.
"Chinese Table Tennis Association chairman Liu Guoliang posted a video on social media of Ma Long training," explained Xu. "When you see such a talented player training even on weekends, apart from being a big encouragement for me, it shows me that I have to work harder."
Xu was equally impressive in his semifinal as he made quick work of another rising star - blowing away Japanese 16-year-old Tomokazu Harimoto, seeded third, 4-1 (11-7, 11-7, 9-11, 11-6, 5-4).
Xu is making habit of schooling both up-and-coming teenagers - winning all six of his encounters with Harimoto and all three against Lin Yun-ju.
"I knew this was going to be a challenging one and he is one player that is tough to work out," said Lin Yun-ju after another humbling defeat to Xu.
"There wasn't any point when I felt comfortable at all and there were very few weaknesses in his game, even when he does make the occasional mistake."
There was some consolation for Tomokazu when he edged Lin Gaoyuan 4-3 (8-11, 3-11, 11-6, 11-10, 5-3, 3-5, 5-3) to claim third place.
T2 Diamond tournaments feature a unique "FAST5" mode, which comes into play if no player has won four games after 24 minutes. After that, all remaining games are played to five points instead of 11.
That was the route that top seed Sun Yingsha needed to take as she renewed her epic rivalry with Ito.
Sunday's Singapore clash was their fifth meeting this year, with Sun now having won four of those. She also beat Ito at the world championships in Budapest, the German stop of the World Tour and at the Team World Cup in Tokyo. Ito's solitary victory came earlier this month in Sweden.
Sun also negotiated tough matches en route to the Sunday's final, beating teammate Wang Manyu, seeded fourth, 4-2(7-11, 11-7, 6-11, 5-1, 5-0, 5-1).
Ito had an easier time in her semi, ousting 15th seed Jeon Ji-hee of South Korea 4-2(11-7, 5-11, 11-10, 11-2, 5-1). Jeon had accounted for China's world No 1 Chen Meng in the quarterfinals.
Afterward Sun said that the $100,000 first prize "was not important", adding: "The more important thing is to gain experience against a player of Ito's caliber.
"Every time I play her, I learn something and I'm expecting to face her more in the future."
Ito is also clearly relishing the rivalry. She said: "Although I lost, I truly enjoyed this match. Sun has plenty of new techniques that I'm able to learn from and continue to improve my game.
"The T2 format really sharpens my mental strength as you can't afford any mistakes in the FAST5 mode."
China's defending champion Zhu Yuling crashed out in the last 16, losing 4-3 to Wang.