Far from the madding crowd
By Fang Aiqing | China Daily | Updated: 2019-11-29 07:45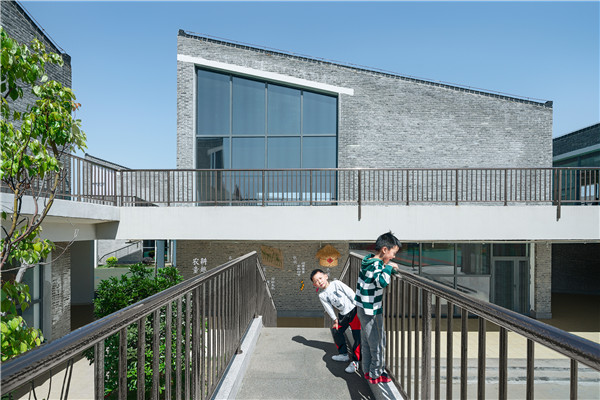 Building kindergartens that will challenge existing norms about rural education was the aim of one architect couple when they set out to design two new schools.
Will a new kindergarten change the way rural parents and children think of education?
Beijing-based architect Dong Hao and his German wife Binke Lenhardt, also an architect, are keen to find a positive answer to this question.
They gave a lot of thought to the two public kindergartens they worked on from 2015 to 2018 in Funing county, Jiangsu province.
Surrounded by trees, farmlands and a handful of cottages, one of the kindergartens is in Beisha village. They built Shuoji Kindergarten in the center of an industrialized town of the same name.
During the past six months, these two projects have gained a lot of global media recognition, both in terms of their design and the overall initiative.
Opening in September 2018, local children, and more from several nearby villages, enrolled at the kindergartens. Like many other Chinese small towns and villages, many of their parents have moved to larger towns and cities for work, leaving their children to be cared by grandparents in their hometowns.
The architects refused to design a typical large, multistory school building with a corridor flanked by classrooms, nor a colorful, cartoonlike kindergarten that conforms to the adult stereotype of childhood tastes.
Instead, they built a miniature village to represent the kindergarten, providing a familiar environment like home which encourages children of different ages to interact with one another. The outdoor spaces form a safe maze for the little ones to run around in, hide and explore.
The kindergarten in Beisha village consists of a cluster of 13 small buildings of one or two floors grouped around an inner square.
The buildings were inspired by the typical pitched roofs found in Jiangnan, a region south of the Yangtze River, reconfigured to form a modern geometrical shape. They stayed with the original color of the grey-green bricks common to the region, as well as mortar and other local building materials.
Meng Hui, principal of the kindergarten, and some of her colleagues were astonished the first time they stepped into the campus, hailing the "mysterious" nature of the complex of buildings.