Two easy ways to save some lives
By Zhang Zhouxiang | China Daily | Updated: 2019-12-02 07:30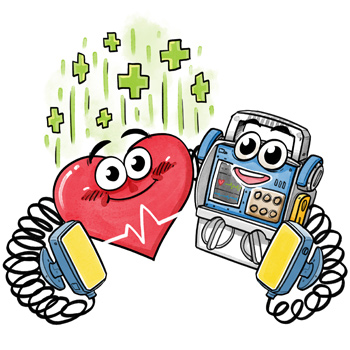 On Friday afternoon, a male passenger suffered a heart attack on Beijing's Line 2 subway, and died about one hour later. China Daily writer Zhang Zhouxiang comments:
What happened on Beijing's subway is the third high-profile death from a heart attack in 10 days, with the other two being actor Godfrey Gao and Xu Yong, a senior journalist at Xinhua News Agency.
Further, they are only three of the 550,000 people in China who suffer from a sudden cardiac arrest every year, of which only about 1 percent are saved.
Many of these victims could have been saved if cardio-pulmonary resuscitation (CPR), a simple first-aid technique, was popularized. When someone suffers a heart attack and falls unconscious, people nearby have a good chance of saving him or her with CPR.
CPR is really not so hard to learn. All that one needs is to learn how to observe and decide if a person is unconscious, where to press on the patient's chest, and how to blow air through the mouth and into the lungs.
Besides that, many public facilities such as airports, high-speed railway stations, and big subway stations have installed an automatic external defibrillator, a device that is easy to use, and which has proved effective in saving people's lives. All one needs is to pick it up and follow the instructions.
Unfortunately, neither how to administer CPR nor how to use an AED is well-known in China. Apparently, less than 1 percent of adults have mastered the skill of CPR, while many have never heard of it. And, according to data, the total number of AEDs in China is slightly higher than 2,000, of which most are located in metropolises, such as Beijing and Shanghai. Both figures need to be increased to save some of those 550,000 lives every year.
Some argue that the cost of installing AEDs might be high, which will put an additional burden on taxpayers. Some also point out that it does take time and resources to train more people in CPR. On social networks, there are also comments that claim our traditional culture avoids mentioning death in daily life as a taboo.
But every life counts and should be saved in an emergency; Taboos cannot save lives and we need more effective measures. AEDs might be pricey as one such device costs about 30,000 yuan ($4,265), but whose life is not worth the money?
It's time to train everyone and equip more public facilities to save more lives.