Loose monetary policy won't solve problems
By Yu Ze | China Daily | Updated: 2019-12-02 07:42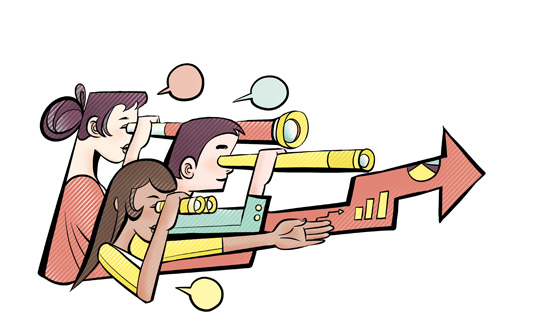 The People's Bank of China, the country's central bank, recently issued the China Monetary Policy report for the third quarter of 2019. The report says China will maintain its stable and prudent monetary policy, strengthen counter-cyclical regulation, make structural adjustment more effective, suitably cope with short-term economic downturn pressures, and not resort to large-scale stimulus.
In the first three quarters of this year, China's GDP grew 6.2 percent, which means it is still the leading engine of global growth despite the sluggish world economy. But the fact that China's GDP growth rate has gradually declined from 6.4 percent in the first quarter to 6.0 percent in the third quarter shows the economy faces an ever-increasing downward pressure.
The central bank has refrained from using large-scale stimulus despite the downturn pressure because monetary policy should be in accordance with the needs of macroeconomic operations. Many factors including the impact of slowing global growth and domestic adjustments are responsible for China's slowing growth rate-and they cannot be addressed simply by resorting to stimulus.
It is normal for an economy to experience medium-high speed growth after recording years, if not decades, of high-speed growth because of structural adjustments. This is true for China, too.
First, China is facing an aging society, which means its working-age population is declining. Also, the female work force participation rate has declined because many women have withdrawn from the labor market to become full-time housewives. That is to say China's demographic dividend is declining.
Second, in the past China's industrial structure was formed, based on the dividend from its expanding market. But today that dividend has declined, so we should promote high-quality and customized economic upgrading, especially because the in-process industrial structural adjustment has had some negative impacts on the growth rate.
Third, the reform and opening-up dividend, too, has declined due to the changing nature of economic contradictions and ineffectiveness of some policies in the new circumstances. Yet once the initial stage of higher-level reform and opening-up is complete and they start yielding the expected dividends, economic growth would pick up again.
A series of short-term challenges that China faces both at home and abroad have further constrained its growth rate. For instance, globalization has been facing new and severe challenges since 2016 due to the uneven distribution of economic dividends worldwide, the rise of trade protectionism in some economies and sluggish investment have had a negative impact on China's economy and affected the global value chain.
Domestically, thanks to slowing return on investment, it has become more difficult to turn fixed-asset investment into productive capital, making it harder to boost overall productivity despite fixed-asset investment increasing 5.9 percent year-on-year in 2018 to reach 63.56 trillion yuan ($9.03 trillion). Besides, due to fluctuations in supply, food prices have risen rapidly this year, squeezing consumers' spending on other products.
In general, monetary policy doesn't need to respond to long-term anomalies; instead, it should be aimed at correcting short-term fluctuations. But the unique thing about China's economy is that long-term structural factors are one of the main reasons of short-term economic fluctuations. Market economy can facilitate small-scale transformation of industrial structure and encourage innovation, which in turn can promote socio-economic growth. But market mechanisms alone cannot propel the transformation of the economic growth model. On the contrary, excessive dependence on the market could lead to coordination failure and further fluctuations.
Therefore, China's monetary policy should focus more on the structural transformation of the economy, which requires improving the financing structure through interest rate hikes or cuts, and maintaining a moderately high yet stable growth rate.
China's monetary policy still reflects many structural distortions in the liquidity transmission channel. As a result, economic fluctuations have a bigger impact on the interest rates and asset prices downstream. Under such circumstances, an overly loose monetary policy will create more serious financial distortions leading to more financial risks.
In other words, China should devise a monetary policy based on its economic requirements rather than copying Western countries' monetary policy in order to boost economic growth.
The author is a researcher at the School of Economics, Renmin University of China. The views don't necessarily represent those of China Daily.