US buyers cut back during holiday season
By Scott Reeves in New York | China Daily | Updated: 2019-12-02 09:27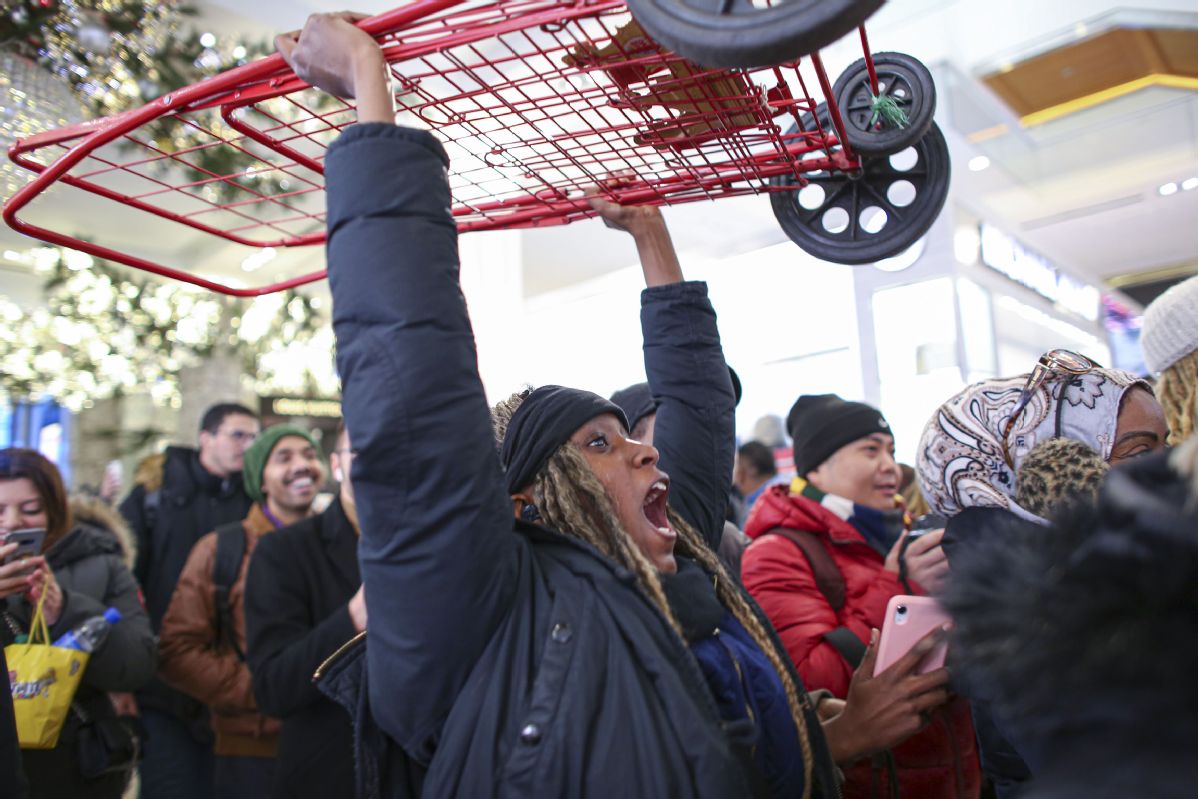 Strong economy, low unemployment figures fail to boost sales this year
This year's holiday shopping season in the United States will be "more muted" than 2018 because many consumers planned to spend less despite a strong economy and record-low unemployment, Goldman Sachs researchers said.
The calendar also will limit spending. Last year, Thanksgiving - the traditional start of the holiday shopping season - fell on Nov 22. This year, it fell on Nov 28, shaving nearly a week off the time shoppers have to spend prior to Christmas.
"We believe this is the key driver of the marked change in shopping trends," analysts at the New York investment bank said.
In 2018, holiday spending increased 2.9 percent to $707.5 billion, the National Retail Federation reported. Goldman Sachs did not estimate total 2019 holiday spending.
Goldman Sachs analysts surveyed 1,004 consumers across the US and found 41 percent planned to spend less this holiday season, 34 percent planned to spend more and 25 percent expected to spend about the same.
Forty-nine percent of women, a key group for retailers, said they planned to spend less this year compared with 33 percent of men who planned to cut back. Generation Z, those born in the mid-to-late 1990s, were the most optimistic age cohort and just over 50 percent said they planned to spend more money this holiday season than last.
"This supports our view that this year will be a tough holiday shopping season for most retailers," Goldman Sachs said.
A survey of 2,686 shoppers by Bankrate.com found 52 percent planned to spend about the same as last year, and 56 percent planned to spend money they had rather than borrowing. Twenty-eight percent planned to spend less compared to last year.
Overall, the US economy remained strong and unemployment was low, boosting consumer confidence. The US Federal Reserve this year cut interest rates by a quarter of a percentage point in each of three separate actions to a target range of 1.5 to 1.75 percent as part of its mandate to assure economic growth. The cuts reduced credit costs and were intended to encourage consumer spending, which represents about two-thirds of the US economy.
Recession fears have also eased. And analysts at S&P Global this month cut the recession risk in the next 12 months to 25-30 percent from 30-35 percent in August because the yield curve between the 10-year and three-month Treasury bonds was no longer inverted.
The return of the yield curve to a normal spread where the long-bond pays more than short-term notes is based on three factors: A more conciliatory tone in US-China trade talks; tentative signs that the slowdown in US manufacturing is easing and the Fed's interest rate cuts that reduce borrowing and credit costs. These factors combined to boost consumer confidence, S & P said.
The continuing trade dispute between the US and China was a minor factor in this year's holiday spending because most merchants had ordered goods prior to US President Donald Trump's imposition of the latest round of tariffs. But the expectation of higher prices was key and could limit buying, analysts said.
"We believe price perception is of particular importance this year as we consider the power retailers have to raise prices to offset the impact of tariffs," Goldman Sachs said. "Higher income participants are more likely to perceive no change in prices, while lower income respondents appear more sensitive to expectations of higher prices during the season."
E-commerce companies, especially Amazon, were expected to post higher sales this year than last. And Walmart, the nation's largest brick-and-mortar retailer, which also has a strong online presence, was expected to increase sales.
However, Goldman Sachs remained "cautious" about specialty and department store retailers. Nordstrom said third-quarter sales at its upscale department stores declined 4.1 percent, while sales at Nordstrom Rack's discount outlets increased 1.2 percent. Sales at Old Navy fell 4 percent; Gap fell 7 percent and Banana Republic fell 3 percent in the same period. One reason: sales of electronics are increasing while sales of apparel are declining, filings with the Securities and Exchange Commission showed.
Macy's, a nationwide department store chain with about 870 locations in 43 states, continued to face tough times. Same store sales, or sales at stores open at least 12 months, fell 3.9 percent in the third quarter, and there was no sign of a quick rebound. Profit margins remained slim because Macy's had not managed inventory well and offered free shipping to compete with online giants such as Amazon, Goldman Sachs said.
Kohl's said same store third-quarter sales increased 0.4 percent, but the company cut its profit outlook due to poor sales of high-margin women's clothing.
Not all malls were struggling, though. CoStar Group, a New York-based real estate research firm, said the average vacancy rate at US malls was 4 percent. But the vacancy rate dropped to 2 percent at upscale malls and climbed to 7 percent at older malls. With the growth of Amazon and other online retailers, many malls were no longer destinations that attracted large numbers of shoppers planning to spend hours browsing with a break at an on-site restaurant.