Business in Bogota hit by protests
By Sergio Held in Bogota, Colombia | China Daily | Updated: 2019-12-02 10:41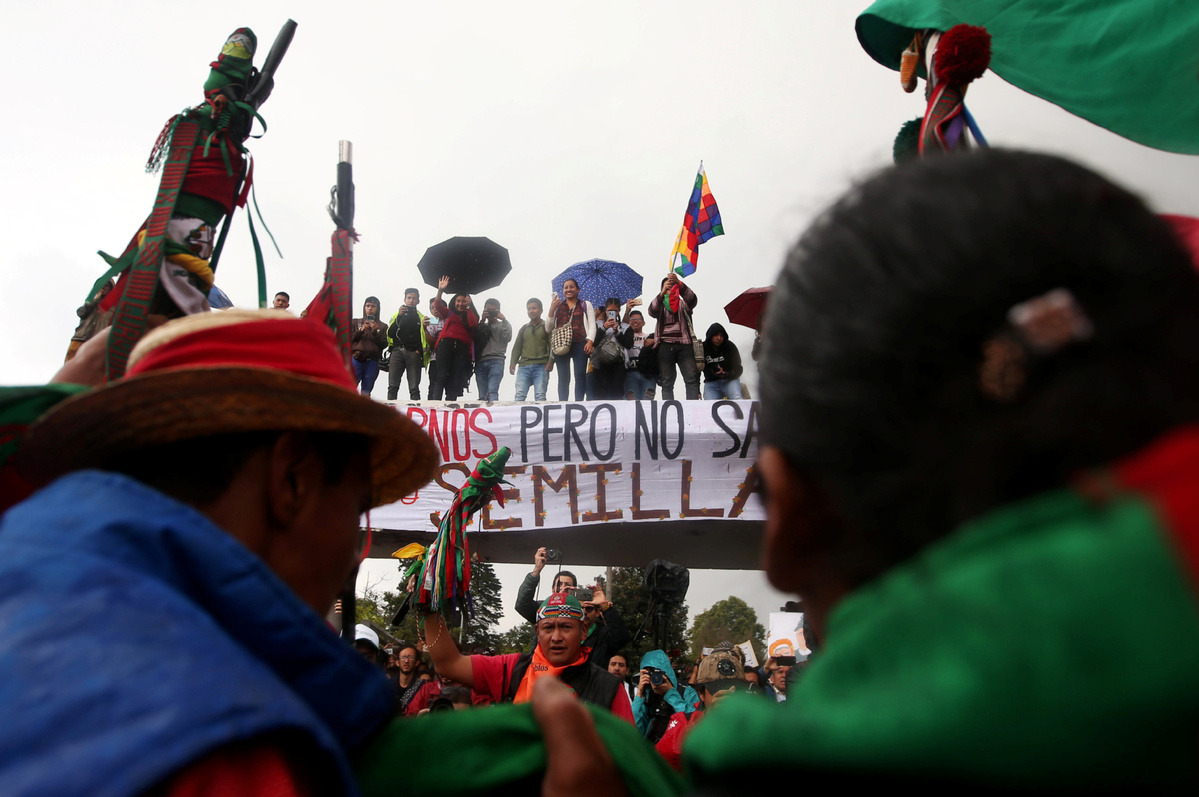 Life in Colombian capital disrupted as unrest continues for second week
It was 6 pm on Nov 27 in Bogota when Javier, a supervisor at a seafood restaurant on the outskirts of Colombia's capital, asked his boss to close early. Since Nov 21, disruptions caused by a week of civil unrest and protests have left employees struggling to make the commute home.
The retail and hospitality sectors have paid the biggest price for the protests.
"The situation that the city has experienced in the last six days negatively impacts the economy. In some sectors, the losses have reached 90 percent," said Juan Orrego, the director of Bogota and surrounding region for the National Federation of Merchants, also known as Fenalco. Fenalco estimates the sector's daily losses across the country are about $43 million.
Colombia's retail and commerce sector grew 5.9 percent during the third quarter, but the protests have put that growth at risk. The capital is one of the most affected areas.
"We are facing a tremendous loss. We had to shut down our stores and restaurants over the weekend," said Alexander Von Loebell, the owner of BioPlaza, a chain of restaurants and organic markets.
"One of our employees had to walk over eight hours to make it home," he said.
The Association of Bars of Colombia, or Asobares, estimates its losses at around $18 million for weekend of Nov 24 alone.
"We are really concerned, and that is why we are calling on protesters to march if they want to, but to let us work. We urge citizens to stay calm. Fear has already been disseminated, but we must work to restore confidence," said Camilo Ospina, Asobares president.
The group has 1,200 members. Bars account for about 34,000 full-time jobs and 30,000 part-time jobs on weekends. Many owners have shut down this past week to protect their establishments from vandalism, while others simply have had to stop operating because staff cannot make it to work.
Another hurdle is a curfew that was placed on Bogota and neighboring cities on Nov 22.
"Sales at our shops have fallen in a noticeable way and we thought we could compensate for this with deliveries. But there are almost no delivery guys available from the apps because they want to avoid riots and traffic; and also because there is a xenophobia issue with Venezuelans," said Nicolas Rodriguez, CEO and partner at La Xarcuteria, a restaurant chain in Bogota.
Many of the estimated 1.5 million Venezuelans living in Colombia make a living as drivers.
"I have great Venezuelan employees and they say they feel really unsafe, since many in Colombia believe that Venezuelans are behind what is going on with the protests in Colombia," Rodriguez explained.
On Nov 25, the Colombian government deported 59 Venezuelans allegedly involved in the riots in the cities of Cali and Bogota.
"What we are not going to tolerate is that a group of misfits come to affect the safety of our cities, generating, in passing, xenophobia outbreaks with these actions, since they damage the name of those Venezuelans that are working for a better country," said Christian Kruger, director of Colombia's immigration authority.
The cultural sector has also taken a hit.
"It is really serious what is going on. Although everyone has the right to protest, people don't imagine the secondary effects that the protests have," said Yener Bedoya, the director of the Classics of Love, a permanent musical show in Bogota.
Bedoya's show for Nov 22, with 750 seats at one of Bogota's most iconic stages, had to be canceled due to the curfew and proximity to protest sites.
A tennis exhibition match between Roger Federer and Alexander Zverev that had sold 10,250 seats was canceled hours before the match, with the players already on site. Future events, like a Dec 2 Norah Jones concert, have also been called off.
Many in Colombia fear the unrest and the losses could continue for some time, as in Chile where protests have been going on for more than a month.
"Most of the people in Bogota are asking protesters to leave the public transportation system out of the protests and to not destroy it. The protests are taking a toll also on the interests of the poorest and the working class," said Alberto Schlesinger, the dean of Economy at the Sergio Arboleda University.
Transmilenio, Bogota's rapid transit system, has seen 101 of its 138 stations vandalized.
Rodriguez from La Xarcuteria said: "I am aware that there are social, economic and country issues that we have to resolve, but if the situation continues like this. ... I don't know if small and medium enterprises have the financial resources to endure a month and a half of strikes and bad sales."
The author is a freelance journalist for China Daily.