Ministers meet in Beijing to discuss safeguarding ancient civilizations
chinadaily.com.cn | Updated: 2019-12-02 10:46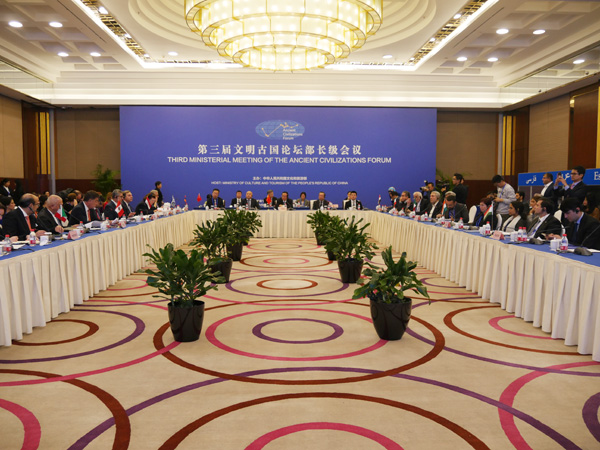 The third Ministerial Meeting of the Ancient Civilizations Forum was held in Beijing from Wednesday to Saturday. It ended with a declaration calling for joint efforts to protect heritage and to enhance cultural dialogue and cooperation.
Organized by Ministry of Culture and Tourism of China, the four-day meeting gathered ministers and cultural officials from nine member states: China, Peru, Armenia, Bolivia, Egypt, Greece, Iran, Iraq and Italy. They shared experiences of safeguarding cultural heritages from their own countries to promote the sustainable development of cultural heritage.
"The establishment of the Ancient Civilization Forum in 2017 has started a new chapter of dialogues on ancient civilizations," Luo Shugang, Chinese minister of Culture and Tourism, said at the meeting. "The Chinese government has always attached great importance to the unique role of culture in the process of national modernization. Only by safeguarding, inheriting and developing our traditional culture can ancient civilizations shine in the new era," he added.
Luo also pointed out ancient civilizations breed modernity. He said we should make full use of scientific and technological methods to realize the innovative development of traditional culture.
Heads of delegations spoke in succession. They agreed that ancient civilization and traditional culture should play their roles in contemporary society, so as to provide ancient wisdom to deal with global issues.
All parties reaffirmed the need to strengthen exchanges and mutual learning among civilizations, protect world cultural diversity and cultural heritage, and jointly safeguard the Charter of the United Nations, international law and the international multilateral system with the United Nations as the core.
At the end, the meeting adopted the Declaration of Beijing.
The Ancient Civilization Forum was initiated in 2017 by Greece and China. The forum sets out to provide a platform for dialogue and exchange on protecting ancient civilizations.
So far, two ministerial meetings of the forum have been conducted, once in Greece in 2017 and the other in Bolivia in 2018. The next annual ministerial meeting will be held in Peru in 2020.