Wealth tax debate rages ahead of US election
By SCOTT REEVES in New York | CHINA DAILY | Updated: 2019-12-03 07:45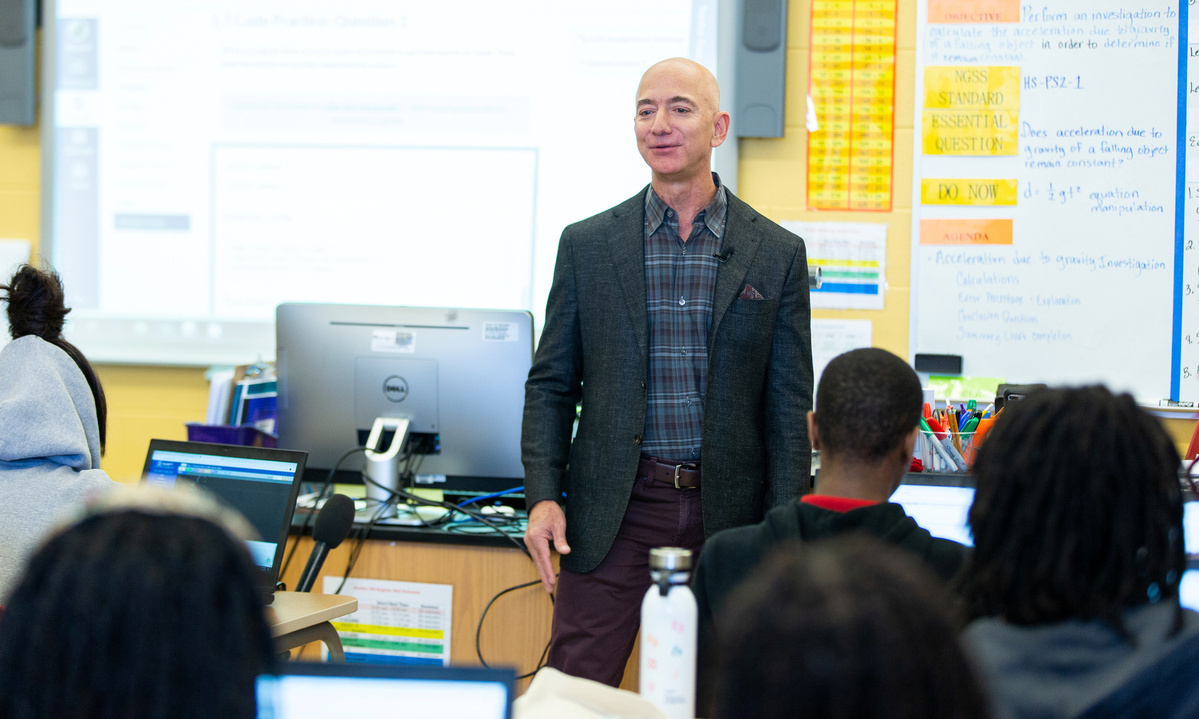 Academic theories
According to an analysis of Federal Reserve data by New York magazine, since 1989, the wealth of the top 1 percent in the US has increased by $21 trillion, while the lower half of the population has seen its combined net worth fall by $900 billion.
Those in favor of a wealth tax believe rising income inequality is immoral and a threat to society's cohesion because it is based on a rigged economic system that rewards those with money to influence government to adopt laws and regulations to their advantage.
Opponents of higher taxes argue that concentration of wealth stems from globalization, technological advancement and economic growth that rewards smart, educated, innovative and hardworking individuals. They say that sharply raising tax rates would discourage innovation, punish achievement and slow economic growth to the detriment of everyone.
For their tax proposals, Sanders and Warren draw on University of California, Berkeley, economists Emmanuel Saez, 46, and Gabriel Zucman, 33.
Both are from France and studied with Thomas Piketty at the Paris School of Economics. Piketty's books, The Economics of Inequality and Capital in the Twenty-First Century, are central to the debate. He argues that inequality is the salient feature of capitalism and the gap between the haves and have-nots will worsen unless checked by vigorous governmental action, including taxes.
Saez's research on tax policy and income inequality helped him become a MacArthur Fellow, known unofficially as a "Genius Grant". Zucman researched tax evasion and offered theories on possible policy failures and remedies. Both argue that globalization fails because it results in lower tax rates for multinational companies and higher rates for small businesses and working individuals.
Zucman said in an interview at the University of Chicago's Stigler Center: "I think that extreme inequality certainly poses a very serious threat for democratic institutions. The US used to see itself as much more equal than Europe in the 19th century."
He calculated that the 400 richest US citizens, or the top .00025 percent of the population, hold more of the country's wealth than the 150 million adults in the bottom 60 percent of wealth distribution. He said the share of the 400 richest citizens has tripled since the 1980s.
Both economists said the top US income tax rate in the 1950s and early '60s was more than 90 percent and the policy created greater economic equality than that found today. Saez and Zucman have publicly supported New York Representative Alexandria Ocasio-Cortez's proposal for a 70 percent tax rate on incomes of more than $10 million.
The Tax Foundation, a conservative Washington think tank, argues, "Pro-growth tax reform that reduces the burden of corporate and personal income taxes would generate a more robust economic recovery and put the US on a higher growth trajectory, with more investment, more employment, higher wages and a higher standard of living."
Billionaires' reactions
Michael Bloomberg thinks that rich US citizens, himself included, should pay more tax, but is skeptical about a wealth levy supported by Warren and Sanders.
During an election campaign event in Phoenix, Arizona, one of the first since he announced his late bid to capture the Democratic presidential nomination, Bloomberg vowed to support "taxing wealthy people like me," but insisted that a tax on wealth "just doesn't work."
Hedge fund billionaire Leon Cooperman told CNBC that the stock market would plunge by 25 percent if either Sanders or Warren becomes president.
In a letter to Warren obtained by CNBC, he said, "Your vilification of the rich is misguided, ignoring among other things, the sources of their wealth and substantial contributions to society which they already, unprompted by you, make."
Forbes business magazine estimates that Warren's tax proposal could cost US billionaires $85 billion a year.
If adopted, Amazon founder Jeff Bezos would pay an additional $4.1 billion annually under the tax plans proposed by Warren and Sanders. Bill Gates, founder of Microsoft, would pay an additional $2.9 billion, while investor Warren Buffett would owe $2.5 billion more. US President Donald Trump, whose estimated $3.1 billion makes him the 259th richest person in the US, would pay an additional $80 million a year.
Gates told a conference staged by The New York Times last month: "I've paid over $10 billion in taxes. I've paid more than anyone in taxes. If I had to pay $20 billion, it's fine. But when you said I should pay $100 billion, OK, then I'm starting to do a little math about what I have left over. Sorry, I'm just kidding. So you really want the incentive system to be there and you can go a long way without threatening that."
Gates and his wife founded the Bill & Melinda Gates Foundation in 2000 and have donated $50.1 billion to improve global health, including fighting AIDS, tuberculosis and malaria in poor countries, according to the foundation's website.
Buffett, CEO of Berkshire Hathaway, joined Gates in creating the Giving Pledge. Wealthy signatories promise to give away more than half their fortunes to philanthropy during their lifetimes or through their estates after death. Forbes calculated that Buffett has already donated $38.78 billion, or about one-third of his net worth.
Zucman, the economist, estimated that had the proposed wealth tax been in effect since 1982, Gates would be worth about $13.9 billion and Buffett would retain $10.4 billion. As a result, the tax would end charitable giving at current levels.
The National Philanthropic Trust said US citizens donated $428 billion to charity last year.
Nicole Kaeding, vice-president for policy at the National Taxpayers Union, a conservative think tank, told MarketWatch that if donors' assets are heavily taxed, contributions will decline.
Last year, Bezos paid $250 million for The Washington Post-almost petty cash for a man with a net worth estimated at $137 billion. He has kept the US capital's newspaper alive.
Frank VanderSloot, founder of Melaleuca, a health supplements company, said that forced taking from the rich to give to the poor creates havoc. He told Forbes, "The whole idea of Robin Hood was Robin was a hero, right? But it's been tried. And it creates economic disaster."