Towering discoveries
By Wang Kaihao | China Daily | Updated: 2019-12-03 08:39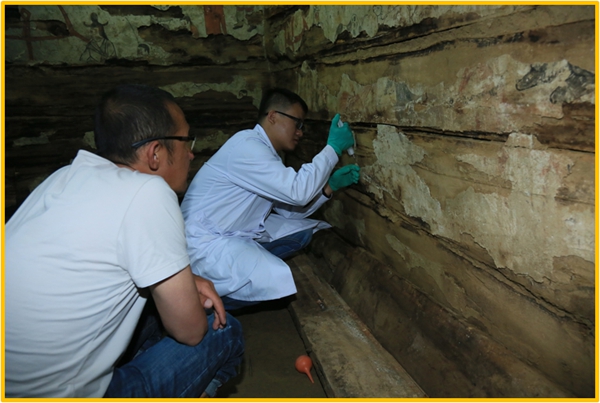 The outer wall of the newly-excavated tomb spans 33 meters from east to west and 31 meters from north to south, and is built up by thick layers of earth. Remains of cloisters and sites for religious sacrifices were also unearthed.
And Han was quick to emphasize that the abundance of findings in terms of cultural relics offered evidence of its crucial role in cross-cultural exchanges at that time.
The kaleidoscopic array of artifacts ranging from wooden slips bearing Tibetan words, gold ware and silk pieces, to lacquer ware, turquoise, and crystal, were uncovered there. And some of the decorative patterns on these items feature the styles typical to the Sogdian and Sassanian people-both originally from today's Iran and Central Asia.
"The complex structure of the graveyard and the myriad funeral objects and diverse range of styles reveal a slice of history that shows how the different ethnic groups communicated with each other," says Zhu Yanshi, a researcher with the Institute of Archaeology at the Chinese Academy of Social Sciences.
"The term 'nine-story tower haunted by ghosts' is a bit of a gimmick, and a little misleading," he adds. "Additional scientific research will present a more rounded picture and give the public a better understanding of its significance."
In addition to the findings at Xuewei No 1 tomb, new archaeology discoveries in Northwest China have uncovered historical texts related to the Silk Road from the Tang Dynasty (618-907) to modern times, the pinnacle of cultural and economic prosperity in the history of dynastic China.
As a crossroad of cultures at that time, the region witnessed the rise and fall of the Tang era and the Tibetan Tubo Kingdom (618-842), as well as several other regimes established by different ethnic groups that were closely interconnected.
For example, on the eastern edge of the Qinghai-Tibetan Plateau, archaeological discoveries made in September in Tianzhu Tibetan autonomous county, Gansu province, unveiled more evidence of the Tuyuhun khanate-a crucial power that was a contemporary of the Tang Dynasty. An unearthed tomb of a Tuyuhun ruler, rare for its kind, contributed to filling in some of the gaps in the family tree of the rulers from that lost khanate and its key role on the Silk Road.