Towering discoveries
By Wang Kaihao | China Daily | Updated: 2019-12-03 08:39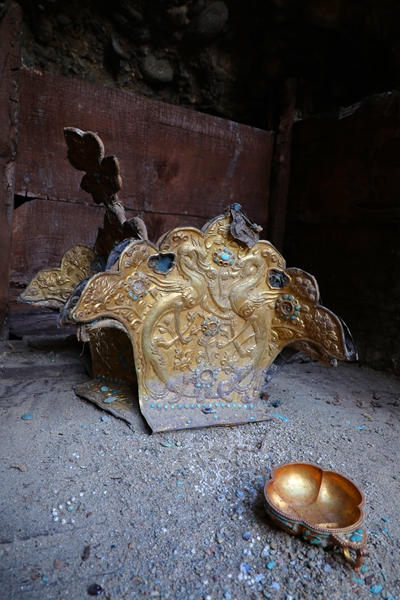 Secret crown
Another discovery in Qinghai province raised scholars' eyebrows at the conference of the National Cultural Heritage Administration on Nov 22.
On a mountain slope in the province's Ulan county, over the course of a yearlong excavation, starting in September 2018, archaeologists unearthed a tomb of a Tubo noble with exquisite murals.
"Tombs decorated with murals were common at that time in the area inhabited by Han people," Tong Tao, chief archaeologist working on the site, says. "But it's extremely rare among Tibetans."
The murals contain scenes of hunting and banquets, animals and flowers, as well as other auspicious patterns.
"The drawing technique is Tang style, but what is depicted in the murals is the nomadic life on Qinghai-Tibetan Plateau," Tong says.
Discovery of a concealed compartment in the tomb brought an even bigger surprise, because no such thing had ever been found in any ancient grave in China, according to Tong, let alone the fact that a gold-gilt crown with pearls and sapphires, sitting alongside a gold cup inlaid with turquoise, was found inside.
"Such things only existed in novels or films before, not in real archaeology," he smiles. "Crowns easily attracted tomb raiders, so it is rare to find such an artifact during archaeological research in China. We can figure out how scrupulous the designers of this grave were to ensure its safety."
As the crown is decorated with winged-dragons and phoenixes, and the concealed compartment is put on some grain seeds, often indicating expectation for a country's prosperity, Tong speculates that it represents the tomb occupant's close link with the Tubo rulers.
"After over one millennium, the crown still stands there and a cup is put in front of it," he says. "It indicates worship toward a time of glory and legend."
He also adds that it represents the peak of Tubo culture, when it had gathered wealth holding the doorway of the Silk Road and a highly developed civilization was incubated as a result.