Towering discoveries
By Wang Kaihao | China Daily | Updated: 2019-12-03 08:39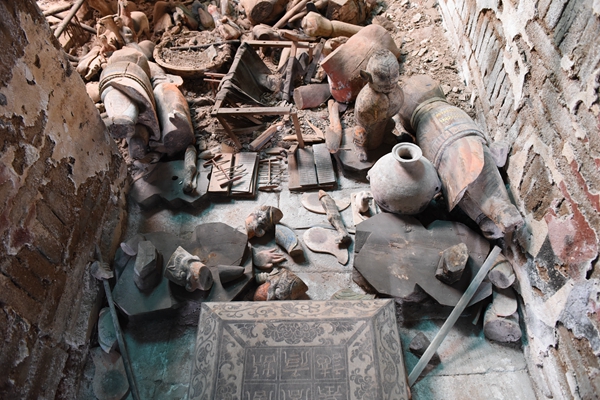 Ruins of a fortress
More discoveries have been made further westward along the Silk Road. In Yuli county, Xinjiang Uygur autonomous region, an excavation of a Tang Dynasty beacon tower has been full of new findings, even though it only started in October.
Over 800 artifacts have been unearthed from the site named Keyak Khduk, including precious documents written on paper and wood slips, according to Hu Xinjun, a leading archaeologist on the program. Military logs, personal letters, account books, and works of literature, combine to portray not only how frontier military units of the Tang Dynasty were organized and managed, but also what the soldiers' lives were like while safeguarding the outpost.
It has been over a century since Marc Aurel Stein, a British explorer, did preliminary research on the site in 1914.
"These newly found documents are encyclopedic, and fill many gaps in our research," Hu says. "Through the letters, we have a full understanding of the military network then, as the names of many outposts have disappeared in historical recordings."
There are 11 remnant beacon towers in Yuli county, unveiling the history of Anxi Frontier Command, established by Tang in 640 to rule the "west regions" in today's Xinjiang.
"There is also evidence to prove the rule of Chinese central government over this area in history," Hu says.
Speaking of these new findings in Northwest China, Song Xinchao, deputy director of the National Cultural Heritage Administration, says they join to "compose a chain of stories" on the Silk Road.
"The relations between different ethnic groups and between central government and frontier regions are thus vividly portrayed," he says. "In-depth communication is seen at these sites. That has always been the fundamental strength to maintain national unity with diversity and prosperity."