Public disarray shows in shambolic British election
By Robert Griffiths | china.org.cn | Updated: 2019-12-03 09:27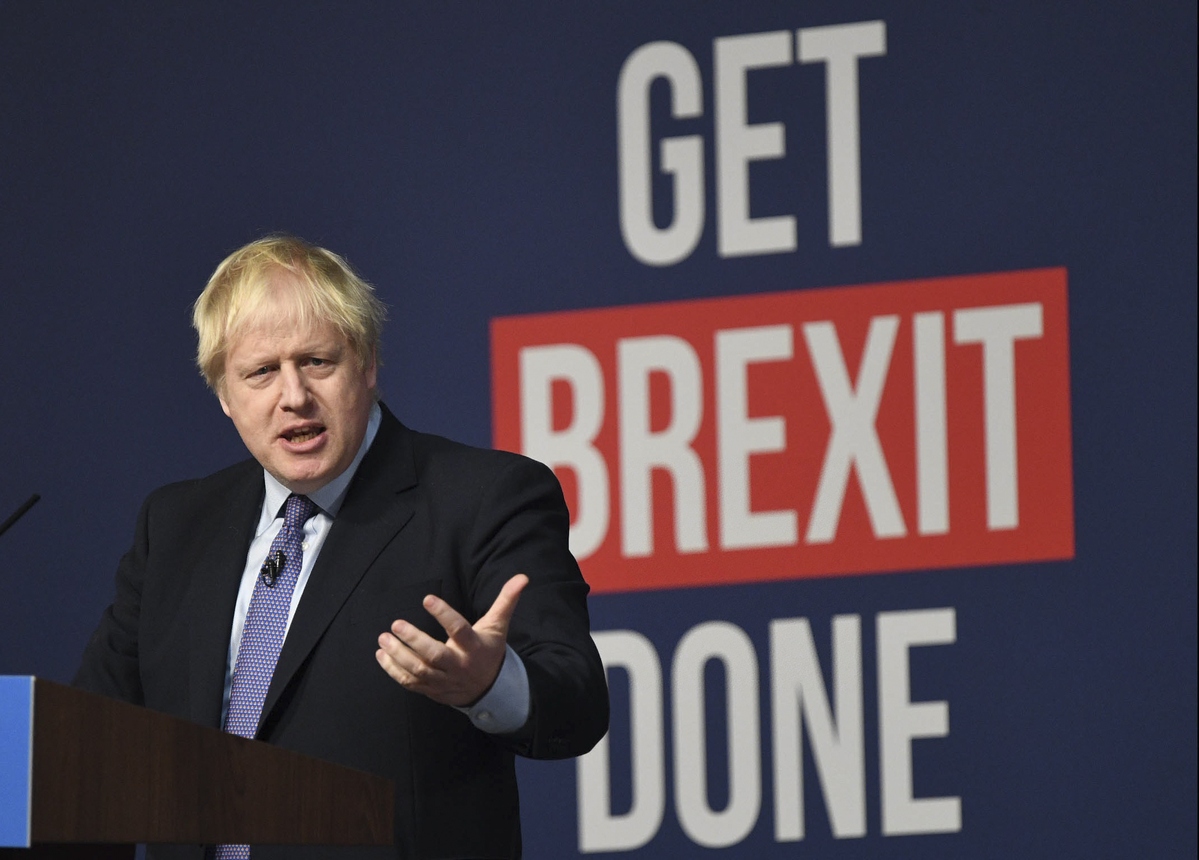 The people of Britain are supposed to wake up on Dec. 13 to find they have elected a new government. However, that may not be the way things turn out.
It is not yet clear who will win the Dec. 12 General Election. There could even be a period of "horse-trading" between different political parties before a new alliance or coalition can command a majority in the House of Commons.
Before the dissolution of Parliament, Prime Minister Boris Johnson failed to persuade a majority of MPs to pass his revamped EU Withdrawal Bill without them attaching conditions to it that he considered unacceptable. Various amendments had threatened to extend U.K. membership of the European Union, lock Britain into the EU single market and impose a second referendum in the hope of reversing the previous one in 2016 which produced a majority for "leave."
Now, about two weeks into the election campaign, the electors are proving largely impervious to all the parties' bribes and pledges.
Brexit remains one of the two main issues. Boris Johnson's Conservative Party is committed to taking the U.K. out of the EU come what may on the basis of the agreement negotiated in October. This would occur on January 31 – the fourth exit date arranged so far – with a status quo "transition" period continuing for the rest of 2020. During this time, the terms of a new post-Brexit relationship between the U.K. and the EU is supposed to be hammered out.
The Conservatives are also promising to spend around £3 billion more a year on the struggling National Health Service, education, policing and other services, while also cutting people's taxes.
However, Full Fact, an independent fact-checking group, claims the party has not been upfront about the full cost of the initiatives, and the spending increase could be much larger, raising questions as to where the money is going to come from.
All parties have finally recognized that most electors have had enough of austerity cuts in public services and social benefits.
The Labor Party under left-wing leader Jeremy Corbyn is campaigning against what it claims are secret Conservative plans to sign a post-Brexit free trade agreement with President Trump to sell off parts of the NHS to American private health companies.
In keeping with its campaign slogan "It's Time for Real Change," Labor promises to spend at least £82 billion more a year on public services and social benefits, funded from higher taxes on the rich and big business and the with tax revenues from accelerated economic growth.
Corbyn and Shadow Chancellor John McDonnell also propose to extend public ownership in the transport, energy, postal and broadband communications sectors; build hundreds of thousands of new homes in the public sector; introduce a massive job-creating "Green New Deal" to combat climate change; end State pension discrimination against women; restore sectoral collective bargaining; extend workers' rights; and replace student tuition fees by maintenance grants. State investment in the economy would amount to an extra £55 billion a year.
However, many people seem skeptical about professional politicians and their election pledges. Nor do the opinion polls indicate any big shift in support between the two main parties since the start of the campaign. On average, the Conservative share has risen to 42% and Labor's to 30%, leaving the gap between them almost unchanged.
The Liberal Democrats have slipped to 15% as their anti-Brexit pact with the Greens and Plaid Cymru (the Welsh nationalists) looks like backfiring. Far from taking seats from the Conservative Party, alliance candidates are more likely to cost Labor a victory by attracting some anti-Brexit zealots.
Meanwhile, the Brexit Party which finished top in May's European Parliament elections – admittedly on the usual low turnout of less than 40% – has withdrawn its candidates from all Conservative-held seats in order to help Boris Johnson continue in office.
Its support in the polls has slumped to 5% as many working-class Labor Brexiteers stick with their own party rather than help the traditional party of big business – the Conservatives – to win.
Nonetheless, Brexit remains Labor's Achilles Heel.
Ever since the June 2016 EU referendum, powerful pro-EU forces inside and around the Labor Party have pushed it towards a more anti-Brexit stance. Labor's pledge in the 2017 General Election to honor the referendum result by implementing Brexit has all but disappeared.
In fact, official party policy is for a second referendum in order to overturn the first. Moreover, a whole cabal of prominent Labor MPs have made it clear that they will campaign in any such referendum to keep Britain in the EU, even if that means repudiating a fresh agreement reached between their beloved European Union and their own newly-elected Labor government.
Jeremy Corbyn has announced that in order to play the role of national unifier as Britain's new Prime Minister, he would not campaign for any side in the repeat referendum.
This opens up a faintly ludicrous scenario should Labor win the General Election. Corbyn's government would negotiate a new Withdrawal Agreement – the third – between the U.K. and the EU, put it to a second referendum and then largely refuse to campaign in its favor.
This agreement would tie the U.K, to the EU for an extended period, and amount to a "semi-Brexit" at most.
With no "full Brexit" allowed on the referendum ballot paper, the only choice available to the electors would be between this "half-Leave" and "Remain." Most political parties and their MPs would campaign for Remain.
Thus, could the 2016 Brexit result be overturned, in a rigged referendum after four years of false promises, stonewalling and sabotage? It doesn't augur well for the British public's respect for national politics.