Nepal can become the nexus of Sino-Indo cooperation
CGTN | Updated: 2019-12-03 10:08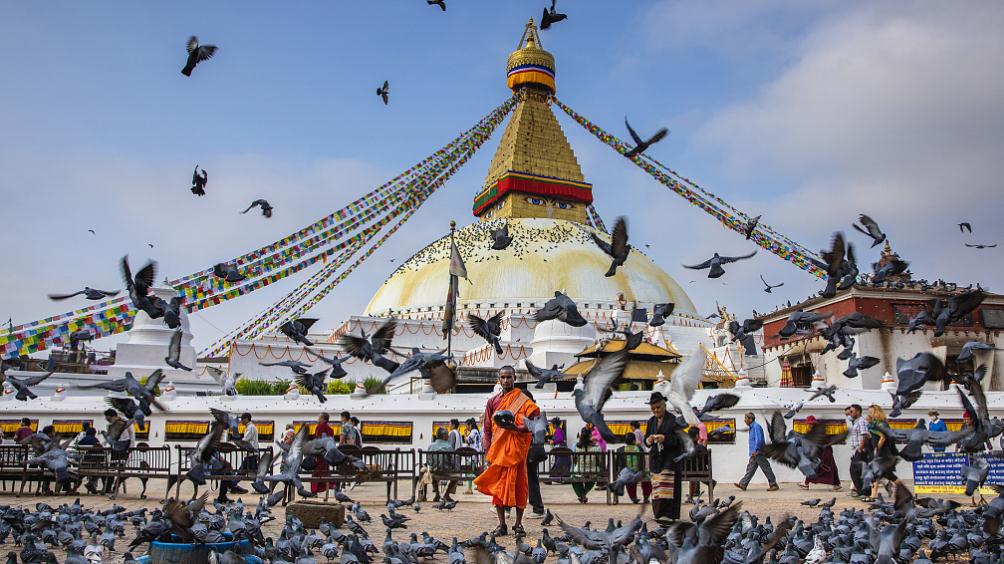 Editor's Note: Andrew Korybko is a Moscow-based American political analyst. The article reflects the author's opinion, and not necessarily the views of CGTN.
Last Friday saw the first meeting of the China-Nepal working group on investment cooperation being held in Kathmandu. This event was a milestone in bilateral relations because it places both countries on the mutually beneficial path of unlocking their economic complementarities. Chinese President Xi's visit to Nepal in October and the various agreements that were signed during that time showed the willingness of both sides to take their rapidly improving ties even further and set the positive backdrop against which the working group's meeting was held.
Chinese-Nepali relations have been attracting a lot of attention lately. A former Nepali Prime Minister and a former Indian Foreign Secretary spoke at the end of last week about the potential for trilateral cooperation between their countries and China. The first-mentioned is Pushpa Kamal Dahal, popularly known as Prachanda, and he called for a trilateral partnership of equal standing with both countries, while the second is M.K. Rasgotra who reassured his homeland that it has nothing to fear from this and Chinese-Nepali ties in general.
Prachanda shared his opinion that "the China-India Plus or 2+1 concept does not talk about equal shares between China, Nepal and India," which is why a new format should be proposed. Importantly, this influential politician isn't against trilateral cooperation, he just wants to make it more efficient according to his views. As for Rasgotra, he shared his regional integration vision of a future China-Nepal railway one day extending into India "through Sarnath and Gaya, to Bangalore and Hyderabad and even connect the ports on the west coast."
Taken together, investment cooperation between China and Nepal could lead to the construction of an international railway that eventually connects to India and turns the landlocked Himalayan country into the nexus of Sino-Indo cooperation through the formal establishment of a trilateral partnership between them. It's this outcome that all three countries should pool their economic and diplomatic resources into achieving because it would work out to their collective benefit if it comes to pass.
Nepal is comparatively tiny but can reap outsized profits by facilitating trade between its gigantic Chinese and Indian neighbors, which could in turn go a very long way towards improving the living conditions of its nearly 30 million people if the revenue is wisely invested in society. As for the two BRICS and SCO member countries, joint cooperation in a strategically positioned third party state like Nepal and the creation of a trilateral partnership between them could foster greater overall trust and become a template for further cooperation elsewhere.
In addition, the successful construction of a China-Nepal-India rail corridor, potentially described as the "Himalayan Silk Road," could even create the opportunity for linking those three more closely with nearby Bangladesh, which would in essence fulfill most of the spirit of the Bangladesh-China-India-Myanmar (BCIM) Corridor that's hit some snags over the past couple of years. It wouldn't be inconceivable under that scenario for the "Himalayan Silk Road" to connect with the BCIM in the future to create a new mega project.
To explain, Bangladesh's realistic participation in the "Himalayan Silk Road" would amount to a Bangladesh-China-India-Nepal (BCIN) Corridor, and considering India's recent desire to develop its northeastern states and use them as the gateway for expanding ties with neighboring ASEAN member Myanmar and the rest of the bloc as a whole, New Delhi might once again become interested in the BCIM, building upon the "Himalayan Silk Road" to create a hybrid project that could prospectively be described as the "Asian Ring."
If India realizes the benefits of trading with China via Nepal, it would naturally come around to realizing that these selfsame benefits can be doubled by doing so through Myanmar as well, especially if Bangladesh eventually connects with the "Himalayan Silk Road" since it too would want to diversify its overland trade routes with China in that case. Therefore, the key is for Nepal to become the nexus of Sino-Indo cooperation in order to prove the viability of this concept and then catalyze grander connectivity initiatives in the future.