Envoy warns against threats to bilateral relations
By ZHAO HUANXIN in Washington | China Daily Global | Updated: 2019-12-05 23:28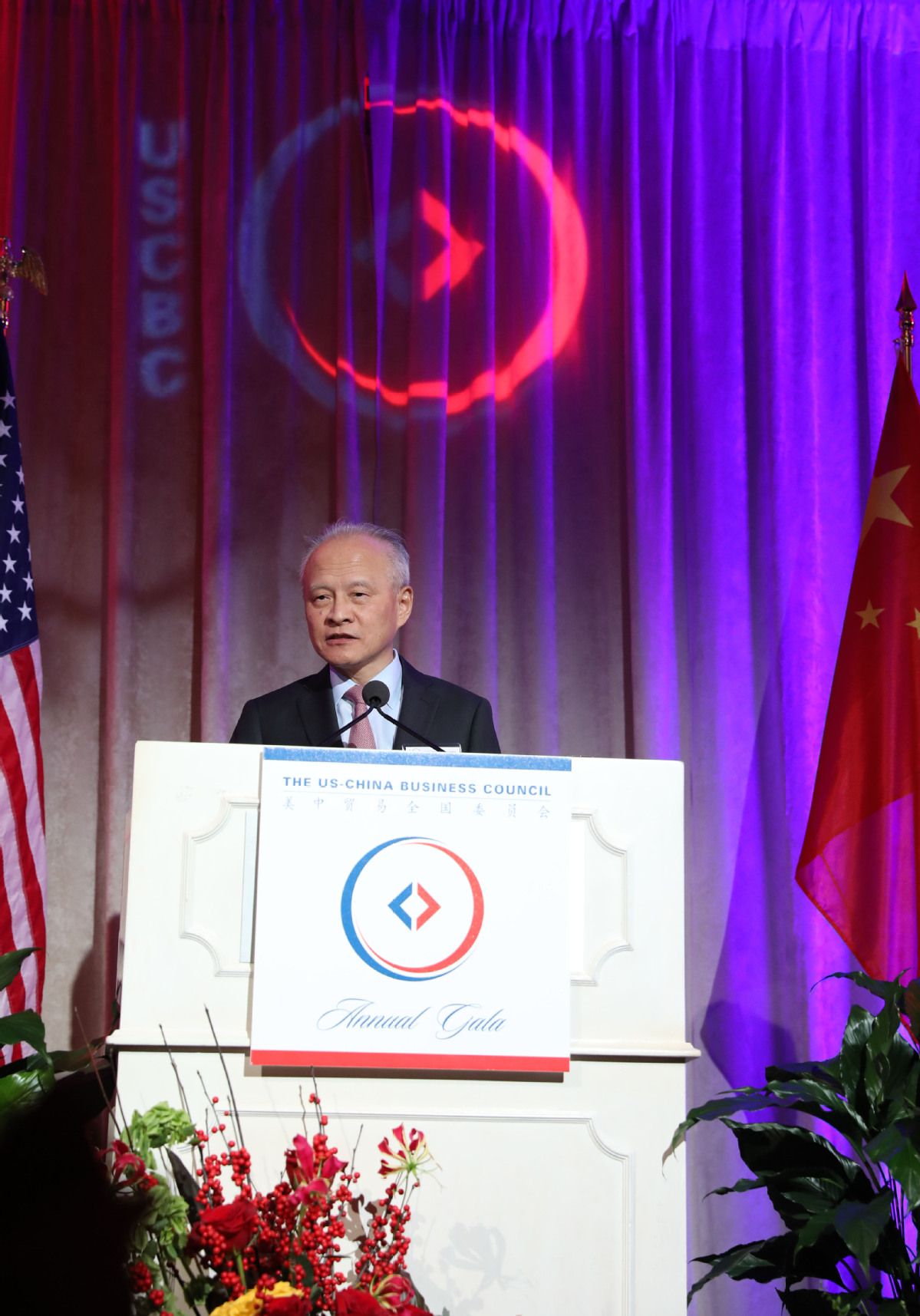 China and the United States, the key stakeholders for world peace, stability and prosperity, should stand up against any attempt to undermine their relations or to stir up confrontation and hatred, Chinese Ambassador to the US Cui Tiankai said on Wednesday in Washington.
Speaking to a hall of business representatives, diplomats and government officials at the 2019 China-US Business Council gala, Cui noted that Robert B. Zoellick, former US trade representative, raised the notion of "responsible stakeholder" in 2005, and "each of us" is a stakeholder for the development of China-US relations.
"It is our shared social responsibility to thwart the attempt to undermine our relations, and create positive impetus to our friendship and cooperation," Cui said.
Cui's remarks came a day after the US House of Representatives passed the Uygur Intervention and Global Humanitarian Unified Response Act of 2019, a bill that China said has deliberately discredited the human rights situation in the Chinese region and seriously interfered in China's internal affairs.
The new act followed Washington's passage of the Hong Kong Human Rights and Democracy Act of 2019 into law a week ago.
Cui said Xinjiang used to be a heavy victim of terrorism, where thousands of terrorist attacks happened.
"But thanks to our resolute fight against violent terrorism, and thanks to our education efforts to help the people affected by extremist and terrorist ideas, no terrorist attack has taken place in the past three years," he said.
He further noted that facts will always prevail over lies.
"Whatever happens, China stands firm on safeguarding its sovereignty, security and development interests," he said.
He also said that what is happening in Hong Kong, as in Xinjiang, has been seriously distorted.
"For Hong Kong, it is most urgent to stop violence and restore order there," he said. "However, there are people out there who are trying to challenge the bottom line of 'one country, two systems', and their real intention is to overthrow the country and ruin the two systems."
The well-being of the Chinese citizens either on the mainland or in Hong Kong, or the interests of American companies and citizens there "mean nothing" to them, he said.
On the trade friction between China and the US, Cui said he believed the two sides will be able to tide over the difficulties and return to the "right track" of win-win cooperation.
The ambassador warned that "some destructive forces" are taking advantage of the disagreements, giving volume to such "extreme rhetoric" as decoupling, a new "Cold War", and a clash of civilizations.
"If suspicion, animosity, estrangement and confrontation are allowed to grow without any constraint, what consequences will the two peoples and the whole world have to suffer?" Cui said.
Evan Greenberg, chair of the US-China Business Council, said the US' relationship with China is marked by "deep strategic distrust and lack of a broad strategic high-level communication".
"The US business community wants engagement, not decoupling. We seek cooperation and healthy competition," Greenberg said. "We don't support a trade war as a strategy. We want to compete. We insist we do so on a level playing field."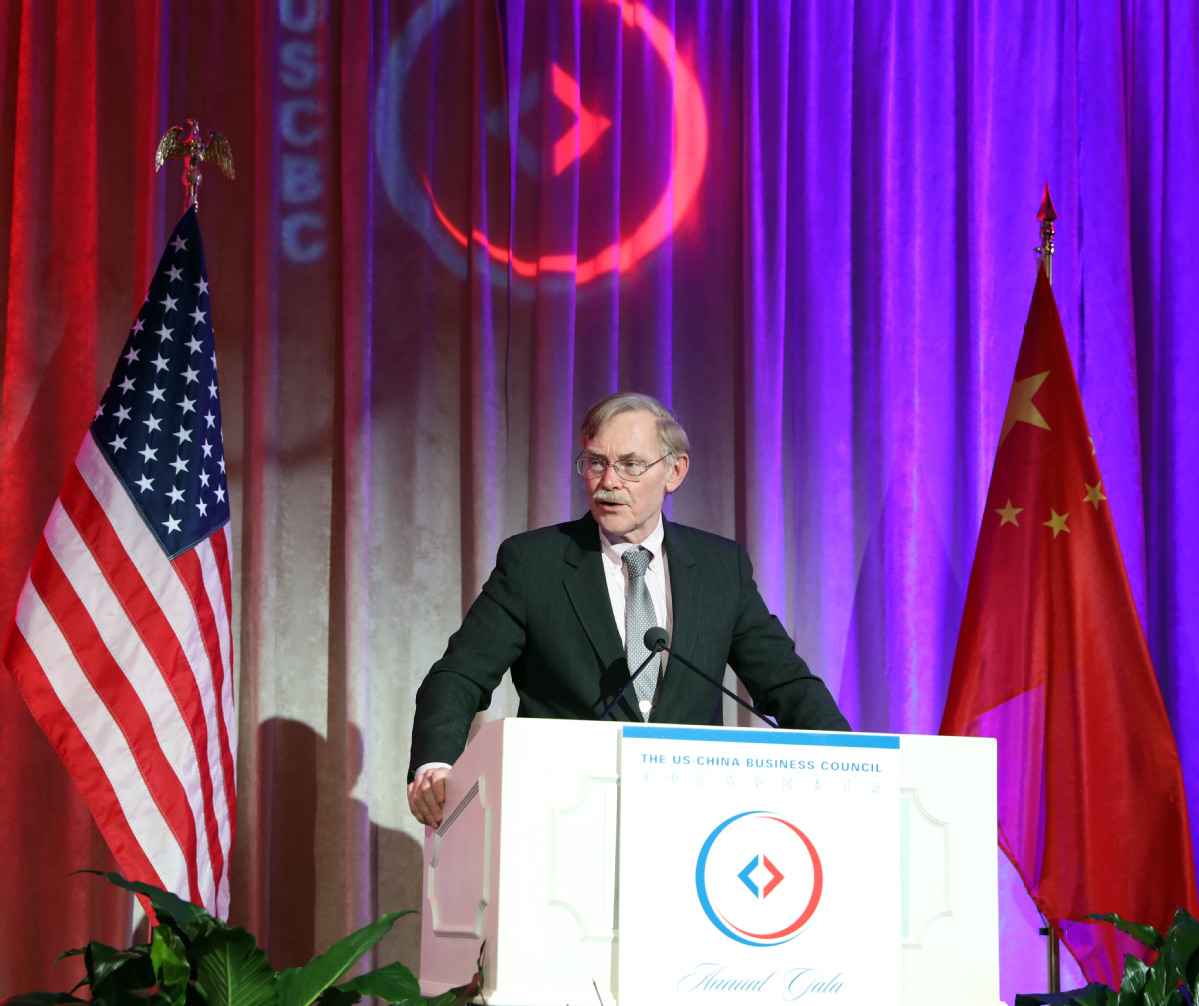 In his keynote speech "Can America and China be Stakeholders", Zoellick said that those who assume that China has not acted constructively within the US-guided system – who assume that China is only a disrupter – are misleading themselves, and "self-deception is dangerous in diplomacy".
"When I selected the world 'stakeholder' in 2005, I had in mind that stakeholders have interests in a shared enterprise," Zoellick said. "That interest is worth work, even perseverance, to preserve, adapt, and grow."
Craig Allen, president of the US-China Business Council, said that business is often said to be the "ballast" of bilateral relations, keeping the ship steady, balanced and moving forward in calm seas or stormy waters.
"A ship that loses ballast in bad weather is a ship that is in danger," he said.