Furry friends promote stress-free lives
A shelter for stray cats in Beijing is providing solace for young people who are lonely and under pressure.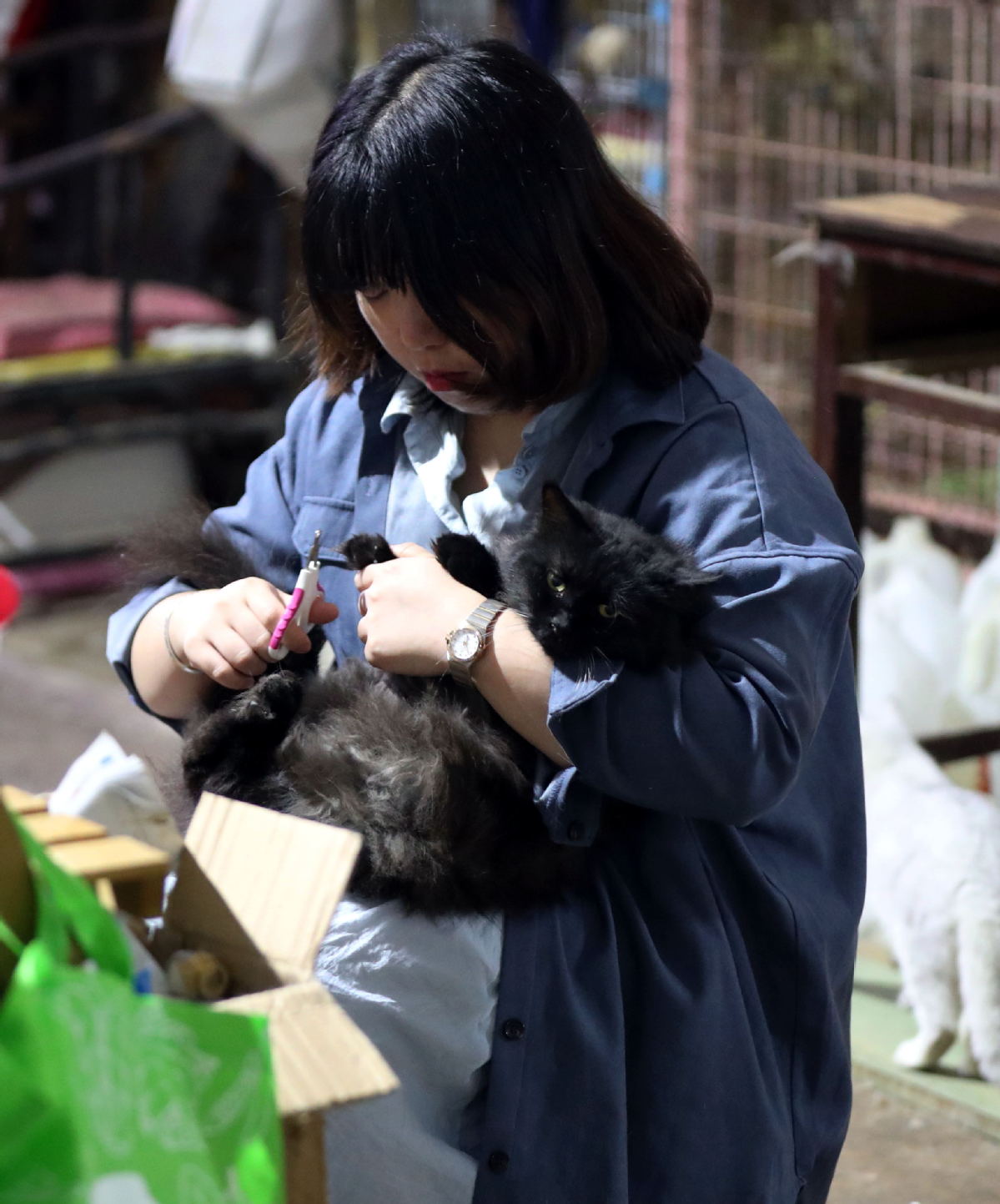 Of all the places stray cats can live in Beijing, perhaps none provokes more emotion or provides greater companionship than an underground facility known to devotees as the "Cat Shed".
Dozens of sparkling eyes illuminate a dark basement located between the Northwest Second and Third Ring Roads near a cluster of university campuses in Haidian district. Sometimes, the cats stare at people and occasionally they search for food. Since the facility was established in 2012, some 150 cats have lived there.
After walking down dozens of winding steps, visitors see an open space illuminated by several lights, where cat food is scattered around. On the other side, an intensive care area is dominated by cat boxes and mats. Many of the cats require treatment for common complaints such as colds, feline viral rhinotracheitis (a respiratory infection) and inflammation of the mouth.
More than 100 volunteers attend to the strays. Many claim that they gain greater benefit from the interaction than the cats, because the animals offer not just companionship, but also a kind of healing.
Thanks to a process known as "trap, neuter and return", some strays have been adopted by families, but about 80 still live at the shed, whose location is closely guarded by volunteers.
Russian blues, Chinese garden, British shorthairs and plain old ginger cats are spread across the shed's 100 square meters. They jump and play on toy towers or rest on cotton blankets on iron-framed beds. Occasionally, their attention is attracted by fiber fetch balls.
Change of mood
The "housekeeper" is Yin Yi, a doctoral candidate at the Central Iron and Steel Research Institute in Beijing.
When the 29-year-old arrived in the capital in late 2015, he faced huge pressure from his studies and personal relationships, while the alien environment exacerbated his feeling of loneliness.
After gaining a master's from a university in the Inner Mongolia autonomous region, Yin relocated to pursue a doctorate in material sciences. Accustomed to having friends around, he was not used to a solitary life, especially working alone and spending up to 10 hours in a lab most days.