Climate law priority for new EU chief
By CHEN WEIHUA in Brussels | China Daily Global | Updated: 2019-12-09 09:15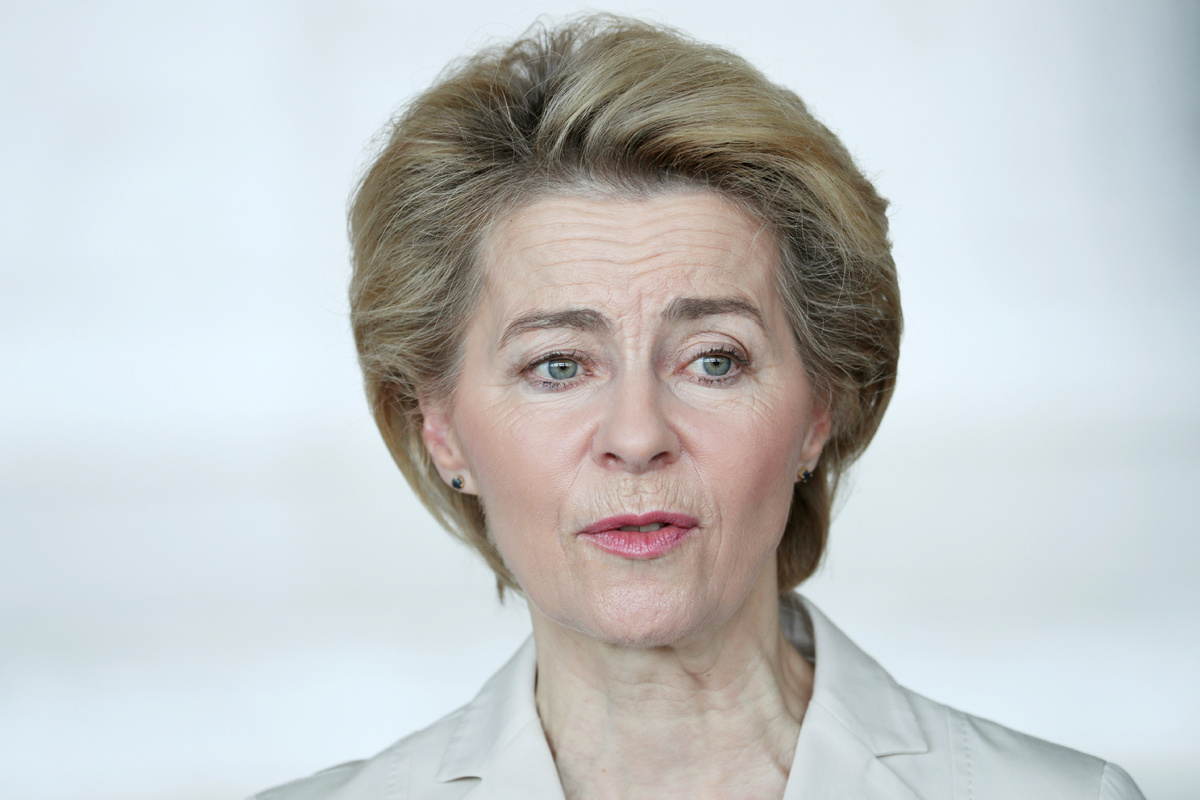 Brexit a major challenge for Ursula von der Leyen, who vows to build a stronger Europe
European Commission President Ursula von der Leyen assumed office on Dec 1, but a handover of the helm from her predecessor Jean-Claude Juncker was held last Tuesday in the Berlaymont Building that houses the European Union executive body.
Outside the building, a huge banner with the sign"#VDLCommission" has replaced the one with "#TeamJunckerEU". Inside, Juncker was praising the quality of the first woman president of the European Commission.
"I think I can say you are lucky to have Ursula von der Leyen as president of the commission," said Juncker. "She will do everything she can, and she knows to do many things, to serve Europe."
Von der Leyen, a former German defense minister, has started her busy schedule after a month's delay in taking office following European's Parliament's rejection of three of her commissioner candidates.
Last Tuesday, she spoke on the phone with Russian President Vladimir Putin when the two leaders said that "despite the current difficult period in relations between Russia and EU, it is in the common long-term to find a common ground on key topics of the European and international agenda, to develop a direct dialogue," according to a Kremlin statement.
They discussed the upcoming Normandy Format meeting in Paris, where Russian and Ukrainian presidents will meet with German Chancellor Angela Merkel and French President Emmanuel Macron to push for a peace plan to end the conflict in eastern Ukraine.
Last Monday, Von der Leyen was in Madrid at the United Nations Climate Change Conference where she announced that her commission will present the European Green Deal in 10 days.
"Our goal is to be the first climate neutral continent by 2050," she said, adding that the EU will propose the first-ever European Climate Law in March 2020 to make the transition to climate neutrality irreversible.
She has also laid out priorities to make Europe an economy that works for people, fit for the digital age and has vowed to build a stronger Europe in the world.
Her challenges are also many. Member states like Czech Republic, Estonia, Hungary and Poland are still skeptical of the Green Deal.
While most members of the European Parliament are supportive of the Green Deal, it is the first time in decades that the two major party groups, the centerright European People's Party and center-left Socialists & Democrats, lost their majority in the parliament. Von der Leyen, a member of the EPP, needs to make more compromises to win support in a more fragmented parliament.
Brexit will be an immediate major challenge after the EU spent much of the past two years and a half struggling with plans to cope with the United Kingdom's impending departure, which has been postponed time and again to Jan 31, 2020. The EU leaders are watching closely how the UK national election on Dec 12 will play out.
Von der Leyen will inherit a tough job of dealing with the EU's migration and asylum system that has divided some member states over distribution quotas.
She also faces increasingly strained transatlantic relations after United States' President Donald Trump ditched Paris Agreement, Iran nuclear deal and multilateralism.
Just a day after her taking office, US trade officials announced on Monday a new wave of tariffs on some $2.4 billion of French goods in retaliation to a new French tax on digital services, a tax that will affect large US tech firms such as Google and Facebook. This is in addition to the US tariffs on $7.5 billion worth of EU goods announced in October after the US won a WTO case over EU subsidies to Airbus, the world's second-biggest aerospace and defense company.
The EU is also outraged at the US blocking the appointment of new judges to the WTO Appellate Body. It has reached interim appeal arbitration arrangements with Norway and Canada in case the WTO's supreme court ceases function on Dec 11.