Volunteer medics a tonic for rural residents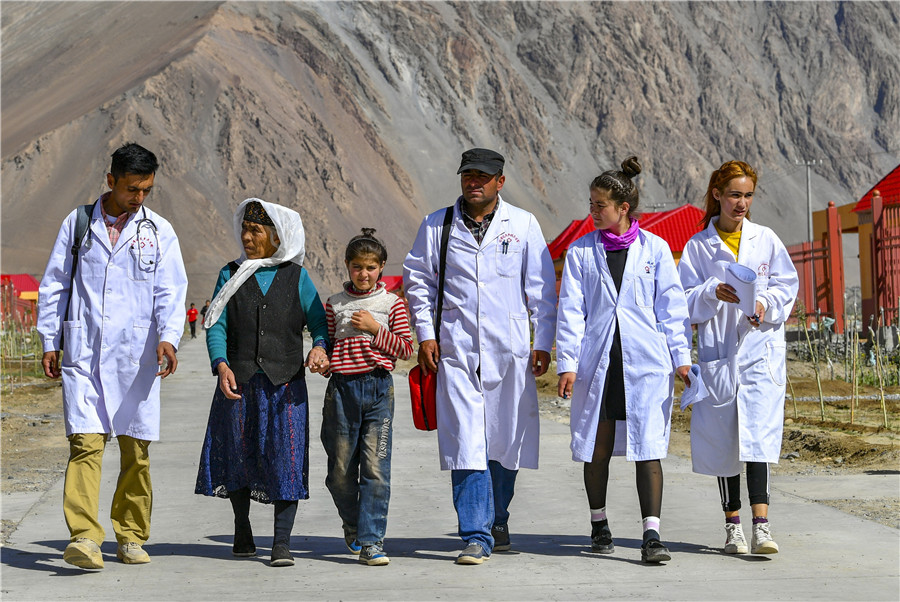 Doctors from large hospitals across the country are offering free help to people in China's far west. Wang Xiaodong reports from Tacheng, Ili Kazakh autonomous prefecture, Xinjiang Uygur autonomous region.

Editor's note: This is the ninth in a series of stories focusing on the Xinjiang Uygur autonomous region, looking at developments in the local economy, the cultural and business sectors, and poverty alleviation measures.
Xiao Jie, a border control officer in Yumin county, Xinjiang Uygur autonomous region, has felt stomach discomfort occasionally in the past year. Although he has visited local hospitals and clinics, his condition has not improved.
So, when he heard that a group of volunteer medical professionals from Beijing would be providing free diagnoses and treatment at the health center in Chahantuohai, the township in which he lives, Xiao hurried to join the line of patients.
"I hope it will work this time. Doctors from big hospitals are definitely more skilled and may provide a better diagnosis," he said.
"I hope more similar voluntary services can be organized and more experts will come to the township to provide training for local doctors. Also, I hope local clinics can develop remote medical care services, so patients here can consult doctors at big hospitals via the internet, instead of having to travel long distances."
Expert advice
The visit, from Oct 21 to 27, was organized by the National Health Commission. The 18 doctors, all from major hospitals in cities such as Beijing and Shenzhen, Guangdong province, were experts in fields such as respiratory disease, eye surgery, gynecology and cardiovascular disease.
Seeing the long lines of patients, Chen Yao, an eye surgeon at Beijing Tiantan Hospital, said it was the first time he had visited Xinjiang and he was pleased to have the opportunity to provide medical services as a volunteer.
"Medical services here lag behind big cities like Beijing," he said. "Most of the patients I received were older than 50, and they had conditions such as dry eye and cataracts. However, some had never seen a doctor before."
A township health center he visited in Yumin county lacked basic equipment for eye diagnosis and treatment, he said.
During a weeklong tour of Tacheng prefecture-including the counties of Yumin, Emin and Tuoli, which are under its jurisdiction-the doctors provided about 2,000 diagnoses and treatments, according to the commission.
To improve services, the Third Affiliated Hospital of Beijing University of Chinese Medicine signed an agreement with the Tacheng health commission to provide three months' free training for 20 to 30 doctors from county-level hospitals in the prefecture. The Beijing hospital will also cooperate with some rural establishments to provide them with regular remote training and diagnostic services via the internet.