Facing the music as boy band gets inspired by working reality
By Xing Wen | China Daily | Updated: 2019-12-11 08:39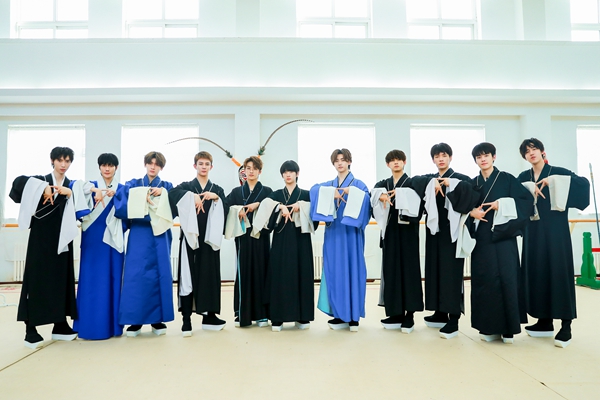 Stronger together is a good motto for a boy band that formed after they emerged individually from the challenging knockout process of a top talent show.
The boys sang, danced and faced the music as individuals this summer for Chuang, a reality-show competition that selects young and promising Chinese musicians.
After doing well in the show, the top 11 who got the highest votes from the audience, joined forces to form an 11-member boy band that has quickly made its mark on the entertainment world.
The band, R1SE-the initials stand for Run, No 1, Sun and Energy-has since embarked on an exciting voyage into uncharted waters for the average group of pop idols by taking on some vocational challenges faced by some of their generational compatriots.
As well as getting the opportunity to try their collective hands at working with contemporaries who have become successful in their chosen fields, such as top Chinese Go player Ke Jie, BMX rider Sun Yue, and World Cosplay Summit winners, Tian Yuan and Liu Xuefeng, the band members, with an average age of 20, have pitched in with young people from other walks of life, including firefighters based in the Aba Tibetan and Qiang autonomous prefecture of Sichuan province. In doing so, they have been gaining the unique experience of doing various jobs far removed from their careers as pampered pop stars.
Their endeavors were recorded as part of a six-episode online reality show titled R1SE Teenagers, which began airing on Tencent's video platform on Dec 1.
The valuable work experience, sampling different ways of life, is designed to enable the young men to grow into more mature role models and help them move a step closer to their goal of becoming "a sunny, uplifting boy band", according to one of its members, vocalist Zhao Lei, 20.
"We've been curious about the daily routines of our peers, whose jobs differ from ours, and we found that they are curious about us, too," says Zhao.
"We have got closer to living lives that seem utterly distant from ours.
"The process of how we gradually received each other, embraced various cultures and addressed challenges together will be beneficial to our future growth," he adds.
In the first episode, they are instructed by Peking Opera performer Tao Yang, 22, who teaches them to master an act from the classic production of Xiao He Chases Han Xin in the Moonlight, which they then have to perform onstage.
Band member Liu Ye, 26, recalls that the challenge of performing Peking Opera was difficult, as the traditional art form is, with its nuances and language, poles apart from pop music. Some of the group also found the lyrics difficult to master.
In the series, the young men also visit Gaibao village in the Qiandongnan Miao and Dong autonomous prefecture of Guizhou province and work together with seven young women of the Dong ethnic group, serving as souvenir vendors, purveyors of snacks and tour guides.
"We learned a lot from these young women. We respect their deep love for their hometown and their eagerness to help their fellow villagers," Liu says.
All of these experiences will be highlighted in their songs, according to Zhou Zhennan, leader of the group.
"We have already integrated some elements of Peking Opera into one of our new songs," says Zhou, 19.
He also points out that, while they only learned a little bit about the "profound art form" in that short time, they have a greater appreciation of it.
"But we still want to express our own personal understanding of it, and salute it," he adds.
The show is gaining more and more attention from fans online.
A comment posted on review site Douban by a user nicknamed Dumou said that the show has brought together young people from different vocations and this has enhanced its appeal.
"Fans of the pop band could, through the show, begin to appreciate the lure of traditional Chinese opera, ... the strong will of impoverished villagers to live a prosperous life and the firefighters' bravery in the face of danger," the commentator states.