Chinese lifter Shi Zhiyong sets new record at IWF World Cup
Share - WeChat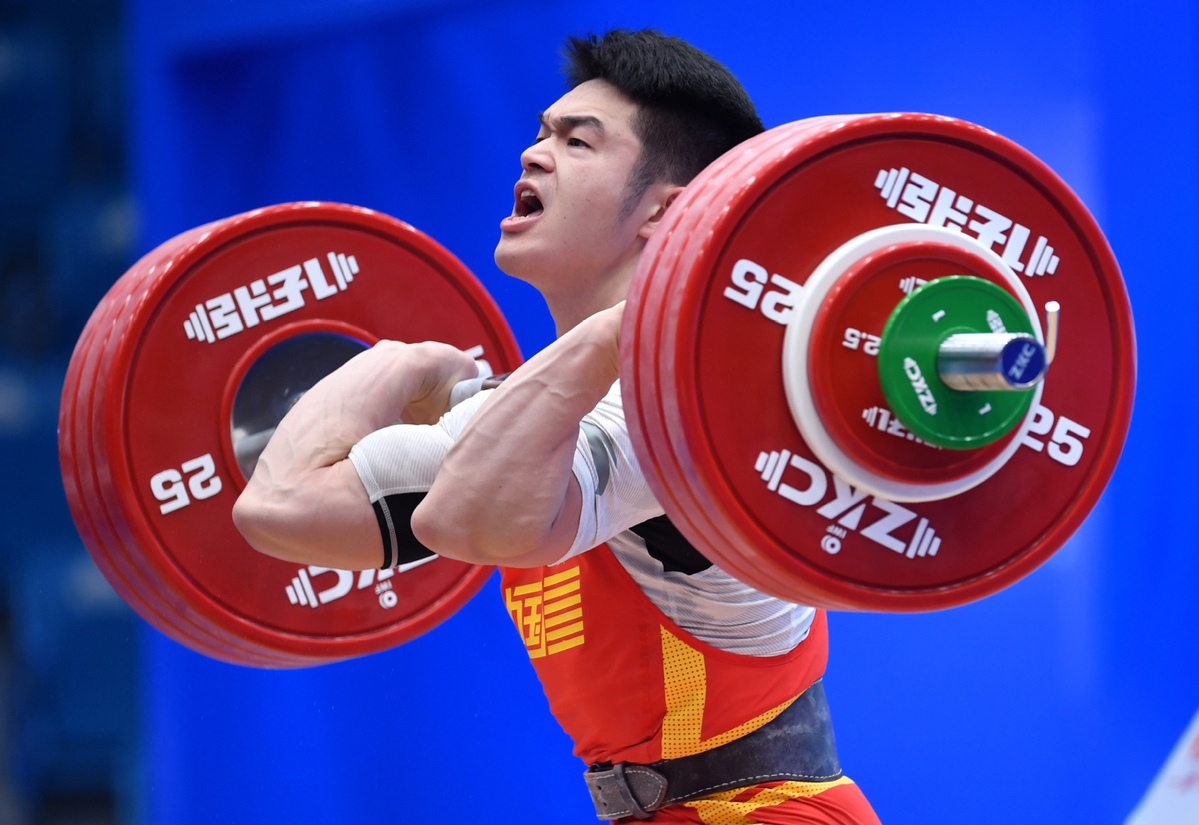 TIANJIN - Chinese weightlifter Shi Zhiyong set new world record of clean and jerk in men's 73kg division to win all the three gold medals at the 2019 "Shengxin" IWF World Cup 2020 Tokyo Olympic Games Qualification Event here on Tuesday.
Shi, who broke two world records in the clean and jerk and total at the 2019 World Weightlifting Championships, showed his absolute advantage in this event. After jerking up 155kg in his first attempt, the 26-year-old Olympic champion has already secured the gold medal in the snatch as all others had finished their attempts.
Shi started his solo show after Yuan Chengfei failed to post 191kg, hoisting an ambitious 198kg above his head steadily to set the new record in the clean and jerk and got a total 363kg equalize the results of the world record.
"Although I broke the world record, I'm not satisfied with my form. And I would be more stable over the next few months." Shi said after the game.
Another Olympic champion Lyu Xiaojun didn't play well on Tuesday. The London Olympic champion in men's 81kg division won the silvers of all the three categories while Li Dayin succeeded to challenge 200kg at his final attempt in the clean and jerk, won the gold medal of the three categories.
"My back injury is still having some effects on me and I am quite satisfied with this result today." Lyu Xiaojun said.
In men's 61kg division, Li Fabin, who broke two world records in the snatch and total at the 2019 World Weightlifting Championships, posted 140kg in the second attempt in the snatch and secured the first place after the unsuccessful third attempt of 143kg. Li won the gold medal of total on 311kg. Qin Fulin took the silver on 306kg.
Team China won another two gold medals on Tuesday as Feng Lyudong won the title of the snatch and the total with 151 kg and 321kg in men's 67kg division while Jiang Huihua won the gold of total on 210kg and beat DPR Korea's RI Song Gum who took the silver on 209kg.
The three-day IWF World Cup, running through Dec 12, also serves as qualifiers for the 2020 Tokyo Olympic Games.