Riots will have huge impact on SAR's investment landscape
By Zhou Bajun | HK EDITION | Updated: 2019-12-11 11:08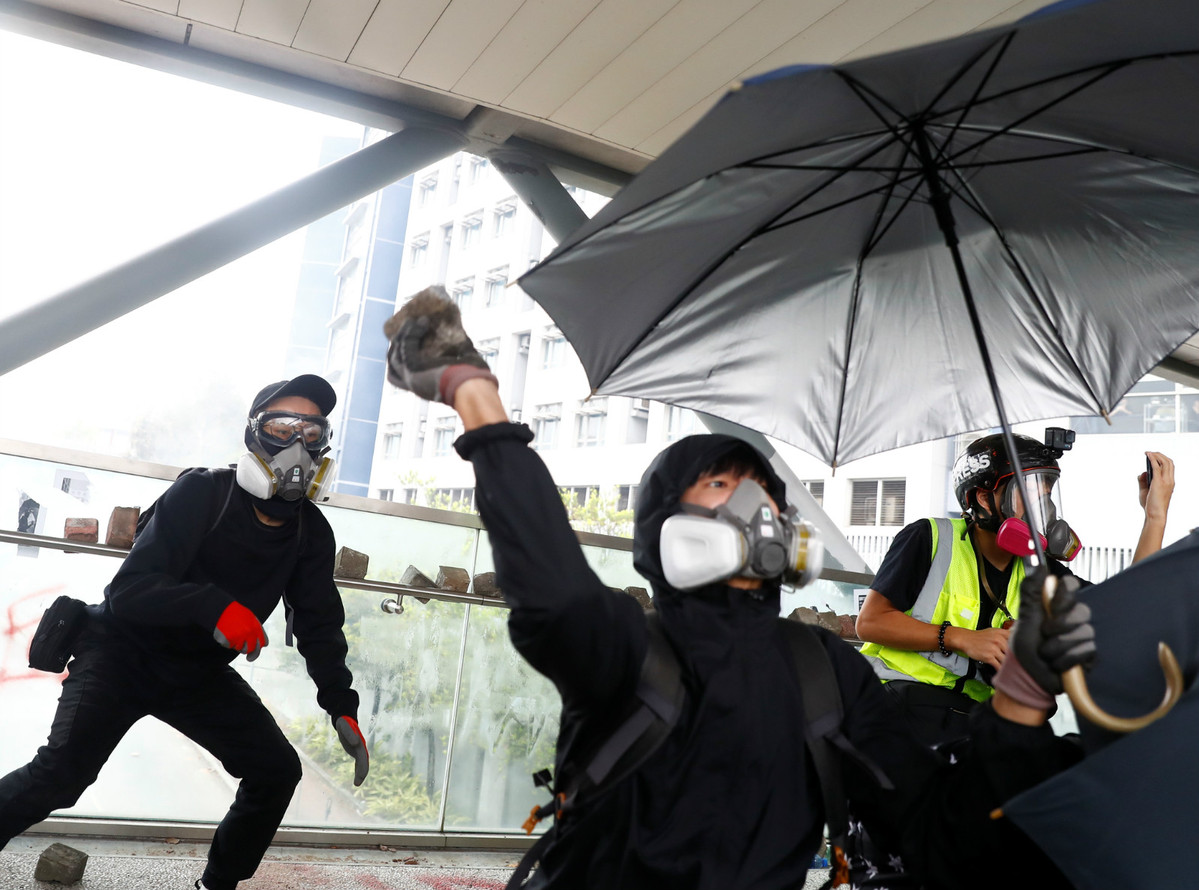 Hong Kong's economy has slid into a recession since the second quarter of this year. Although published macroeconomic indicators such as GDP and the unemployment rate suggest the situation is not as daunting as the economic recessions in 1998 and 2009, the external environment and internal political landscape that Hong Kong is confronting now are far worse than those of 10 and 20 years ago.
Hong Kong bore the brunt of the Asian financial crisis in 1998. While its real estate market plummeted, its currency peg with the US dollar was under heavy attack. Negative GDP growth and unemployment rate were at all-time highs. Despite the grim outlook then, Hong Kong enjoyed political stability, and so did the global economic and political landscape.
The financial tsunami in 2009, which originated from financial-derivatives trading in the United States, triggered another wave of economic recession for Hong Kong. However, Hong Kong was not in the turbulent zone, as the local financial market had far fewer derivative products on trade than its US and European counterparts. At that time, the global economic, financial and political landscape was undergoing a major shift that had not occurred in a century, while Washington was still focused on anti-terrorism as its global strategy. The Chinese mainland, which maintained a rapid GDP growth rate of 8 percent amid the global recession, was the mainstay of the world economy and an economic stabilizer for Hong Kong.
As the big shift in global political landscape advanced further in 2018, the US adjusted its global strategy to treat China as its major strategic rival. The trade war waged by the US against China began in March 2018 and lasted through 2019. Moreover, the Trump administration has started to hinder China's development in the areas of science and technology, finance, military, education, etc. Sino-US relations used to be characterized by collaboration and competition in the past 40 years, but now they have turned to be solely competitive or even antagonistic. Since Hong Kong has long been under the influence of the West, it has naturally been tapped as an outpost in Washington's all-out effort to contain China.
Washington politicians took advantage of the controversy surrounding the Fugitive Offenders and Mutual Legal Assistance in Criminal Matters Legislation (Amendment) Bill to instigate radicals to launch the "black revolution"; they then enacted the so-called Hong Kong Human Rights and Democracy Act. In 1992, the US enacted the Hong Kong Policy Law with the objective of promoting "peaceful evolution" on the Chinese mainland through Hong Kong; therefore, Washington would not harm Hong Kong then. The passage of the Hong Kong Human Rights and Democracy Act is intended to coerce China to yield to US' demands by taking Hong Kong hostage. Should it fail to achieve such a purpose, Washington wouldn't hesitate to destroy Hong Kong, with collateral damage to its own interests in the city.
Against this backdrop, the new round of recession that Hong Kong's economy has now entered into could be worse than in 1998 and 2008, with longer losing streaks for the GDP and a much higher unemployment rate. What's more, Hong Kong's investment environment could deteriorate to a terrible level, a situation unseen in the previous two recessions.
On Dec 2, Financial Secretary Paul Chan Mo-po got straight to the point on the detrimental effect of the Hong Kong Human Rights and Democracy Act; that is, the effect is to undermine Hong Kong's innovative and technological advances and hinder the Guangdong-Hong Kong-Macao Greater Bay Area development. On the following day, although Chief Executive Carrie Lam Cheng Yuet-ngor said it would be difficult to assess its exact impact on industry development as the effect of the act would depend on the attitude of relevant US authorities, companies would not be able to predict what actions Washington was going to take. As a result, the act could take a toll on corporate confidence and undermine the business environment in Hong Kong.
The central government announced measures on Dec 2 to counteract the act. As Washington and Beijing continue to wrestle over Hong Kong affairs, it is expected that US investors will adjust their investment strategy in the city. This will cause a ripple effect on investments by other investors, including the locals and those from the Chinese mainland and overseas. Investors from places that do not have cordial relations with China will withdraw part or even most of their investments from Hong Kong, while those from places that are friendly with China will expand their businesses in the city.
How mainland companies will treat Hong Kong is a question that concerns many. The "black revolution" has obviously zeroed in on mainland-invested enterprises in Hong Kong as one of their targets of destruction. Obviously, the perpetrators want to drive mainland enterprises out of Hong Kong in their attempt to achieve their separatist goals. This is wishful thinking. Mainland enterprises will not only stay on in Hong Kong, but will also increase their investments in the city.
Blackshirt rioters are categorizing companies in Hong Kong into "yellow (anti-China) enterprises" and "blue (patriotic) enterprises". Through battering the latter and supporting the former, they are attempting to build a "yellow economic circle". This wicked attempt is undermining the business environment and investment ecosystem in Hong Kong. I believe the riots will eventually be quelled, and the "yellow economic circle" plot will be crushed. Nonetheless, the adamant antagonism of the rioters will, to a certain extent, weaken corporate confidence of their business environment in Hong Kong.
The views do not necessarily reflect those of China Daily.