UGG taking bold steps in new direction
By Wang Zhuoqiong | China Daily | Updated: 2019-12-12 09:43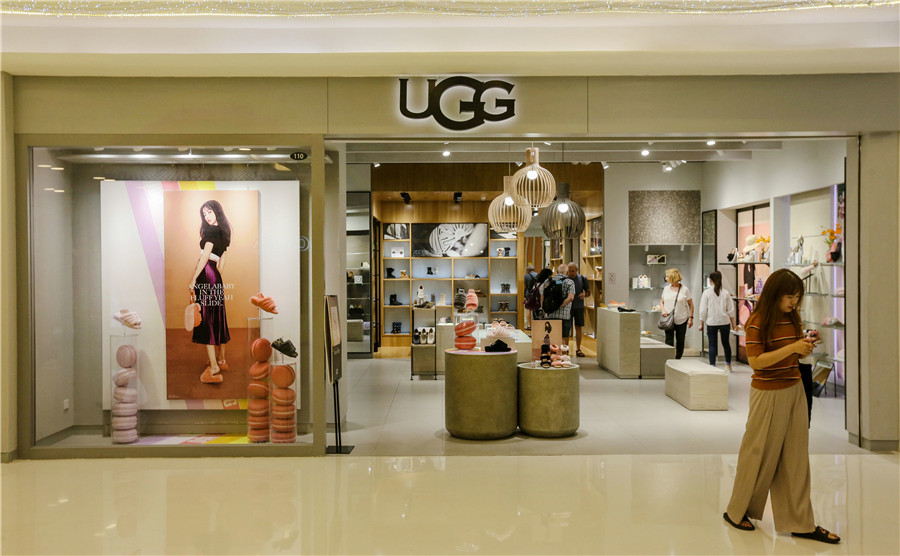 Footwear firm aiming to transform traditionally cold-weather brand into one desired year round by consumers globally
Being bold and provocative is the theme of this year's autumn and winter campaign for one of the world's best-known boot brands.
For Andrea O'Donnell, UGG's global president, being bold and provocative is necessary to transform a lifestyle winter brand into one that is desired all year round by consumers globally.
"With fashion, unlike athletic where it's a kind of needs-based consumption, you're basically asking people to connect with you to buy things from you that they don't really need," said O'Donnell, who is also president of fashion lifestyle, Deckers Brands. "You have to have beautiful things, and an interesting story to tell."
Deckers Brands is a California-based global leader in footwear, apparel and accessories including UGG, Koolaburra, Teva and Hoka One One, and their products are sold in more than 50 markets globally.
UGG delivers more than $1 billion in annual sales, and owns more than 130 concept and outlet stores worldwide. Its sales for the second quarter increased 2.2 percent to $404.9 million compared with $396.3 million for the same period last year.
In an interview with China Daily, O'Donnell talked about the importance of being an individual, reasons for UGG to become more fashionable, their plans to further accelerate in China and go beyond footwear globally.
What's the purpose of shifting your brand image from lifestyle to fashion?
It's a reconnection with our heritage. UGGs were first worn by surfers on the beaches of Southern California as a solution to the cold, and are certainly interesting shoes. They are striking and quite provocative. I think if you take that kind of origin story, then look at when we first became famous, people were wearing sheepskin boots with a swimsuit. People that have worn the UGG Classic boots throughout history have been making a statement. I think we maybe have lost some of that over the past five or six years. We hadn't really been as bold and provocative as we had been in our first 20 years. And indeed, the campaign we did last year was really reconnecting with that idea of who we were, and how we want to express ourselves.
What new direction are you taking UGG in?
I think it's difficult to grow if you define yourself as a cold-weather, sheepskin boot. If you define yourself as a California fashion lifestyle brand that gives you permission to do lot more things. And you take the narrative up a notch and talk about California in its broader sense.
We changed the way we tell stories about our brand, and that's given us a lot more bandwidth to create interesting and different footwear. But also, it's given us a new conversation with customers, and people are getting excited about this combination of beautiful things.
What is the most difficult part of mixing fashion with footwear business?
The hardest part I think is the lack of imagination, particularly in footwear. What you find in footwear, in general, is an engineering mindset, and engineering mindsets don't necessarily facilitate creativity. It's about construction, it's about end use. So, I think one of the difficult things for me has been in getting people to think we could be more than one thing. Getting their business to understand what fashion footwear could really look like and take some risks.
What's your impression of Chinese consumers and what's your localized strategy in China?
Chinese consumers are changing fast. I don't want to generalize because obviously it's one of the largest populations in the world, so it's definitely not one-size-fits-all. I would say that Chinese consumers want heritage and authenticity. They want beautiful things, they want great stories. We're still working out what our local Chinese strategy looks like from a product perspective, but I'm really keen to find the opportunity to showcase local talented creatives in China.
How has the Chinese market been contributing to UGG's global revenue?
China is about 10 percent of the group. We strongly believe there is a clear potential to double the market. Now, we have only been in China for 10 years. With double-digit growth each year, we are also planning double-digit growth for the five years to come. So, there's a huge potential in China if you know how to activate that market through digital retail experience. Product innovation, marketing localization, and omnichannel strategies will be the key for success. We're really excited about it.
So what do you want to bring to this brand most?
I've worked on both sides of the equation. I've worked within brands, but I've also been a buyer of brands. UGG is really a premium brand, not a luxury brand. So, I think what I can bring to UGG is an understanding that you can deliver a beautiful product at a good price point, with the importance of emotion, storytelling, and brand in the context of that conversation with customers, which I think luxury brands do really well. I think the mid-to-premium and below brands don't really do the emotion very well. It's much more about price and straightforward conversation with customers; giving them the product when and how they want it.
What's your vision for brick-and-mortar retail expansion to create a better shopping experience for consumers?
Right now we have more than 200 stores in China. More than 35 are owned and operated, the rest are managed by franchise, and we plan to extend the number of stores to 330, and open two flagship stores, in Shanghai and Beijing.
We're going to open the first one in New York next year in a key location that will reflect all our brand values, then we will cascade down that concept in China. Fall and winter 2021 will see the first open and the second one in 2022.
Why will you open a flagship store in New York and what kind of role will it play in your global branding strategy?
The one in New York will bring California to life. We're looking at different ways to connect with everybody from local artists to chefs to create something that really brings California to New York. A lot of midcentury modern furniture and lighting will be important because California light is something really special.
And then in addition to that we'll have the opportunity to showcase apparel. Apparel for us is already a fairly big business.
So what's your plan for your online channels in China?
The Chinese consumer is leapfrogging every other nationality. The penetration of online as a proportion of total retail sales, I think is the highest in the world. Our strategy is to be where the customers are.
We have our online store, ugg.cn, that we call our digital flagship store, and we have two stores on Tmall and JD's platforms, as they are absolutely unmissable in China. We want to have a more qualitative partnership with them, to avoid offering promotions when our brand can offer much more than that. We want to establish a more exclusive relationship with product differentiation between online and offline to make sure that consumers have a good reason to shop and not find the same product everywhere.