Brexit's fate hangs in the balance
By ANGUS MCNEICE in London | CHINA DAILY/XINHUA/AP | Updated: 2019-12-13 09:25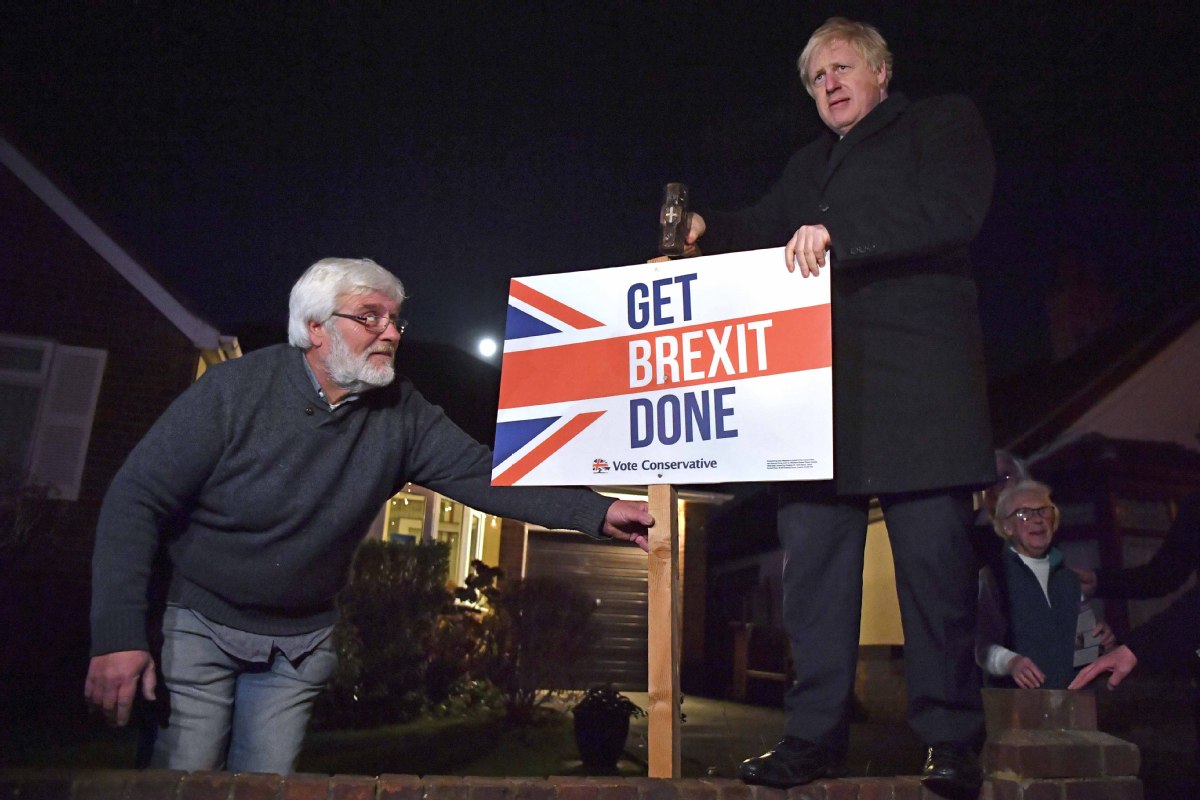 Election has been defined by UK's contentious membership in the EU
Voters in the United Kingdom were deciding on Thursday who they want to resolve the stalemate over Brexit in a parliamentary election that had been defined by the nation's contentious membership in the European Union.
UK Prime Minister Boris Johnson called for the election in late October, frustrated by the parliamentary deadlock that prevented him from pushing through an EU exit deal negotiated by his Conservative government.
Polling stations opened at 7 am and were scheduled to close at 10 pm. Photos of lines outside of polling stations suggested a brisk early morning turnout. A total of 650 members of Parliament were expected to be chosen under the first-past-the-post system from a total of 3,322 candidates who were standing for election.
Johnson voted at Methodist Central Hall in London, accompanied by his dog, Dilyn. Labour Party leader Jeremy Corbyn was greeted by supporters as he arrived to cast his vote in his north London constituency.
Parliament has remained paralyzed by Brexit ever since the Vote Leave campaign emerged victorious from the referendum of June 2016.
Former prime minister David Cameron's central claim when he announced plans for the referendum in 2013-that it would once and for all "settle this European question"-could not have been wider off the mark.
A shell-shocked Cameron stepped aside when 52 percent of the nation voted to leave the EU. Theresa May, who had supported the vote to remain, then embarked on an agonizing three-year premiership in which she lost Conservative seats in a 2017 snap general election and never came close to getting a Brexit deal through Parliament.
May's successor Johnson, who spearheaded the Vote Leave campaign in 2016, suffered an unprecedented series of defeats in Parliament in his first weeks in office, prompting him to roll the dice and call this election.
Johnson is hopeful that after the vote on Thursday he will be able to "get Brexit done" with the help of a robust Conservative mandate. The Conservatives have indeed led in the polls, but party members will not have forgotten failures to gain majorities in two of the last three elections.
In an election that has become so simplified-almost along the lines of a yes-no referendum-Corbyn has frustrated some supporters by not confronting Johnson from a strong Remain position.
Party lines
But the Brexit question has never divided the nation along party lines-there are Labour supporters who wish to leave the EU, and Conservatives who voted Remain. There is the possibility of a geographical inversion in this election, where Conservative and Labour heartlands are reversed. Analysis by pollsters suggest that several high-profile MPs are at risk of losing seats amid this uncertainty, including Foreign Secretary Dominic Raab.
Without coming down on either side of the Brexit question, Corbyn has promised that Labour would put an EU exit deal to the people in a second referendum.
Johnson has opted to go by the Vote Leave playbook and keep it simple-to him, the referendum was about immigration, and this election is about Brexit. His team has kept him away from several televised debates and interviews where diverse questions could make things more complicated.
There is a chance that the election result, which is expected in the early hours of Friday morning, could deliver a clear path forward on Brexit. But the result is just as likely to further muddy the waters, and in the event of a hung Parliament, the UK could swiftly be on course for its fourth general election since Cameron promised to settle the European question.
Xinhua and AP contributed to this story.