A quest to champion local creativity
By Zhang Kun | China Daily | Updated: 2019-12-13 09:28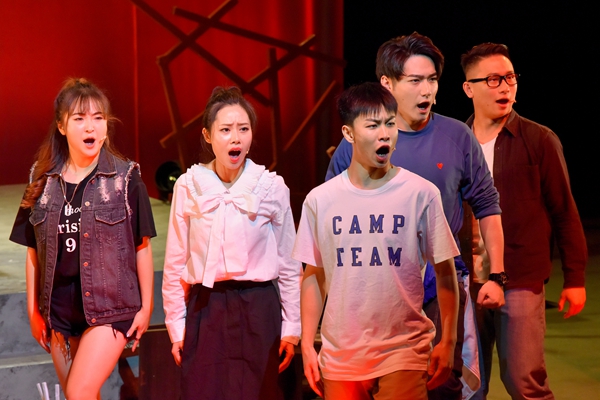 Shanghai Culture Square is ramping up efforts to promote Chinese musicals by establishing a research center for performances and productions, Zhang Kun reports.
SAIC Shanghai Culture Square announced on Dec 2 that it will host the second Shanghai International Musical Festival in 2020 and join hands with new partners to promote the development of original Chinese musical productions in Shanghai.
Shanghai has arguably been the largest and most developed market for musical shows in China. According to the live show trade union of Shanghai, 292 musical performances took place in theaters across the city in the first six months of 2019. These shows were watched by more than 287,000 people and had raked in more than 61 million yuan ($8.68 million) in box-office takings, more than any other sector in the theater industry.
Many Broadway productions and musicals in foreign languages have proven to be popular with audiences in Shanghai. For example, the French musical Notre Dame de Paris recently completed 31 performances at Shanghai Culture Square, with audiences singing along in French to the chorus of the theme song Le Temps des Cathedrales. The musical will be staged 10 more times in Shanghai from Jan 16 to 23 before concluding its China tour.
"All the tickets available for purchase have been sold out," says Gu Ying, a staff member at the theater. "There are still a few tickets available for the matinee show that are not open to the public yet."
The popularity of original Chinese musicals, on the other hand, pale by comparison to their international counterparts. Only a few local productions have managed to achieve box-office success in Shanghai, let alone other cities in China. Despite Shanghai's reputation for hosting high-profile musicals, the city itself has created few of its own, industry insiders explained at the news conference announcing the 2020 Shanghai International Musical Festival.
"There has been much anxiety about original creativity in China's musical scene. The lack of high quality original Chinese musical productions is not a problem that can be easily fixed with heavy investment. This has been proven by a number of failed attempts in the past few years," says professor Tao Xin from the Shanghai Conservatory of Music.
"It is time we go back to art and to the root of creativity. We need to begin by nurturing talent and cultivating the creative environment for their development."
The Shanghai Conservatory of Music is one of the three institutions that has forged a partnership with Shanghai Culture Square for the promotion of Chinese musical productions. The other two colleges are the Shanghai Theater Academy and the Shanghai Institute of Visual Art. All three have undergraduate programs for musical performance.
Together with the three academic institutions, Shanghai Culture Square plans to establish a research center for musical performances and productions.
"What we want to achieve through the festival, forums and new partnerships is to facilitate the formation of a healthy mechanism for the process of musical creation," says Fei Yuanhong, artistic director of Shanghai Culture Square.
Since its opening eight years ago, Shanghai Culture Square has always given priority to the promotion of original Chinese shows. Over the past eight years, the theater has showcased new productions in its spring show season every year, presenting a total of 95 performances of 36 original Chinese creations.
"We have been subsidizing original Chinese musical productions with the box-office income from popular overseas shows," says Fei.
In 2019, the theater expanded its special showcase of original Chinese musicals to a festival that included forums, panels, workshops alongside an incubation program for new musical productions.