Sound investment as indie label turns up volume on folk music
By Chen Nan | China Daily | Updated: 2019-12-14 12:22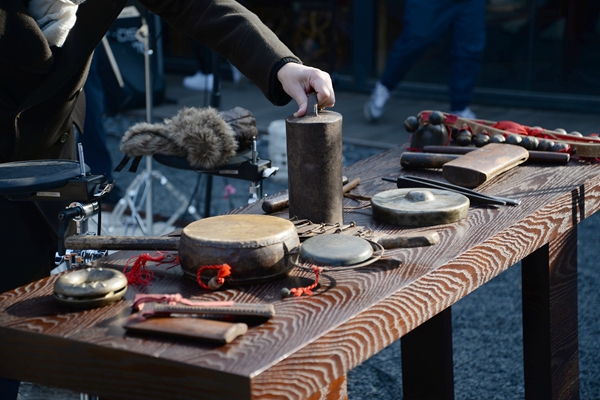 When the 80-year-old Chinese musician Li Hongsen played the fangxiang, inside the tranquil courtyard of Beijing Stone Carving Art Museum on a sunny afternoon, the audience was intrigued by the sounds and eager to learn more about the instrument they had never heard of before.
"It's a musical instrument with a history dating back to the Southern and Northern Dynasties (420-581). When you listen to its sound, you are having a conversation with ancient China," said Li, who played the piece Impressions of Yunnan in front of a young audience who filmed his performance on their mobile phones. Born and raised in Beijing, Li started to collect traditional Chinese musical instruments after he retired 20 years ago. He learned to play erhu at a young age and has so far collected more than 100 traditional Chinese musical instruments.
The fangxiang is an instrument made of 16 metal bars akin to a xylophone that produces eight sounds when the player strikes it with a mallet or a metal stick. It was mostly used for Chinese court music and is rarely seen today. The music pieces played by Li on the fangxiang will be recorded by Modern Sky, one of the country's leading indie music labels.