Nation moves to reinforce research integrity
By Zhang Zhihao | China Daily | Updated: 2020-01-10 09:01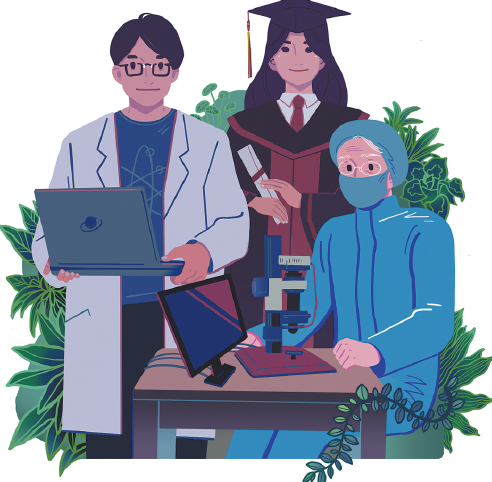 LIANG LUWEN/FOR CHINA DAILY
New regulations and penalties reflect determination to stamp out academic misconduct. Zhang Zhihao reports.
Editor's note: This is the third in a series looking at some of the most important, timely or unusual stories covered by China Daily's reporters last year.
During a lecture at the Great Hall of the People in November, Wang Zeshan, winner of China's highest scientific honor, urged the nation's scientists and students to be "responsible and honest" in their research.
"We must prohibit academic corruption, plagiarism, fraud, shortsighted pursuit of success and other misconduct that goes against the spirit of science," said the 84-year-old explosives expert, who won the 2017 State Preeminent Science and Technology Award.
Upholding and promoting academic integrity has been a priority in the country's scientific development in recent years. In May 2016, President Xi Jinping stressed that China must build an environment where high standards of academic integrity and research ethics can thrive.
Government records show that by the end of 2018, the central leadership had issued 108 official documents related to academic integrity, with 82 of them being published in the previous 12 years.
However, those efforts had limited success, because different government agencies had their own standards and procedures for dealing with academic misconduct. Scientists and the media have long complained that the disparate rules and sometimes overlapping jurisdictions make it hard to evaluate, investigate and deal with violators.
In May 2018, the general offices of the Communist Party of China Central Committee and the State Council, China's Cabinet, issued a set of comprehensive guidelines to better address problems with research integrity. The guidelines contained details of the agencies responsible for investigating and managing scientific misconduct.
In November that year, 41 national government agencies endorsed a set of 43 penalties for researchers found guilty of misconduct. The measures included terminating grants, losing academic positions or restricting promotion, and revoking the business licenses of companies owned by violators.
Last year, China continued to put more political weight behind raising research standards. The work included issuing documents with an "unprecedented" amount of detail to curb academic misconduct, said Huang Xiaoru, an expert on academic conduct with the Institutes of Science and Development at the Chinese Academy of Sciences.
"The new regulations allow a more methodical and unified approach to dealing with academic misconduct and violations," she told Xinhua News Agency in October.
Core issues
Scientists said a lack of incentives and resources to actively investigate academic misconduct, as well as excessive emphasis on published works as an indicator of career development, are among the key reasons for problems related to research integrity.
Results from the 2019 edition of Statistical Data of Chinese Science and Technology Papers, published by the Ministry of Science and Technology, show that the nation has made considerable progress in the quality and global impact of its research publications in recent years.
From 2009 to October, a total of 30,755 Chinese scientific papers were ranked in the top 1 percent by the number of citations, accounting for about 20 percent of the global total and second only to the United States. Last year, in terms of citations by subject, China became the world's most-cited country in materials science, chemistry and engineering, the report said.
However, according to an article in the journal Nature written by Tang Li, a professor with the School of International Relations and Public Affairs at Fudan University in Shanghai, China has had a disproportionately high number of retracted papers in the past four decades.
From 1978 to 2017, nearly 31 percent of the 21.8 million scientific papers published globally came from the United States. China ranked second with 8.2 percent, followed by the United Kingdom with 7.9 percent, Japan at 6.8 percent and Germany at 6.2 percent.
However, of the 2,859 retractions during the four-decade period, the US accounted for 28.1 percent, while China was second with 24 percent.
"What counts as misconduct rather than acceptable practice differs across cultural settings and disciplines," Tang wrote. For example, she said reusing content without proper citation or duplicating submissions for different publications are not considered inappropriate in China, but the international scientific community regards them as misconduct.
In addition, institutions, publications and funding agencies in China check for plagiarism and other academic misconduct before accepting papers or granting awards, but such proactive efforts are costly to enforce consistently. Therefore, China's scientific agencies and universities often wait for whistleblowers or controversies to emerge, and then react with investigations, Tang said.
"The 'fire alarm' tactic leads to selective investigations and uncertainty. It punishes past offenses, but does little to deter future ones," she added.
Sun Xuejun, a professor at the Second Military Medical University in Shanghai, said on his Sina Weibo account that an overemphasis on papers to obtain promotion and evaluation is a key reason Chinese scientists are willing to take risks to get their work published.
"Doctors' promotions are dependent on the quality of their published articles; the bigger and more reputable the hospital, the more prestigious the journals in which the doctors must publish their work," he wrote.
Solutions
According to rules regarding academic integrity published in June, the general offices of the CPC Central Committee and the State Council said China will aim to substantially improve academic integrity and practices within three years.
The rules forbid scientists from outsourcing their work without obtaining the permission of their research institution or relevant government agencies, using unrelated research results to meet project requirements, boasting about the value of their research or making unsubstantiated claims publicly.
Moreover, the promotion and evaluation of scientists will focus less on the number of papers, titles, prizes and educational experiences, and more on scientific significance and socioeconomic impact.
Dai Guoqing, head of the Department of Supervision and Scientific Integrity at the Ministry of Science and Technology, said improper evaluation and management, lax regulations and punishments for misconduct, as well as the pursuit of instant success are still present in China's academic system.
"The new regulations focus on tackling these issues at the root and creating a basis for developing effective, long-term solutions that support our scientists to focus on their research, make breakthroughs and benefit society," he said.
During a conference on the promotion of academic integrity in August, Wang Zhigang, minister of science and technology, said China's research capability is largely dependent on its research environment.
As a result, the ministry has launched a nationwide online database to record research behavior by scientists, and as the information is accessible by other government bodies and institutions "wrongdoers will be restricted wherever they go", he said.
"In general, Chinese researchers uphold a high degree of academic integrity, but we must see the issues, and if we don't solve them, they will pollute our research environment and affect our good scientists."
In late September, the ministry issued two documents defining plagiarism, fabrication, falsification and other violations of research integrity, as well as providing detailed procedures and operating rules for handling investigations.
The rules have been adopted by 20 government agencies, ranging from the Supreme People's Court to the Chinese Academy of Sciences.
He Guangxi, a researcher with the Chinese Academy of Science and Technology for Development, said the regulations will encourage regulatory bodies and supervisors to actively investigate academic misconduct.
He said another highlight is that violation of research ethics has been placed in the same category as academic misconduct, which is prompting scientists and administrators to pay greater attention to ethical practices in their research.
"These new measures, which include punishments, joint investigations and information-sharing mechanisms, will maintain full pressure against academic misconduct," He said.