Up close with Helen
By Zhao Xu and Zhang Yuan | China Daily | Updated: 2020-01-11 09:39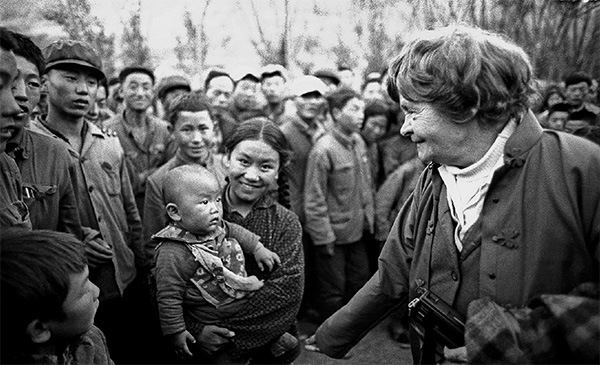 She lived a reclusive life for decades after tumultuous years in China, with a career largely overshadowed by that of her husband. Those drawn into Helen Foster Snow's orbit reflect on her pulling power.
Paper, paper and more paper - that is what greeted An Wei's eyes as the 40-year-old researcher from China stepped into the 1752 house of Helen Foster Snow in Madison, Connecticut, in September 1982. "From floor to ceiling in every single room were manuscripts-papers that were heaped, one big pile on top of another," said An, founder of the Edgar and Helen Snow Studies Center in China. "Most of the papers were put into simple file-holders she had cut out of grocery boxes from the local supermarket."
Last month An, 77, was in Cedar City, Utah, where Helen, author of Inside Red China and former wife of the renowned journalist Edgar Snow, was born on Sept 21, 1907.
Inside the quaint New England house - the town itself was among the first towns in America - Helen had kept typing for more than 40 years on the same typewriter that she took from the United States to China in 1931.
Four years before An's visit in 1982, the two had met for the first time in Xi'an, Shaanxi province, where An worked for the provincial foreign affairs office.
"Helen came in with a three-men film crew and stayed for about seven weeks, retracing her footsteps during her nine-year stay in China between 1931 and 1940," An said.
Assigned to Helen as her interpreter, An blew her away within a few hours of their meeting, by suggesting that the team go to the Xijing Guesthouse.
On April 29, 1937, Helen, under close surveillance by the Nationalist Government, jumped out of a hotel window in the middle of the night to flee to Yan'an, 350 kilometers to the north, where Communist soldiers had just gathered, having barely survived the encirclement of the Nationalists.
An was familiar with the minutest detail of Helen's dramatic escape.
"Before that night, she had planned to meet, just outside of the hotel gate, a fellow sympathetic American who would send the signal for her to come out by blowing cigarette smoke rings into the cool night air. But a sudden citywide curfew changed all that. The man was unable to get near the hotel, and Helen, realizing that he was not coming, went ahead on her own."
Out on the street, Helen jumped into the first rickshaw she spotted, asking to be taken to a "courtyard home with a big red gate".
"Just then, she saw, in the murkiness of the night, a man riding a bicycle," An said. "Who would be doing so at this hour if it was not for a reason? She called out, and found herself face to face with her co-planner."