FAST radio telescope passes test, starts work
Share - WeChat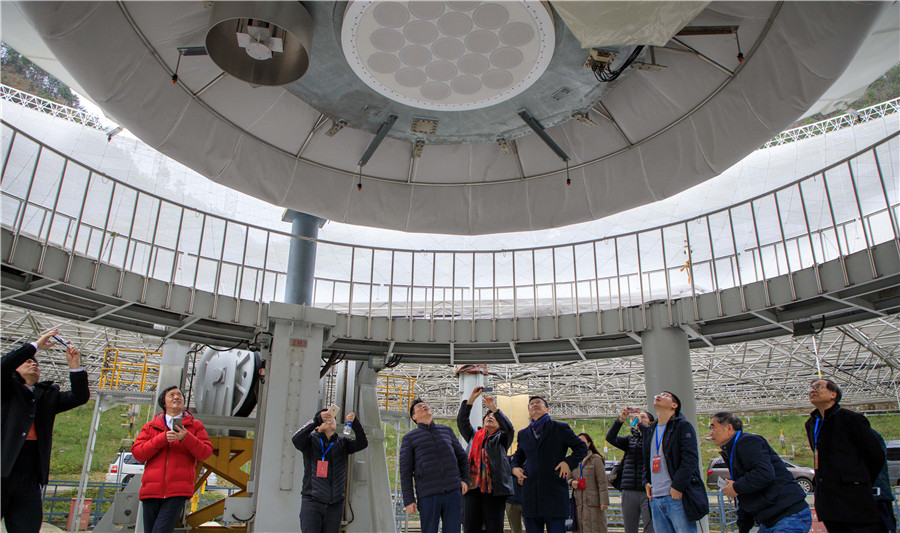 China's Five-hundred-meter Aperture Spherical Radio Telescope, the world's largest single-dish radio telescope, passed national evaluation on Saturday and officially began operation.
The telescope's superior sensitivity is expected to lead scientists to great scientific breakthroughs in research on astronomical phenomena including pulsars, hydrogen in the Milky Way and neighboring galaxies, and fast radio bursts.
It will also serve some researchers working at the frontiers of cosmic studies, including detecting the magnetic fields of exoplanets, which may harbor extraterrestrial life, and gravitational waves-"ripples" in space caused by some of the most violent and energetic processes in the universe-that were only directly observed for the first time in 2016 by an observatory in the United States.
"We hope it will help systematically expand our vision of the universe and discover a completely new unknown world," said Yan Jun, director of the National Astronomical Observatories, the Chinese Academy of Sciences subsidiary that operates FAST.
The idea of building the world's largest single-dish radio telescope was first put forward in the 1990s by a group of astronomers including Nan Rendong, FAST's previous chief scientist, who died in 2017.
Located in the remote Dawodang depression in Guizhou province, the project was approved by the central government in 2007. Construction kicked off in 2011 and finished in 2016, with an investment of about 1.15 billion yuan ($166 million).
After overcoming a number of construction difficulties due to the super-large scale and ultrahigh sensitivity of the telescope, the facility entered testing in 2016 and passed a series of technical and performance assessments last year.
Li Di, FAST's chief scientist, said the facility was opened for domestic research last year and has since received 140 applications from 21 academic institutes and universities. Many projects selected have been generating new scientific results.