Move to improve children's physical health
By Yao Yuxin | China Daily | Updated: 2020-01-13 07:55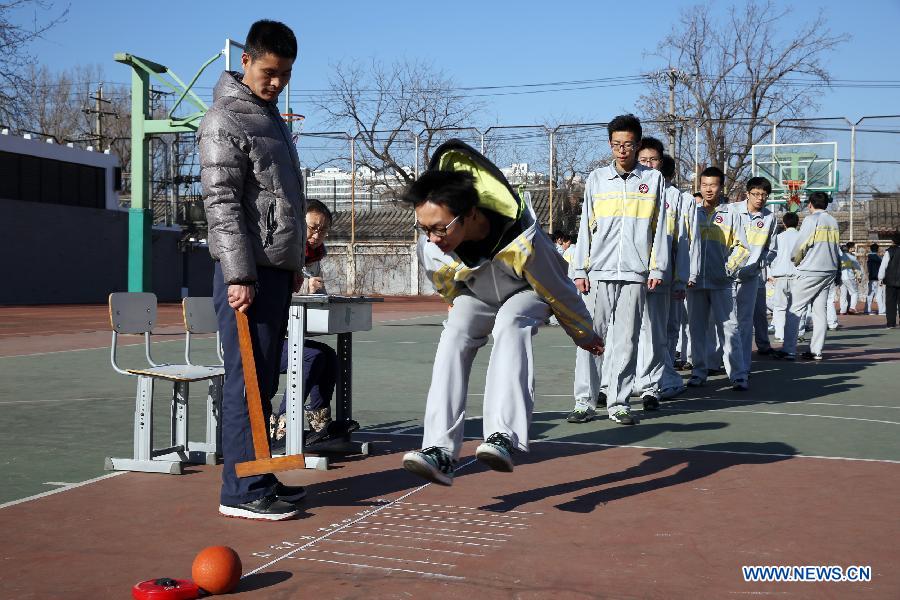 Editor's note: Provincial authorities in Yunnan have raised the total score of physical education (PE) from 50 to 100 points for the senior high school entrance examination (zhongkao) from the new semester starting September 2020. Two experts share their views on the unprecedented move with China Daily's Yao Yuxin. Excerpts follow:
PE must not become additional burden
This is the first time that any province or region has given PE and the three major subjects-the Chinese language, mathematics and English-equal importance in zhongkao. Yunnan's bold reform move will prompt schools and parents to give more importance to students playing sports and doing physical exercise, and therefore improve the fitness level of students in primary and middle, and junior high schools.
The move is apparently in response to reports saying the physical fitness level of schoolchildren is falling, especially a report in 2017 which said many sports records in Northeast China have not been broken for years with some standing for 40 years. Also, a spot-check on the physical health of elementary and secondary school students in Guangzhou, Guangdong province, in 2016 showed that only 2.6 percent of them were in excellent physical health. Worse, 16.2 percent of the students failed the physical health test, and nearly half of them had myopia.
The main reason why schools and parents alike ignore students' physical education is the exam-oriented education system. Given the traditional thinking that the harder you study the better scores you earn in exams and the more successful you are in life, PE has been largely marginalized in schools.
The exam-oriented education system and safety concerns have forced many primary and middle schools to keep students indoors even during recess. In fact, although the Ministry of Education has said elementary and secondary school students should exercise for at least one hour a day, many schools don't follow the rule.
So by including PE in zhongkao, educators in Yunnan are trying to make sure the lure of earning high scores will prompt more and more students to do more physical exercise.
But measures should be taken to ensure PE, too, doesn't become part of the exam-oriented education system-for instance, schools should not be allowed to increase PE classes for a short time before zhongkao while ignoring them for the rest of the semester.
PE points have been increased to raise students' interest in and capability to play sports so they can be physically fit and lead a healthy life, not to force them to lead a more regimented life.
Xiong Bingqi, deputy director of the 21st Century Education Research Institute
Keep college entrance exam free of such a plan
Given the relatively low physical fitness levels of primary and middle school students, allotting higher scores to PE in zhongkao may be an effective way of getting students to do more physical exercise.
But since excellence in sports largely depends on a person's physical traits, students who are short or relatively weak may never be able to compete with their taller and more athletically built counterparts.
Therefore, the education authorities should take care to avoid setting the same criteria for all students in PE tests. Perhaps all students who measure up to a certain standard should be given full marks.
The inclusion of PE in the senior high school entrance exam may help students to acquire academic knowledge as well as to stay physical fit. Yet an extra subject could further increase their burden.
However, since this is the first time any province or region has raised the PE score to 100 in zhongkao, we have to wait to see the results. Due to the exam-oriented education system, Chinese students spend most of their energy and time in studying, and get little or no time to do physical exercise, which is the basic reason for their poor fitness levels. So it is necessary to diversify the evaluation criteria for zhongkao.
Yet PE should not be included in the college entrance exam, as it would put students under greater stress without necessarily improving their physical fitness. Perhaps like the US, an outstanding athlete could enjoy some advantages over other students in China too when it comes to seeking admission to a college but it is unnecessary to make it a compulsory subject in the college entrance exam.
Chu Zhaohui, a senior researcher at the National Institute of Education Sciences
The views don't necessarily represent those of China Daily.