London complains to Teheran about detention of ambassador
By EARLE GALE | China Daily Global | Updated: 2020-01-14 09:19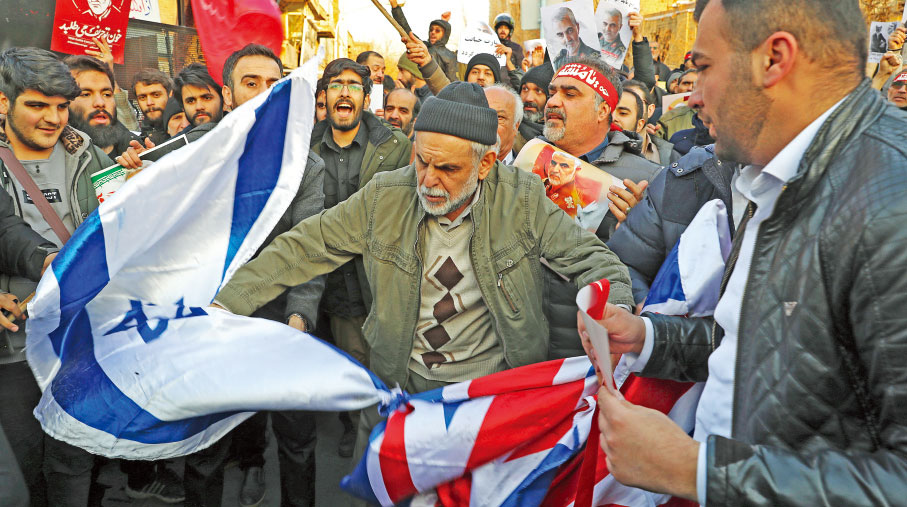 The United Kingdom has told Iran it will become a world pariah if it continues to suppress criticism of the recent downing of a passenger aircraft.
UK Foreign Secretary Dominic Raab issued the warning after Iran arrested the UK's ambassador at a demonstration in Teheran on Saturday evening.
Rob Macaire was held for three hours before being released and was then summoned to a meeting at Iran's Foreign Office on Sunday, where he was accused of having played an "illegal and inappropriate" role at the demonstration.
"The arrest of our ambassador in Teheran without grounds or explanation is a flagrant violation of international law," Raab said. "The Iranian government is at a crossroads moment. It can continue its march towards pariah status, with all the political and economic isolation that entails, or take steps to de-escalate tensions and engage in a diplomacy."
The row seems to have deepened an already sizable diplomatic rift between the two countries, Britain's Guardian newspaper reported.
Seyed Abbas Araghchi, Iran's deputy foreign minister, played down the incident, writing in a Tweet that the Iranian authorities had not known at the time that the person they arrested on Saturday was the ambassador.
Araghchi said the man was simply an "unknown foreigner in an illegal gathering".
He tweeted: "When police informed me a man was arrested who claims to be UK ambassador, I said IMPOSSIBLE! Only after my phone conversation with him I identified, out of big surprise, that it's him. 15 mins later he was free."
Iran's Foreign Ministry said it summoned Macaire on Sunday to give him a chance to explain himself.
The ministry said it "reminded" him that his presence at "illegal gatherings contravened" the Vienna Convention on diplomatic relations, the BBC reported.
Teheran said his presence at such an event was "illegal and inappropriate".
After Macaire's arrest, pro-government protesters gathered outside the UK embassy to demand its closure and chant, "Death to England" in a situation that the British Foreign Office described as tense.
Macaire, meanwhile, said he believed the event he attended on Saturday was a vigil in honor of the 176 victims of the tragedy, four of whom were British. Iran's President Hassan Rouhani admitted on Saturday that his military had "unintentionally" shot down the Ukrainian airliner on Wednesday they were traveling on, after mistaking it for a cruise missile. Macaire tweeted that he left the vigil when it turned into an anti-government protest. He said he was arrested some time later, while making his way back to the embassy.
"Arresting diplomats is, of course, illegal in all countries," he tweeted.
The Iranian ambassador to the UK, Hamid Baeidinejad, told British media the episode was essentially a misunderstanding.
"The moment the police has been informed of the identity of the UK ambassador, he has been freed," Baeidinejad said.
On Monday, Baeidinejad was summoned to the British Foreign Office to off er assurances that the ambassador will not face similar situations in future.