Greenhouses help villagers to grow new lives free of poverty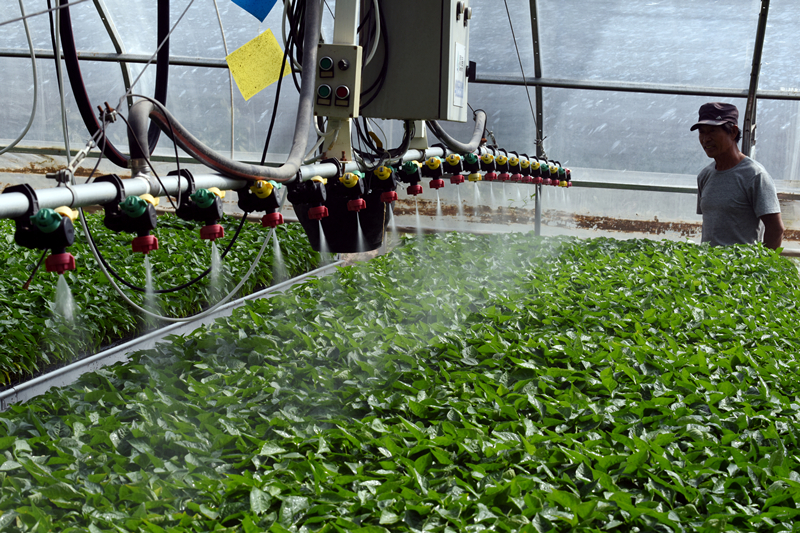 Heavy snowfall last week pushed down temperatures in Jinyuan village in Qinghai province to a bonechilling -17 C.
Luckily, patches of morel mushrooms planted in greenhouses survived the freeze, with traces of mycelia-the fine, white filaments transporting nutrients-beginning to appear on the surface of the soil.
The scene brought a smile to the face of Wang Yuyun, the village head.
"The mycelia activity is a very encouraging sign for the trial planting," Wang said. "If morel mushrooms can grow here, we will be able to further increase the village's income and provide a stronger safety net for residents."
Last year, potted flowers cultivated in these greenhouses generated more than 350,000 yuan ($50,800) in revenue, a major boost to the collective income. A large portion of the money was used to raise coverage of endowment and medical insurance, offer tutorials for local children and hand out free sustenance to all households.
Jinyuan, with a population of 773, is in Delingha city, where winter drags on for over six months and most agricultural land is plagued by high salt concentrations and is infertile.
"Potted plants can only grow in summer here, so greenhouses often sit idle during the long and frigid winter of Delingha," Wang said. "I am experimenting with morel mushrooms to test other ways to earn more money for the village."
The nine greenhouses covering about 0.74 hectares were gifted to Jinyuan village as a collective enterprise in 2017 by the agriculture, animal husbandry and poverty relief bureau of Delingha, intended to stimulate the development of rural industries.
Additional funds invested in renovating facilities and purchasing equipment came from a collection of poverty alleviation funds allocated by the central government and other higher-level governments.
In Delingha, there were 989 people living in abject poverty and 20 national-level impoverished villages in 2015, according to the city government.
Before the greenhouses went into operation in early 2018, Delingha had already lifted all registered people out of poverty and stripped off poverty labels attached to its impoverished villages, including Jinyuan, by the end of 2017.
The government has since been taking a range of steps to consolidate the achievements of poverty elimination, such as accelerating the development of the collective economy, improving infrastructure and public services and securing the provision of insurance and other social benefits.
In the past four years, nearly 310 million yuan of poverty relief funds were devoted to developing featured industries in Delingha, ranging from planting ornamental flowers and quinoa to breeding yaks and sheep, government data show.
As of last year, such businesses had generated about 3.3 million yuan in income for participating villagers in the form of dividends.
Wang Rui, an official with the bureau, said giving away dividends is not the long-term solution to improving the living standards of villagers.
"The more remarkable benefit of developing rural industries is that they provide local job opportunities that are stable and tailored to fit labor and land conditions of each area," she said. "Many villagers are thus inspired to take the initiative to improve their living."
In 2016, Ankang, another village in Delingha, started growing quinoa, which has become a booming industry. The allocated poverty-alleviation funds were used to cultivate land, buy agricultural machinery and seedlings and train local farmers how to farm the grain.
Dai Cunzhong, 53, a villager in Ankang, has successfully shaken off poverty and has increased his income by engaging in the quinoa industry. He has now contracted more than 6.7 hectares of land to grow quinoa that generates tens of thousands yuan a year. Moreover, he works as a local forest ranger, earning a monthly salary of about 2,700 yuan.
With sufficient insurance plans covered by the government, Dai was grateful that he could finally enjoy a day without worrying about his daughter's tuition fees or skimping on meat.
Kang Junsheng, a poverty relief official of Ankang, said: "Developing rural industries is the most direct, effective and enduring method to ease poverty.
"This year, we are planning to tap into the quinoa processing industry and mobilize villagers to learn how to husk and briefly clean raw quinoa for higher market value."